add to favorite Look map of the campsite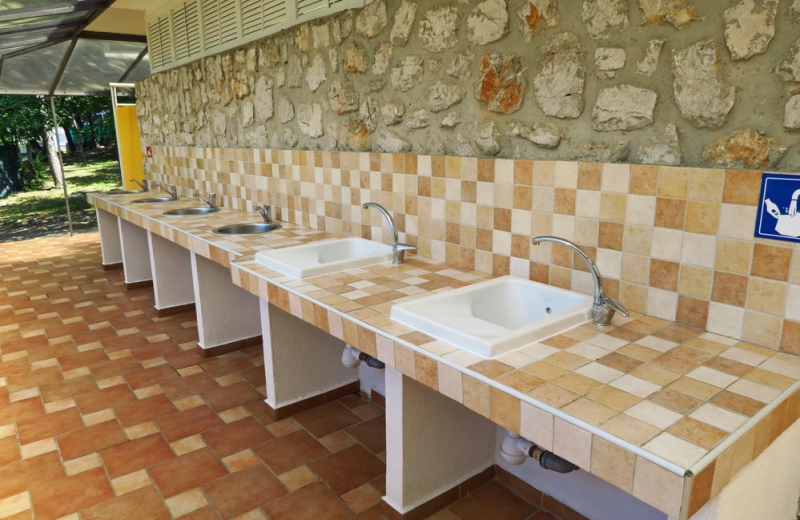 Information
Basic information
Camping Ostro is located in city Kraljevica, 1,5km from the main road Reka – Crikvenica. Beach in the camp is pebbled. Pitches are shaded with pine trees.

Most of the camping Ostro is well shaded with pine trees and half of their pitches are occupied by stationary guests. It is very peaceful campsite. Novelty is a new sanitary facility and a sports field football for and basketball.

Campsite accepts the Avtokampi.si Camping Card, which will make the camping more affordable. The discount is listed at the price list of the campsite, and you can order free camping card HERE
In last years has been camp completely renovated, all pitches have access to electricity and water, pitches for camping lovers with tents are arranged separately.

Some bungalows for 4 adults are available for rental.

Sanitary facilities have been modernized as well and are offering all you need during your holidays - besides basic facilities also chem wc, waste water discharge system, baby changing room, laundry, family bathrooms.

Reception is new as well, you can use computer with internet access there. Wireless internet is accessible across the campsite.

Bach in camp has many pebbled bays, while the main bay is sandy and great for smallest children.

Campsite has shop, restaurant with specialities from grill, pizzas and sea food as well as beach bar. Children's playground is arranged. There is also a diving center near the campsite.

Features and equipment
Type of the campsite
Pitch features
Non-parcelled camping plots

Pitches with electricity and water

Pitches with electricity, water and waste water connections
Location
Equipment
Chemical toilet discharge

Children sanitary facilities

Heated sanitary facilities
Offer
Sport
Swimming pool/wellness
Swimming pool with heated water
Dogs
Rental option
Camping pricelist (in EUR) for year 2023
Avtokampi camping card
2023 - 10% on the price of the person in periods 1.4. - 2.7. & 21.8. - 1.10. and 5% at the price of the person in the period 3.7. - 20.8.
Price for
2.7. - 19.8.
2.6. - 1.7.
20.8. - 14.9.
1.4. - 1.6.
15.9. - 1.10.
Person
​​8
​​6,50
​​5,20
Children 6 - 12 yrs.
​​4,10
​​3,50
​​2
Pitch by the sea (electricity, water)
​​26
​​22
​​14
Pitch with electricity
​​19,50
​​17
​​12,60
Non-parceled camping unit without elect.
​​12,75
​​11
​​8,50
Addit. car / motorcycle
​​5
​​4
​​3,60
Addit. tent
​​5
​​4
​​3,60
Dog
​​4
​​3,50
​​3
Refrigerator
​​3,35
​​3,35
​​3,35
Washing machine /Dryer
​​3,35
​​3,35
​​3,35
Internet access - WIFI
​​gratis
​​gratis
​​gratis
Tourist tax
​​1,30
​​1,30
​​0,90 - 1,30
Check-in
​​1
​​1
​​1
Pricelist for yearly rental (in EUR) for year 2023
| Price for | 1.5. - 30.9. |
| --- | --- |
| Yearly pitch rental by the sea (electricity, water) | ​​3.790 |
| Yearly pitch rental with electricity, water | ​​2.580 / 2.887 |
| Addit. person | ​​35 / 70* |
| Tourist tax | ​​1,30 |
PDF - Pricelist for year 2023 (16KB)
* lower price applies to children 3 - 12 years

The price of the plot includes 4 people, it is possible to pay extra for max. 8 people and 4 children
Contact
GPS: 45.269797,14.563656
Address: Oštro 16, 51262 Kraljevica, Hrvaška
Reception:

+385 51 281 218
Rating and reviews
Reviews:
Published on day from anonymous

Category

Caravan with yearly rental

Company

Family with small children

Krasen Kamp za počitek in možgane na offf...​​

Published on day from anonymous

Category

Caravan

Company

In couple

bolj slabo vse skup...pohvalno pa je da je potapljaški center tam​​

Published on day from anonymous

Category

Camper

Company

With friends

Po slikah sodeč smo menili, da je kamp super izbira, ko pa smo dejansko prišli tja, smo bili razočarani. Parcela je bila še dokaj lepa, dostop slab zaradi ozkih poti malo večji kamper (naš je dolg 5m) težko dobiš na parcelo. Voda je zjutraj še prijetna za kopanje, morda malo hladna, popoldne pa polna smeti, res svašta plava med kopalci. Sanitarije so slabe, vsaj v tem delu, kjer smo bili mi, v coni A, najdražje parcele. Zasvinjana tla v WCjih, pokvarjen kotliček, ni papirja, umazan tuš... Čistilke se trudijo, pa vendar jih je premalo. Za nameček se je še vreme poslabšalo, kar je naznanil vonj po nafti iz bližnje rafinerije (ki je na slikah ne vidite ker ni ravno v okras), ker gre za zelo vetrovno lokacijo, zato se tudi imenuje Oštro, po močnem vetru, v slabšem vremenu ni druge izbire, kot da zapreš vrata in greš. Na recepciji so prijazne punce, ampak brez šefa še govort ne upajo, ta pa se kot šerif vozi gor in dol pod kampu in vse nadzoruje, le reda ne. Nas ne bo več tja, pa ne toliko zaradi glasnih pavšalistov in hordo psov, ki non stop lajajo, ampak zaradi umazanije v vodi, nad vodo...kamorkoli se uzreš, pa še smrad po pasjem lulanju, čim se sonce malo bolj upre v kamne. Da ponudbo trgovinice in bifejev raje ne omenjam....​​

Published on day from anonymous

Category

Caravan

Company

Family with small children

Zaradi majhnih otrok smo pogrešali WC v bližini plaže, pod nogometnim igriščem. Manjka majhen WC samo z umivalnikom. Dobrodošel bi bil tudi wifi po celem kampu.​​

Published on day from anonymous

Category

Other

Company

Family with small children

Uf, videli smo že veliko kampov ampak tale je pa med najslabšimi. Sanitarije sicer novejše ampak nihče ne čisti, dobiti papir na WCju je prava tombola. Otroci niso imeli kaj početi saj za njih ni športnih objektov ali karkoli drugega kot mrzla voda v morju in smrad po nafti iz bližnje ladjedelnice in rafinerije. Osebje v kampu ima edino zadolžitev, da po ozkih cestah drvijo z malimi tovornjački in plašijo otroke, mačke in pse, ki jih pa je dejansko preveč saj se ponoči odvijajo pravi pasji mnogoboji v laježu in pasjem zavijanju v luno, ki ga zmoti edinole suha veja, ki sredi noči pade na kamper, ker drevja že nekaj časa nihče ni obrezal. In ko vse to preživiš ti na recepciji mastno zaračunajo za višjo kategorijo parcele in se niti ne opravičijo za napako. Ne priporočamo.​​

Published on day from anonymous

Category

Caravan

Company

Family with small children

Ob plaži manjkajo manjša stranišča (kot mobilne hiške). Z manjšimi otroki smo tekali samo gor in dol po hribu do stranišča. Manjkajo kakšna otroška igrišča.​​

Published on day from anonymous

Category

Other

Company

Other

Lastnik hoče samo čim več dobička, polni kamp, ne uredi dodatnih wc-jev in tušev. Tuši so letos porazni ni pritiska vode.​​

Published on day from anonymous

Category

Other

Company

Other

Sanitarije vsako leto v slabšem stanju. Ni sprotnega odpravljanja napak. Težave z elektriko v posameznih delih. Vse kar naredijo je brez repa in glave. Na silo polnijo kamp. Parcele vedno manjše.​​