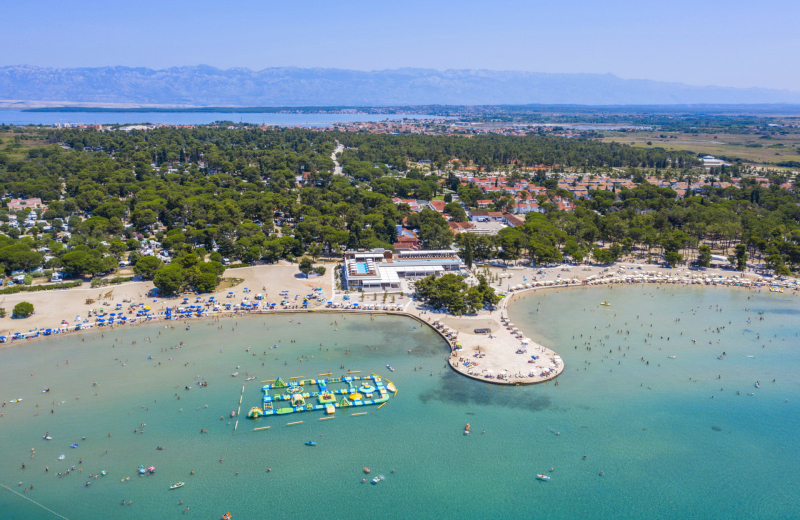 Information
Basic information
Camping Zaton Holiday Resort - Nin is one of the best Croatian campsite, located 16km northern from city Zadar and 1.5 km western from the city Nin. It is completely renovated, encircled with pine woods and 1.5km long sandy and partly gravelled beach. Campsite Zaton offers camping on regulated pitches, rental of mobile homes and glamping tents. Apartments are part of the complex as well.
NEW - a renovated central building on the beach with a restaurant, cafés, an event centre and a relax zone with two swimming pools, as well as a new science park with educational animation at the edge of the beach.

Campsite accepts the Avtokampi Camping Card, which will make camping holidays more affordable. The discount is listed at the price list of the campsite - order for free and get camping card by email.
Camping Zaton has been receiving the highest quality awards for many years, including the recognition of the ADAC, which gave the camp the title Superplatz, which is the highest recognition for quality in the field of camping tourism in Europe.
NEW in Camping Zaton - renewed children's animation Zatonino, which includes didactic toys, creative and sports games. Linear park - a walking path in front of the camp with benches and deck chairs, where you can enjoy the Mediterranean environment. You can also rent electric bicycles and ride around the campsite. There is also a new restaurant & bar Mareta by the sea and a bar. Most of the sanitary facilities have been renovated in recent years, and the possibility of cashless payments at the resort and the possibility of ordering half board in the renovated restaurant have been arranged.

In last years have most of the camp been divided in pitches, which have an electricity and water connection. Camp has its own gas filling station, laundry, picnic places and even separated places for showering dogs. Of course, they have not forgotten the owners of campers, for which they have a supply station.

All five sanitary facilities buildings are modern. In season 2019 they renovated another one that is now adjusted to children and handicapped guests, and heated for cooler parts of the seasons. Family and private bathrooms are available, as well as laundry and rental of refridgerators.

Beach in campsite is mostly sandy with sun loungers and parasols for rentals, various water sports options and bars. There is swimming pool complex with heated water, along with some smaller children's pools with slides and water playground.
Children will enojy rich animation programme that is prepared for different ages of their guests. There are various playgrounds, climbing walls, adventure mini golf, back horse ridding. In the evenings mini disco and various shows are organized.

For sport lovers there are many options - courts for tennis, volleyball, basketball, football, bowling and table tennis. Various courses are organized in campsite itself - for scuba-diving, horse ridding and tennis.

Gastronomic offer is great, there are many various restaurants, bars, pizza place and sweetshop. Similarly, you will find also great grocery shops, including butchery, vegetable and fruit shop and various small, souvenirs shops.
Features and equipment
Type of the campsite
Pitch features
Non-parcelled camping plots

Pitches with electricity and water

Pitches with electricity, water and waste water connections
Location
Equipment
Chemical toilet discharge

Children sanitary facilities

Heated sanitary facilities
Offer
Sport
Swimming pool/wellness
Swimming pool with heated water
Dogs
Rental option
Camping pricelist (in EUR) for year 2023
Avtokampi camping card
2023 - 23 € for 2 persons and a dog on the Standard pitch (No. 894 - 983) with electricity and water or on the non-parceled part with electricity in the periods 22.4. - 23.6. & 2.9. - 8.10. For pitches closer to the sea (No. 1 - 631) additional charge of 6 € in the period 22.4. - 26.5. & 16.9. - 8.10. or. 12 € between 27.5. - 23.6. & 2.9. - 15.9. High season 23.6. - 2.9. 5% discount on the price of the person applies.
Price for
8.7. - 25.8.
1.7. - 7.7.
26.8. - 1.9.
27.5. - 30.6.
2.9. - 8.9.
22.4. - 26.5.
9.9. - 7.10.
Person
18,30
16,10
13
11,50
7,80
Children 1 - 6 yrs.
11,80
10,20
8,50
8,10
5
Children 6 - 12 yrs.
14,60
12,90
10,70
9,20
6,20
Pitch Premium (1. row, electricity, water)
80,60
72,50
56,80
45,30
34,50
Pitch by the sea (electricity, water, sewer)
64,60
58,10
46
38,50
27,60
Pitch (electricity, water, sewer)
53,40
47,80
38,60
33,20
19,30
Non-parceled camping unit + elect.
32,30
28,60
23
21,90
14,60
Tent pitch + motorcycle + electricity
25,40
22,80
18,30
17,60
10,80
Refrigerator
7,70
7,10
6
4,80
4
Addit. car / tent
9,80
8,80
6,40
6,30
4
Dog
11
10
9,80
9,20
6,20
Boat - mooring
17,70 / 30
16,10 / 29,90
12,90 / 21,30
8,80 / 16,10
5,20 / 8,70
Internet access - WIFI
​​gratis
​​gratis
​​gratis
​​gratis
​​gratis
Private bathroom
28,30
25,20
20,10
16,10
11,50
Tourist tax
​​1,40
​​1,40
​​1,40
​​1,40
​​1,40
Check-in
​​1
​​1
​​1
​​1
​​1
Reservation of the pitch
50
50
50
50
50
PDF - Pricelist for year 2023 (22KB)
The mooring price is different depending on the size of the boat.

Pricelist for rental of accommodation for year 2023
Contact
GPS: 44.234342,15.165409
Address: Dražnikova 76t, 23232 Nin, Hrvaška
Reception:

+385 23 280 215
Mobile Homes
Mobile homes description
Renting a mobile home in the campsite Zaton Holiday Resort- within the camp is also a complex of fully equipped mobile homes that you can rent and enjoy in a comfortable holiday. Mobile homes have different types and sizes.
Campsite accepts the Avtokampi Camping Card, which will make rent mobile homes more affordable between
24.4. - 18.6. & 4.9. - 1.10. The discount is listed at the price list of the campsite - order for free and get camping card by email.
Mobile home Comfort (30 - 32m2) is intended for 4 + 2 persons, the Premium model (34m2) is for 6 +1 persons and the Superior model (34m2) for 5 + 2 persons. All houses are equipped with kitchen (cooker, fridge, microwave, coffee maker), two or three bedrooms, two bathrooms and a terrace. They also have satellite TV and air conditioning. The dogs in the Zaton camp can sleep in Comfort mobile homes.


Mobile homes information
Number of persons in mobile homes
Mobile homes for 4 - 6 persons

Mobile homes for 6+ persons

Mobile homes for 2 - 3 persons
Mobile homes
Dogs allowed in mobile homes

Mobile homes with 3 bedrooms

Mobile homes for handicapped
Pricelist for mobile homes (in EUR) for year 2023
Glamping
Glamping description
Glamping tent rent in camping Zaton Holiday Resort - in the central part of the camp, you can also rent 10 large tennis glamping tents where you can sleep up to 5 people (4 + 1).
Campsite accepts the Avtokampi Camping Card, which will make rent glamping tents more affordable between 24.4. - 18.6. & 4.9. - 1.10. The discount is listed at the price list of the campsite - order for free and get camping card by email.
Glamping tents at the campsite Zaton are equipped with their own kitchen and bathroom and a large outdoor terrace. Dogs are allowed in glamping tents at Zaton camp.
Information about glamping
Glamping type
Number of persons in glamping
Glamping tents for 4 - 6 persons

Glamping hut for 2 - 3 persons

Glamping huts for 4 - 6 persons

Glamping huts for 6+ persons

Glamping tents for 2 - 3 persons

Glamping tents for 6+ persons
Location and features of glamping
Bathroom in accommodation
Pricelist for glamping (in EUR) for year 2023
Rating and reviews
Reviews:
Published on day from pikica07091983

Category

Caravan

Company

Family with small children

V kampu je zelo hrupno in preveč gužve. WCji novi ampak niso preveč čisti. Parcele so nametane ena zraven druge in nimaš svojega miru. V kampu zaposleni niso ustrežljivi. CENE kampa so previsoke, 2 odrasla + 1 otrok in parcela s prikolico + avto je 120 EUR na dan...NORO! Ponudba je velika ampak ni vredna te cene. Mi se zagotovo ne bomo vrnili. Če hočeš dogajanje in hrup je to kamp zate, ker je kot majhno mesto.​​

Published on day from anonymous

Category

Tent

Company

Family with small children

Super kamp in odlična dodatna ponudba za kopanje ter animacija.​​

Published on day from tdajcman

Category

Apartma/bungalow

Company

Family with small children

Nastanjeni smo bili v 4* apartmaju, bilo je super. Bazenski kompleks super, poskrbljeno. V zgodnjih spomladanskih mesecih so otroški bazeni ogrevani. Ogromno dogajanja za otroke prav tako varstvo... Sanitarije so res urejene in čiste-ni pritožb. Edino cene znotraj resorta so malo preveč zasoljene za primerjavo, plastenka vode 0.5l - 30kn, kava 27kn, pivo 0.5l - 30kn, cocktail 70-90kn,... Hrana znotraj resorta v konobah je povprečna, a nekoliko dražja od ostalih konob v bližini Nin-a. Tudi sam resort je v glavni sezoni razprodan, večinoma so gostje iz Nemčije, Avstrije, Nizozemske, Švedske...,...​​

Published on day from tedy41

Category

Camper

Company

Family with small children

Kamp je v spodnjem delu kamp. V zgornjem delu pa bi se temu reklo kontejnersko naselje.
Sanitarije so čista 10 ka. Čisto lepo in na nivoju. Parcele za kamping so velike in opremljene z vodo. V predsesoni je super. Bazeni so super za otroke igral je več kot dovolj. Tenis igrišča so super urejena ura 50 kun. V glavni sezoni si pa ne predstavljam kako je . Verjetno je to masovni turizem noro da te kap. Cene pijače prehrane in sladoleda v kampu so kar zasoljene.
Lp Tedy​​

Published on day from anonymous

Category

Caravan

Company

In couple

Kamp je v predsezoni prijeten in miren, glasni le Poljaki, ki jih je polno v mobilnih hiškah že v predsezoni. Sanitarije so obnovljene ali nove in redno čiščene. Veliko možnosti za sprehode po polotoku Privlaki. Moti le, da je celoten kompleks res velik in ograjen, nudi pa le dva izhoda. Plaža je v cloti mivkasta in ne znam si predstavljat, kakšna je voda, ko se v sezoni tu igra tisoč in več otrok.
Priporočam obisk v pred ali posezoni, tudi zaradi cene.​​

Published on day from anonymous

Category

Caravan

Company

Family with small children

Letos kampirali drugič zapored v tem kampu.S samim kampom in ponudbo smo bili zelo zadovoljni tako da se še vrnemo.​​

Published on day from anonymous

Category

Other

Company

Family with teenager

katastrofalno - pa ti Hrvatarji gledajo samo na svoj dobiček, bolano res!

Am - parcela ni nič posebnega, ima le vodo dodatno, vendar zato še ni vredna 60 eur na dan (pa še ravna ni bila) !!! Mi smo za enega otroka + 2 odrasla za dva dni plačali 130 eur - pa ti hrvati niso normalni. Poleg tega ti dajo še kao WiFi dostop - vendar problem je, da dajo ta dostop vsakemu, češ poglejte kako smo kul in potem se vsi gor povežejo in internet totalno zablokira...ko žensko kličem na recepcijo pa reče, da njene antene sve dobro delajo, čeprav mi lahko pa da drug user name - kera buča. No pol na njihovem bazenu, če želiš kupiti sladoled, tle se začne saga - človek prau pazi, da ti da res eno kugljico sladoleda, ampak plačaš pa vseeno 8 kun - pri nas v Novem mestu za 1 eur (kar je mimogrede manj kot 8 kun) dobiš porcijo sladoleda, ki je 4x večja - res konkretna porcija. Jaz sem to kugljico njihovo zbasal v usta v 2 minutah. In potem nam v sloveniji Hrvati govorijo da smo skupi - pa daj ne me zezat no...

No naj omenim še ta hec, da smo imeli vsaj tri zaplete na poti do Zadra - trikrat so nam Hrvatarji vrnili premalo denarja od samih cestnin. Pa ti res niso normalni - vsakemu spičijo 1-5 kun več in dajo v svoj žep - saj res ni veliko, vendar se nabere, če vsakega tako gadno nategnejo. Nismo komplicirali, saj želiš čimprej spelati, samo je pa dober način ropanja tujcev...

Seveda nedvomno, v takšen kamp in resort se ne vrnemo nikoli več!

ps. pa sam menim, da nisem ravno konfliktna oseba, samo želim dobiti to kar plačam.​​

Published on day from Abeta

Category

Tent

Company

Family with small children

cene ne bi komentiral, ker je nas prišlo 165€ za 7 dni, dva odrasla + 3 otroci. je pa kamp u nulo porihtah od igral, animacije, trgovine, restavracij, lokalov... sanitarije čiste skoraj tako kot doma :) verjetno posledica, da je bil kamp še bolj ko ne napol prazen. v glavnem zadovoljni z vsem razen z plažo, in pa motnim morjem zaradi mivke. kljub vsem + dvomim, da se bomo še kdaj vrnili, ker nam ne odgovarjajo najbolj taki enormno veliki kampi. tokrat je pač prevagala cena​​