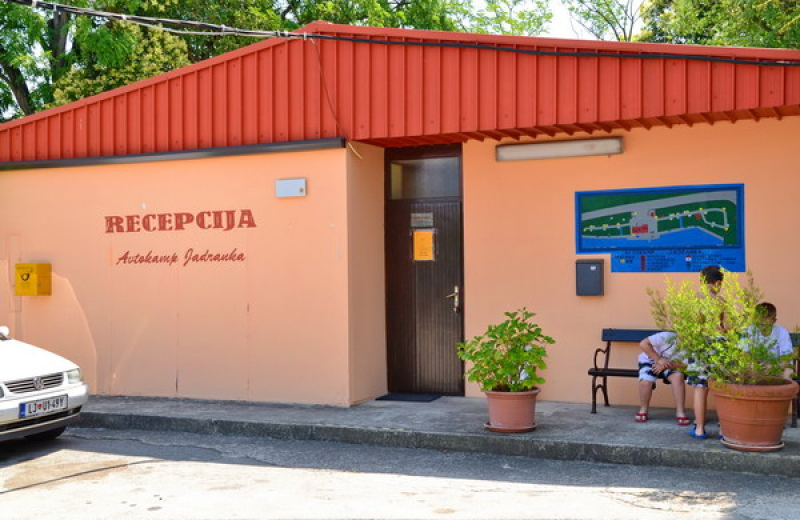 Information
Basic information
Campsite Jadranka - Izola is located at the very beginning of Izola. The camp is arranged along the coast, and most of the camping pitches are occupied by stationary guests. Thus, only about 10 camping spaces are available for an individual guests.

They have two sanitary facilities, but the use of hot water in the shower is paid for. The campsite offers campers a special price for their stay.

For most guests, the most important thing is that Camping Jadranka is located near the beach, where you are just a step away from a refreshing jump into the sea and a few 100 meters from the center of Izola. The surroundings of the camp offer interesting cycling trips through the interior of Slovenian Istria.

The campsite also has a restaurant with a terrace, in the summer season a small grocery store is open in the camp, where you can find all the basic necessary food, and for a greater offer, other shops are within 5-10 minutes walk outside the camp.
Features and equipment
Type of the campsite
Pitch features
Non-parcelled camping plots

Pitches with electricity and water

Pitches with electricity, water and waste water connections
Location
Equipment
Chemical toilet discharge

Children sanitary facilities

Heated sanitary facilities
Offer
Sport
Swimming pool/wellness
Swimming pool with heated water
Dogs
Rental option
Camping pricelist (in EUR) for year 2021
Price for
1.1. - 31.12.
1.4. - 18.6.
31.8. - 24.12.
Person
​​12
​​8
Children 4 - 14 yrs.
​​7
​​5
Camper stop (2 persons + camper)
​​25 / 28*
​​18 / 21*
Dog
​​4
​​4
Electricity
​​4,50
​​4,50
Addit. car
​​5
​​5
Check-in
​​1,50
​​1,50
Tourist tax
​​2
​​2
PDF - Pricelist for year 2021 (859KB)
The price of a person already includes a plot and one vehicle.

* higher price for camper stop applies to plots by the sea - the price includes 2 people, and all additional people pay according to the price list.

Rating and reviews
Reviews:
Published on day from Jasna.Djogič868

Category

Caravan

Company

Family with small children

KJE NAJ ZAČNEM?
KAMP JE TREBA NUJNO SLI ZAPRET ALI PRENOVITI!GROZLJIVKA.
O UPRAVNIKIH,SA NE GOVORIM...ČE ZI KAJ NE PAŠE LAHKO GREŠDRUGAM,JE NJIHOV ODGOVOR.
GROZNO.ČISTILKA ME JE ZMERJALA,
OD KRAVE DO NE VEM KAJ VSE.SUZANA (UPRAVNICA)JE RETARDIRANA OSEBA.PODGANE PO KAMPU,VSE SMRDI OD STARIH PRIKOLIC,SANITARIJE ZA PODRET...OMG...TAKO NEPRIJAZNIH IN NEKULTURNIH LJUDI PA ŠE NISEM SREČALA.NI MI JASNO,DA TO INŠOEKCIJA NE ZAPRE.
FUJ​​

Published on day from anonymous

Category

Camper

Company

In couple

Povišanje cen na sami lokaciji, nečistoča in nespoštljivo/nesramno obnašanje uslužbencev ter upravnice kampa do gostov. ​​

Published on day from anonymous

Category

Camper

Company

In couple

Avtokamp nujno potrebuje osnovna vzdrževalna dela, če že ne temeljite prenove. A kampu ni prostora za oskrbo avtodoma, ni prostora za praznjenje kemičnih wc-jev. Stebrički za elektriko so redki. Pavšalisti pa si prisvajajo dostop do plaže. ​​

Published on day from anonymous

Category

Camper

Company

Family with teenager

Prijeten kamp, plaža interesantna, bolj je za avanturiste. Zaposlena zelo prijazna in korektna za pohvalo...
Všeč mi je bližina centra mestnega jedra, s kolesom se daleč pride... ​​

Published on day from anonymous

Category

Caravan with yearly rental

Company

In couple

Kaj reči o tem kampu? Niti nimam tako nizke ocene za ocenitev, saj po 50 letih kampiranja, še nisem naletel na tako neprijazno osebje in zanikrn kamp. Kot je že nekdo pred mano napisal, je gospa v sprejemnici milo rečeno retardirana, da o "upravniku" sploh ne izgubljam časa... Že v letu 2019 sem bil samo na obisku pri znancih in se je upravniku pri obhodu "utrgalo", da je potrebno plačati parkiranje (sicer pride do tebe in te začne zasliševati, da pa bi sam imel kakšno oznako kdo je, oz. funkcijo, katero opravlja, pa niti slučajno). Ker se nisem želel prepirati, sem šel plačat to "parkirnino" in dobil račun za nekaj, kar sploh ni na ceniku... Sem pa plačal in požrl ponos v izogib prepiru.
Obogaten z lansko izkušnjo, sem letos že v naprej parkiral pri recepciji in se odpravil plačat "nekaj - parkiranje, takso..." in poglej ga vraga. Receptorka mi pride nasproti in me po kratkotrajnem zasliševanju obvesti, da se tukaj kampira, ne pa obiskuje??? WTF
Ko ji povem, da bo obisk trajal cca 2-3 ure, me vpraša, kaj bom počel 3 ure na obisku! Torej, bi jo jaz lahko povprašal kaj o njenem npr. spolnem življenju... Po še nekaj njenih nebulozah me je to prepričalo, da se obrnem in nikoli več ne prestopim vhoda v ta kamp.
Sam kamp pa...podoben je romskemu naselju: parcele ograjene ena do druge, kovinski/plastični nadstreški kot skladišča, pavšalisti si rezervirajo cesto z ležalniki, mizami...dostop do plaže praktično onemogočen ali pa ga ni (razen betonskega kratkega dela) zabetonirana/rezervirana plaža s strani pavšalistov, senca na plaži-pozabi...
Resnično apeliram, da se da kamp v upravljanje nekomu drugemu, saj je popolna sramota za Slovenijo. Večina stranišč na Hrvaškem je bolje urejena, kot pa tukaj sam kamp.
Priporočam, da se ga ognete v velikem loku, ker boste prišparali kar nekaj živcev in slabe volje.
​​

Published on day from anonymous

Category

Tent

Company

In couple

Eden izmed manj prijetnih kampov kar sem jih obiskal. Recepcija odprta tu in tam malo. Pavšalisti vodijo ta kamp. Že ko se pripelješ te gledajo kot da si jim nevem kaj naredil. Vse skupaj bolj kot neko romsko naselje...​​

Published on day from mgregor2

Category

Camper

Company

Family with teenager

Prišel, videl in odšel. Pregledal celotni kamp in nisem opazil niti enega praznega mesta, da bi lahko parkiral avtodom, pri sanitarnem objektu, kjer se pomiva posoda, samo hladna voda. Ne predstavljam si, kako to izgleda v sezoni, sicer pa mislim, da so tu samo pavšalisti. Na izgled grozen kamp - neko cigansko naselje. Prava sramota za to našo lepo slovensko obalo. Do prenove kampa, me zagotovo tu več ne vidijo.​​

Published on day from LenaS

Category

Caravan

Company

Other

Prišli smo na obisk v kamp k znancem .Na recepciji nam je lastnik kampa rekel, da ne smemo parkirati v kampu in naj parkiramo kje drugje.Nato nam je še navrgel, po kaj hodimo na obiske v kamp, ker da na obiske se hodi samo k pacientom in še to k takim, ki ne morejo hoditi.
Zgrozili smo se, ko smo videli wc-je in tuše, še bolj pa, ko smo izvedeli, da moraš za tuširanje s toplo vodo dodatno plačati nekaj nad evro.
Kamp je nabutan do konca, plaža in vhod v morje nikakršna.Sramota, pa tak kamp.Ne bi bila v njem, pa če mi še plačajo!​​

Published on day from anonymous

Category

Tent

Company

In couple

Kamp ima sicer urejeno plažo,vendar nedostopno do vode.Kar je tisto malo sence,jo imajo "PAVŠALCI"Ima štiri WC-je za cel kamp(2 moški,2 ženske)in samo 2 tuša.Voda v celem kampu je samo mrzla.V moškem WC-ju je en lijak z ogledalom,v ženskem sta celo dva :-)En objekt ima sicer možnost toplega tuširanja,vendar moraš na recepcijo po ključ in plačat 1,20 eur,pa od 13.00 do 19.00 je zaprta.Lastnik ima "NEPAVŠALISTE"za 3-4 razredne goste.Sramota za našo že tako malo obalo.NE PRIPOROČAM.sem zelo razočaran,čeprav podpiram naš turizem.NISEM EDINI,KI IMA TAKO MNENJE.SICER,PA PROBAJTE......Nisemniti približno "presran",ampak to res ni normalno.​​

Published on day from anonymous

Category

Other

Company

In couple

ne vem kje bi začela. 1: ko sva se z partnerjem odpravila na kvazi plažo in si izbrala senco, me je mulc iz prikolice nadrl "če sva se morala tukaj nastavit" po besednem dvoboju kaj je on zakupil in kaj in do kje je njegovo, sva z partnerjem tam tudi ostala, mulca sem pa šla na recepcijo prijavit (mislim pa, da jim visi dol ). Moti me predvsem, da moraš tuš plačati, ostalo stranišče in mrzli tuši so poden, ni luči, ne moreš se zaklenit. 2: kar se tiče restavracije, nisem še v življenju doživela takega poloma, naročiš belo kavo, ti prinese kavo z mlekom, računa ti belo kavo. Postrežba je v podnu, v najemu imata mož in žena, sta že za penzijo, počasna, postrežeta samo eno mizo, ker več jih očitno ne zmoreta oz. pozabita naročilo. Kar se tiče hrane, kelnerca niti ne ve kaj ima kuhar v kuhinji (kuha seveda mož - gospod, ki je star 70 let - počasen), ko je šla vprašat to kar sva naročila, če ima, jo je napodil iz kuhinje, nakar je seveda k nama sam prišel in naju kot zabito tele gledal kaj bi rada, ko sva mu pojasnila kaj bi jedla, je rekel da ima, kot češ kaj sploh sprašujeva. Ko sva dobila naročeno hrano, naju je skoraj kap, rostbeef, ki bi moral tehtati od 20 do 25 dkg, je imel največ 10 dkg, ni bil pečen tako kot bi moral biti (mož je kuhar in se na to spozna). Pojedel ga je samo zato, ker je bil lačen in se mu ni dalo pregovarjati. Kelnerca, ki je takrat delala 3 dan pa so cel čas drli na njo in ni smela pobrati naročil za več miz hkrati. V kratkem 100 % nikoli več v ta kamp in žalostno je, da država tukaj nič ne postori in malo pregleda kampe in jih po potrebi tudi zapre.​​