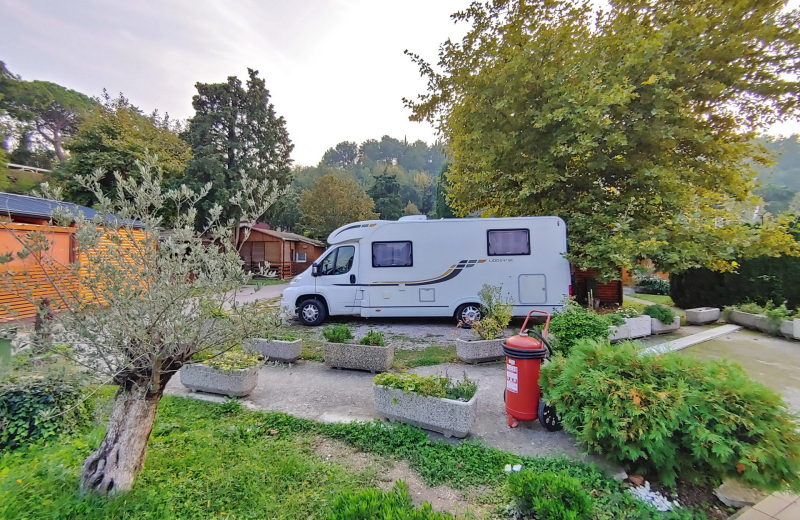 Information
Basic information
Camp Strunjan is located in the ideal environment of the Strunjan bay, very close to Piran and Portoroz, the main tourist attractions on the Slovenian coast. Park of Strunjan offers you at every step opportunities for unforgettable holidays. In the bay you can find the abandoned smaller saltpan, especially important for the natural scientist; here live interesting species as well as plants, adapted to the mixture of salty and sweet water.

Camp has approximately 150 pitches for campers and caravans and another 50 for tents.

Closeness of the sea enables visitors, besides swimming and sunbathing, to practice various water sports. The nearby wellness has many swimming pools, saunas, fitness, tennis courtyards, beach volley, basketball, mini golf. In the neighbourhood you will find many options for walks and cycling along the lines of former railway.

Features and equipment
Type of the campsite
Pitch features
Non-parcelled camping plots

Pitches with electricity and water

Pitches with electricity, water and waste water connections
Location
Equipment
Chemical toilet discharge

Heated sanitary facilities

Children sanitary facilities
Offer
Sport
Swimming pool/wellness
Swimming pool with heated water
Dogs
Rental option
Camping pricelist (in EUR) for year 2022
Price for
1.6. - 31.8.
1.1. - 31.5.
1.9. - 31.12.
Person
​​15
​​10
Children under 7
​​gratis
​​gratis
Car
​​15*
​​15*
Van
​​30*
​​30*
Caravan
​​15
​​15
Electricity
​​3 / 5*
​​3 / 5*
Boat trailer
​​30
​​30
Dog
​​3
​​3
Internet access - WIFI
​​gratis
​​gratis
Washing machine /Dryer
​​3
​​3
Tourist tax
​​2,50
​​2,50
Check-in
​​1,20
​​1,20
PDF - Pricelist for year 2022 (19KB)
Pitch reservations are not accepted!

* Vehicle prices are valid only for vehicles parked in the camp itself. Electricity - higher price for 10 A fuse, lower for 6 A.

Contact
GPS: 45.525033,13.608200
Address: Strunjan 23, 6320 Portorož, Slovenija
Reception:

+386 5 678 20 76
Rating and reviews
Reviews:
Published on day from denis4

Category

Caravan

Company

Family with small children

Mi smo v kampu praktično samo prespali. Kamp je lepo urejen, parcela lepa in ravna. Sanitarije čiste in ogrevane, osebje prijazno in ustrežljivo. Odlična lokacija za raziskovanje okolice. Moti le hrup iz bližnje ceste.​​

Published on day from anonymous

Category

Tent

Company

Family with small children

Avtokamp Strunjan, zares prijazno od vas, da ste ceno dnevnega kampiranja povišali za 50 %. Že lansķih 10 evrov po osebi(+turistična taksa+elektrika+prijava) je bilo za storitev, katero ponujate, preveč. Letos torej skoraj 20 e na dan za spanje nekje ob cesti, med barakami? Primerno zares za ljudi z nizkimi kriteriji, zaradi česar bi morala biti tudi cena temu primerna. Za pol in tudi več kot pol manj denarja se k sreči še vedno najdejo kampi, ki to v ŕesnici so. Vendar boĺj južno, kjer je tudi morje mnogo bolj čisto. Bistvo kampiranja jaz sicer razumem kot bivanje v naravi ob zvoku škržatov, šumenju morja, zvečer morda petje ob kitari... , pri vas ni več nikakršne narave, sliši se le zvok klimatskih naprav in tvjev iz barak. Da nebo pomote, če nebi prejeli vavčerjev, nikakor nebi pomislila na obisk vašega "kampa". Tako pa smo sprva mislili, pa saj bo nekako... Ko pa želiš urediti formalnosti z receptorko Zvezdano v tem kampu ugotoviš, da te sem, že zaradi njenega neprimernega in arogantnega odnosa do strank, res ne bo nikoli več.​​ Smo raje malo počakali na meji in imamo počitnice vrredne tega naziva. Ni nam bila prioriteta porabiti vavčerje, ampak spodobne počitnice. Za to drugo tukaj ni možnosti. ​​​​

Published on day from anonymous

Category

Caravan

Company

Family with small children

Najbolj všeč mi je bila Titova slika, ki visi v recepciji. Sanitarije so kar solidne, a ti dve zadevi nista dovolj. Kamp spominja na sicer lepše urejeno romsko naselje. Tudi Wi fi deluje kot v Titovih časih. Za takšno ceno- absolutno in mnooooogo premalo.​​​​​​

Published on day from anonymous

Category

Camper

Company

Family with teenager

Dejstvo je, da je naša obala majhna, kar do neke mere opraviči slabo lego kampa. Ob kampu je zelo prometna cesta, do plaže pa daleč. Sanitarni vozel je zares bp. Tudi čiščenje le tega skoraj vzorno. Najbolj pozitivna reč v kampu je delavec, pojoči veseljak, ki odvaža smeti. Najbolj negativna pa je že v nekem komentarju omenjena neprijazna, če ne že nesramna svetlolasa receptorka. Vse skupaj za silo sprejemljivo, a le zaradi bonov.​​

Published on day from anonymous

Category

Tent

Company

In couple

redno nodim v ta kamp ker mi je ok vse​​

Published on day from Max111

Category

Camper

Company

Family with teenager

Vsa leta smo se radi vračali v kamo Strunjan. Letos pa katastrofa novi najemniki hišic, zraven njih očka z hčerkico v brako prikolici, ki so cele noči popivali, se med seboj kregali, prerivali, urinirali po živih mejah, navijali glasbo pozno v noč.... Do sedaj smo v tem kampu dobili mir, počitek in prijazno osebje, samo letos kljub opozorilom vodstvu kampa, jim očitno več pomenijo novi gostje. Škoda. Ocena kampa je še vedno pozitivna, kamp pa mora upoštevati tudi želje ostalih, saj vsak za svoj denar pričakuje kampiranje in ne nočne žure, katere si lahko poišče v bližnjih lokalih ali v Portorožu.​​

Published on day from anonymous

Category

Other

Company

Family with teenager

Piše, da imajo wifi ampak lovi samo, če stojiš pri recepciji. Svetlolasa receptorka je zelo neprijazna.​​

Published on day from anonymous

Category

Camper

Company

In couple

Super, ker je bližina Portoroža in veliko sprehajalnih poti.​​

Published on day from anonymous

Category

Tent

Company

Family with small children