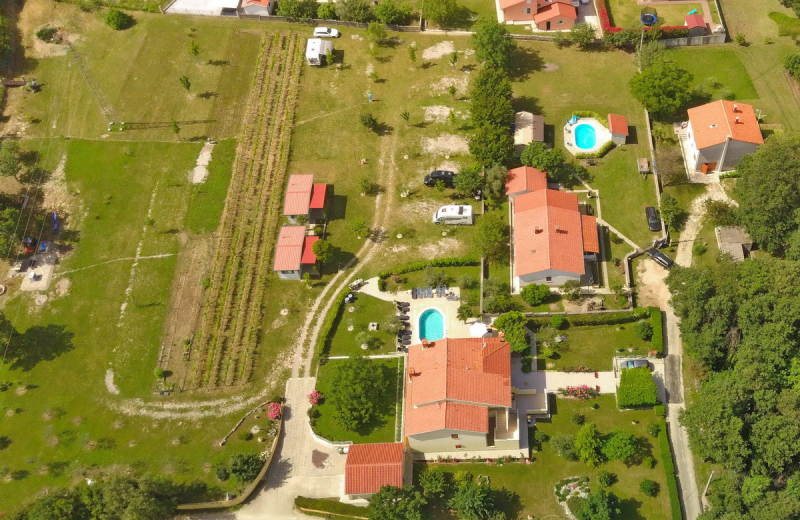 Official category: 3 from 5 stars
Camping Romantik
Address: Kapelica 47b, 52220 Labin, Hrvaška

Season: -
Compared price: 2 people + pitch with electricity - between 30 - 40 €
Discounts:
Discount Avtokampi.si Camping Card
Dogs welcome
By the city
Best small campsites
Pool
Information
Basic information
Camping Romantik - Labin is located on the outskirts of Labin (village Kapelica) and 15 min drive from Rabac. Camping grounds also offer rental of mobile homes and glamping tent.

They are offering 10 camping pitches and two mobile homes. Sanitary facilities are modern, they have also swimming pool and grill. For its quality arrangement they have been part of OK mini Croatian camps.
Campsite accepts the Avtokampi.si Camping Card, which will make the camping more affordable. The discount is listed at the price list of the campsite, and you can order free camping card HERE
Romantik has tidy sanitary facilities that were renovated and adjusted. Guests can enjoy in smaller swimming pools, sun loungers, hammock and shared barbecue place. They can as well microwave, fridge and seasonal vegetable from the garden.

There is a horse-riding ranch nearby, as well as many cycling and walking trails. The nearest mini market is just 100 metres from the campsite, and larger shops are 2 km away.

Features and equipment
Type of the campsite
Pitch features
Non-parcelled camping plots

Pitches with electricity and water

Pitches with electricity, water and waste water connections
Location
Equipment
Chemical toilet discharge

Children sanitary facilities

Heated sanitary facilities
Offer
Sport
Swimming pool/wellness
Swimming pool with heated water
Dogs
Rental option
Camping pricelist (in EUR) for year 2023
Pricelist for rental of accommodation for year 2023
Price for
1.7. - 19.8.
24.6. - 1.7.
19.8. - 26.8.
3.6. - 24.6.
26.8. - 2.9.
8.4. - 3.6.
2.9. - 7.10.
Apartment for 4 persons
100
90
75
65
Bed linens and towels
​​gratis
​​gratis
​​gratis
​​gratis
Final cleaning
​​30
​​30
​​30
​​30
Check-in
​​1
​​1
​​1
​​1
Tourist tax
​​0
​​0
​​0
​​0
Minimum stay
​​3 (+30%)
​​3 (+30%)
​​3 (+30%)
​​3 (+30%)
PDF - Pricelist for year 2023 (16KB)
1 dog is allowed in the mobile homes

Contact
GPS: 45.081665,14.101850
Address: Kapelica 47b, 52220 Labin, Hrvaška
Reception:

+385 91 139 64 23
Mobile Homes
Mobile homes description
Rent a mobile home in the campsite Romantik Labin - in the camp you can rent two mobile homes of 24m2 for 4 + 1 persons.

Mobile homes have two bedrooms, a bathroom, a living room with a kitchen, a terrace and are air-conditioned. Free Wi-Fi and satellite TV are available to guests. Dogs are also allowed in mobile homes.
Mobile homes information
Number of persons in mobile homes
Mobile homes for 4 - 6 persons

Mobile homes for 2 - 3 persons

Mobile homes for 6+ persons
Mobile homes
Dogs allowed in mobile homes

Mobile homes for handicapped

Mobile homes with 3 bedrooms
Pricelist for mobile homes (in EUR) for year 2023
Glamping
Glamping description
Renting a glamping tent in the campsite Romantika Labin - a novelty is a glamping tent for 2 people. The tent is equipped with two beds and a terrace, where is a mini kitchen (cooker, fridge) with a seating set. The sanitary facilities are common in the campsite.

Information about glamping
Glamping type
Number of persons in glamping
Glamping tents for 2 - 3 persons

Glamping hut for 2 - 3 persons

Glamping huts for 4 - 6 persons

Glamping huts for 6+ persons

Glamping tents for 4 - 6 persons

Glamping tents for 6+ persons
Location and features of glamping
Bathroom in accommodation
Pricelist for glamping (in EUR) for year 2023
Rating and reviews
Reviews:
Published on day from drozic

Category

Glamping

Company

In couple

Pretekli vikend sva z ženo preživela v glamping šotoru Kampa Romantik v Kapelici. Moram reči, da je bilo to najino prvo prenočevanje v tovrstnem šotoru, če temu sploh lahko rečeš šotor. Dejansko imaš vse udobje doma, s to razliko, da si tukaj neposredno v naravi.

Kamp Romantik je miren, urejen in cenovno ugoden kamp, z zelo zelo čistimi sanitarijami. Kamp vodita upokojeni zakonski par Flavijana in Mario, ki z dušo in srcem od jutra do večera skrbita za dobrobit gostov. Vsako leto sicer en teden z družino koristimo teden dni mobilne hiške, če je možno pa še par dni bivanja pod šotorom. Letos pa, kot rečeno, prvič v glamping šotoru.

Glamping šotor je pozicioniran v gozdičku, višinsko dvignjen nad samim prostorom, ki je namenjen avtodomom in/ali kamperjem, ca. 75 metrov zračne razdalje od njih. V šotoru so na voljo električni priključki, imaš steklo keramični štedilnik z vsem priborom za dve osebi, poleg tega pa tudi hladilnik za hladne napitke, hrano... Ker je šotor postavljen v gozdičku, v mirnem in romantičnem okolju, mu kar pritiče, da se nahaja v Kampu Romantik :-)

Priporočam vsem, ki si želijo mirnega oddiha v naravi, nedaleč stran od morja. Z avtom / motornim kolesom si le 15 minut oddaljen od znanih plaž v Rabcu (kjer je pač malo več ljudi) in plaže v Koromačnem, ki ni tako obljudena, vendar odlična za kopanje.

Z ženo bova zagotovo ponovno prišla (če bo le še kaj prosto)!​​

Published on day from anonymous

Category

Other

Company

Family with teenager

Počitnikovali smo v mobilni hišici. Tokrat že četrto leto. V kampu je zelo mirno in ni pretirane gneče.

Poudariti moram čistost kampa. Lastnika Mario in Flavjana vsakodnevno (večkrat dnevno) skrbita za urejenost sanitarij in bazena. Tudi ob prevzemu mobilne hišice je bila le-ta brezhibno urejena in čista. To leto imata obe hišici tudi klimo.

Tudi sicer Mariotu in Flavjani ne zmanjka prijaznosti :-) Mario za dobrodošlico gostu ponudi domače vino (belo ali črno), zelo rad pa se odzove povabilu na kavo ali pivo. Karkoli rabiš, ti Mario priskrbi ali vsaj poskuša priskrbeti.

Najbližje morje je iz kampa ca. 10 minut vožnje z avtom (Rabac). Temperatura zraka v kampu je ca. 3-4 stopinje C nižja kot ob morju, kar je še posebej sproščujoče ponoči...

Ko ti je vroče, skočiš v bazen, še posebej je to lepo v večernih urah, ko je bazen osvetljen z LED lučkami različne barve.

Kamp ima praktično vse, od športnih rekvizitov v gozdnem predelu kampa, ležalnih mrež, napetih med drevesi, okoliških sprehajalnih poti in kolesarskih poti. Stari del Labina je ca. 35 minut hoje navkreber (nad kampom).

Najbolj smo bili presenečeni nad (so)uporabo vrta, kjer rsatejo krompir, čebula, bučke, kumare in paradižnik. Vse to lahko brezplačno odtrgaš in porabiš pri pripravi kosila oz. obroka.

Zelo priporočamo obisk....ne boste razočarani. Mi smo rezervirali že za prihodnje leto...tokrat že petič!



​​

Published on day from anonymous

Category

Other

Company

In couple

Mir,cistoca,prijaznost ni guzve
Vse super OK
Lastnika Mario in Flavjana sta pa sploh super.:-) ​​

Published on day from Angelika

Category

Other

Company

Alone

Ein echter Geheim-Tipp!!!
Ich bin das 2. Mal hier gewesen und total begeistert von diesem kleinen Juwel an der Ostküste von Istrien. Besonders auch in der Nachsaison ist es hier wundervoll ruhig. Die Altstadt von Labin kann man zu Fuß über einen schönen Weg in einer halben Stunde erreichen. Ein paar Kilometer weiter ist ein kleiner Kiesstrand abseits des touristischen Rabac.
Der Platz wird von Mario und besonders von Flavijana liebevoll betreut. Morgens kann man sich sogar Brötchen von ihr bringen lassen. Der Sanitärbereich ist tip top sauber, die Duschen perfekt.
Highlight war die gemeinsame Weinlese auf dem Grundstück. Es wurde zu istrischen Speisen und Trank eingeladen. Mario spricht deutsch und Flavijana englisch.
Oberhalb der großzügig angelegten Parzellen ist ein schöner Bereich für Lagerfeuer, ein Spielplatz und 2 Fitness-Geräte.
Ich werde sicher wiederkommen.​​

Published on day from anonymous

Category

Other

Company

In couple

Een verademing t.o.v. de grote Kroatische campings aan de kust.
Vriendelijke eigenaren, die alles voor je willen doen. Zij spreken diverse talen. Zeer schoon sanitair. Ruime plaatsen, voor caravans en tenten. Wees enkel voorzichtig bij oprijden camping als je een lange caravan hebt, de oprit is krap. Camping ligt centraal om heel Istrie te bezichtigen. Wij hebben 3 heerlijke weken gehad.​​

Published on day from BineFlo

Category

Other

Company

In couple

The Campside was in a very good condition, The sanitary facilities were in a simple but excellent condition.
Our host was very nice and did everything to make our stay as pleasant as possible (fresh fruits, vegetables from his own garden, nice talks).
The campside is a small one, but not as crowded and loud as the big ones in Istria.
Our stay at Camp Romantik was our longest during our trip to Istria and our best! Thanks!​​

Published on day from Westlaren

Category

Other

Company

Family with teenager

Beautifull campsite, perfect host friendly, caring and reallly making an effort to make you feel at home and relax to have a great vacation. Our 9 year old daugter sums it all up: best vacation ever!!
Nice surroundings, lots to see and do, realativly short travel distantances. Sea nearby for refreshment and additionaly a Nice swimmingpool at campsite.​​