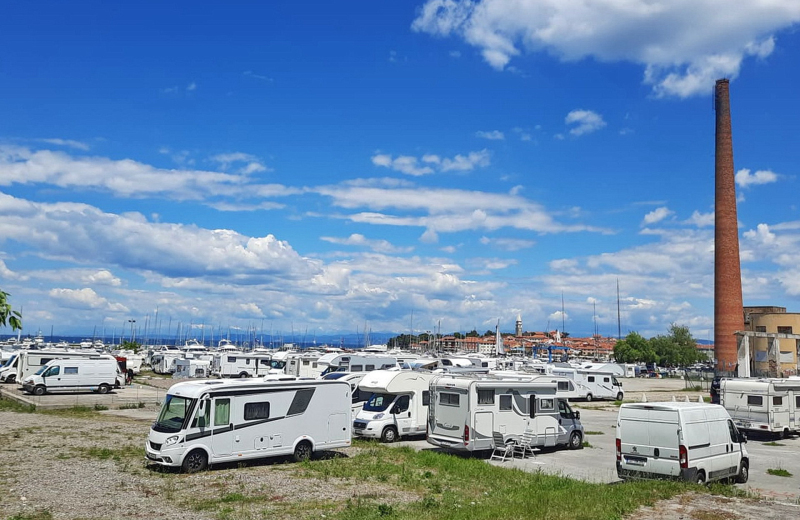 Information
Camper stop description
New camper stop was opened in Izola, at the location of former factory Argo which is on the vicinity of the old town of Izola.
This is larger parking for cars, where part (around 50 places) are arranged for campers and buses. It is possible to park for short time or for 24 hours. There are no camper supply services available.
Parking is great starting point for visiting Izola or daily walking or cycling trips around. Close by are several bars and restaurants.

Information about camper stop
Camper stop type
Camper stop with supply station
Features of the camper stop
Camper stop with sanitary facilities

Discharge of faeces / chemical wc
Features and equipment on location
Location
Equipment
Chemical toilet discharge

Children sanitary facilities

Heated sanitary facilities
Offer
Sport
Swimming pool/wellness
Swimming pool with heated water
Dogs
Rental option
Pricelist for camper stop (in EUR) for year 2023
Price for
1.5. - 31.10.
1.1. - 30.4.
1.11. - 31.12.
Camper stop - 1 hour
​​5
/
Camper stop - 2 hours
10
5
Camper stop (24h)
​​30
​​20
Contact
GPS: 45.533983,13.655622
Address: Dantejeva ulica, 6310 Izola, Slovenija
Reception:

+386 51 417 412
Rating and reviews
Reviews:
Published on day from anonymous

Category

Camper

Company

Family with small children

Edina dobra stvar tega parkirišča je lokacija, vse ostalo je pod kritiko. prespali smo 1 noč, prišli sredi dneva in odšli naslednji dan popoldan. Dobili 2 inšpekciji, če ne bi bilo pri AD, bi zagotovo dobili kazen, kot jo je kar nekaj naših sosedov. Bili smo z dvema ADjema in smo parkirali preveč narazen. Parkirišče je ogromno, parkiranih pa je bilo 12 avtodomov.​​
Da o ceni, ki je 20 € na noč, sploh ne govorimo.​​

Published on day from anonymous

Category

Camper

Company

Family with small children

Obiskali ker je cela obala polna. Parkirišče prav tako polno. Ni sanitarij,elektrike,vode....
V Sloveniji žal nimamo kapacitet za kampiranje ob morju. V bistvu nimamo niti enega poštenega kampa. Glede korone in varnosti pa katastrofa, gužva na polno.

Cena 20€ za parkiranje na dan se mi zdi visoka. Žal me Slovenska obala in ponudba za kampiranje spominja na Črno Goro izven sezone. Sramota​​