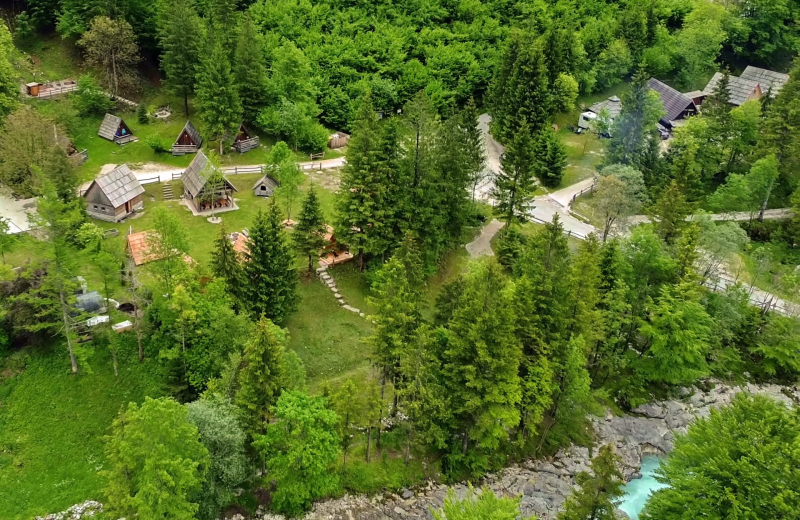 Best camp Adria 2021

3. place
Information
Basic information
Camping Korita - Soca is located along the road Bovec - Trenta, in town called Soca, 10km from Bovec in direction towards Trenta.

In addition to the arranged space for setting up tents, there are also a few parking spaces for campers and they also offer rental of two apartment chalets, two rooms and seventeen glamping wooden villas.
Campsite accepts the Avtokampi.si Camping Card, which will make the camping more affordable. The discount is listed at the price list of the campsite, and you can order free camping card HERE
Camping Korita is one of most unique campsites in Slovenia, situated in the heart of Triglav National Park, just above the the famous »Small river beds of river Soca« (»Mala Korita reke Soce«).
Main objective of the camping management is to raise the awareness about the importance of the nature preservation and enable active and relaxing holidays. Their slogan is to facilitate active camping in nature harmony.
In recent years, the Korita camp has replaced two mobile homes with two wooden apartments for 4 + 2 people and replaced smaller shepherd's huts with more comfortable glamping wooden villas. Guests can also use a wooden tub with hot water in the camp - for relaxation in pair.

In camping Korita you can set your tent just next to the river Soca or on a soft meadow in the upper part of the camp. Pitches around reception are best suitable for campers and caravans.
Guests will in camp find more arranged tables with benches, fireplaces, there are bar and sanitary facilities at the reception building. Free internet access in arranged.

There is no market in the camp, but mobile shop comes several times. Restaurant is in the campsite nearby, where you can as well taste and buy local products.
Camp is perfect for all sports activities, for which you can arrange everything in the camp. These are for example canyoning, rafting, cycling, climbing, rafting and many more. From the activities outside the water you can gg cycling, climbing, back horse ridding, paragliding and hiking.
Features and equipment
Type of the campsite
Pitch features
Non-parcelled camping plots

Pitches with electricity and water

Pitches with electricity, water and waste water connections
Location
Equipment
Chemical toilet discharge

Heated sanitary facilities

Children sanitary facilities
Offer
Sport
Swimming pool/wellness
Swimming pool with heated water
Dogs
Rental option
Camping pricelist (in EUR) for year 2023
Glamping
Glamping description
Part of the camp is arranged as glamping settlement with wooden chalets, common kitchen, relaxing area and new sanitary facilities with modern bathrooms.

There are ten glamping wooden villas for 2 + 1 people (furnished with bed and linens). These are suitable for a pair and child, for example.

In campsite Korita it is possible to rent larger wooden chalets for 4+2 persons, private room for 4 and room for 4 + 2 persons.
Information about glamping
Glamping type
Number of persons in glamping
Glamping hut for 2 - 3 persons

Glamping huts for 4 - 6 persons

Glamping huts for 6+ persons

Glamping tents for 2 - 3 persons

Glamping tents for 4 - 6 persons

Glamping tents for 6+ persons
Location and features of glamping
Bathroom in accommodation
Pricelist for glamping (in EUR) for year 2023
Rating and reviews
Best camp Adria
2021: 3. place in category Slovenia - Smaller campsites
Reviews:
Published on day from anonymous

Category

Other

Company

Other

Lepote Soče prevzamejo človeka in tu Soča teče par metrov od kampa. Lepo, najlepše!​​

Published on day from anonymous

Category

Other

Company

In couple

Prekrasen ambijent in prijazno osebje.​​

Published on day from kampdružina

Category

Other

Company

Family with small children

Zelo umirjen, prijeten kamp. Lepo otrosko igrisce, ves cas ciste sanitarije. Par min sprehoda do Soce, za namakanje nog in metanje kamenckov.​​

Published on day from paličica

Category

Other

Company

In couple

Kamp je čist, urejen in miren. Vsako jutro pripeljejo sveže pekovske izdelke, stalne trgovine ni. Hrano si je potrebno priskrbeti prej. Mogoče je bila malo moteča lega, saj ni veliko prostora za šotoriste in je tako velik problem, če je gneča. Prav tako ni nekega razgleda. Kampirala sva sicer med avtodomi, saj je bilo tam ceneje..​​

Published on day from anonymous

Category

Tent

Company

Family with small children

Super smo se imeli. Priporočam​​

Published on day from anonymous

Category

Other

Company

Family with small children