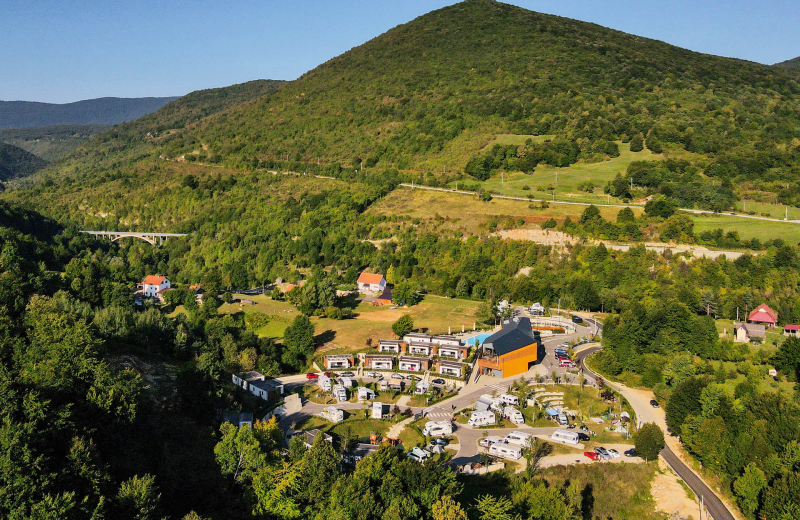 Information
Basic information
Camping Plitvice is located 3km from the National Park Plitvice Lakes entrance. It is completely new campsite, categorized with 5 stars. It is the closest to the lakes and offer arranged camping pitches and rental of mobile homes.
The campsite is open from April until the end of October.

NEW - expansion of the campsite to include new pitches for motorhomes and new mobile homes with a private jacuzzi on the terrace.

Campsite accepts the Avtokampi Camping Card, which will make camping holidays more affordable. The discount is listed at the price list of the campsite - order for free and get camping card by email.
Campsite is arranged in beautiful natural environment that offers its guests various sports activities, from hiking to cycling, to name only the most popular two.
There are 30 arranged camping pitches and additional 8 places for camping with tents. Pitches for campers and caravans are from 100 to 170 m2 large and equipped with electricity and water access, some have as well sewage. Wifi internet is accessible from all pitches, while picnic area is shared one.
Guests can enjoy in larger and children's swimming pool (open May - September), there is also a bar, children's playground, outdoor fitness, football and basketball courts. They also offer rental of electric bicycles and quad bikes (guided tours around the area), rafting and kayaking trips, horseback riding on a ranch near the campsite and adrenaline park Plitvice (zipline - rides on the cable car, giant swing ...)

As camp is situated next to the main coastal road, reception works non-stop, which is convenient for passing guests as well.
Sanitary facilities are arranged in two buildings that provide as well children's facilities, access for disabled, dog shower and laundry. For guests with camper they have camper supply station and chem toilet.
Restaurant is in the main building and offers delicious local menus.

Features and equipment
Type of the campsite
Pitch features
Non-parcelled camping plots

Pitches with electricity and water

Pitches with electricity, water and waste water connections
Location
Equipment
Chemical toilet discharge

Children sanitary facilities

Heated sanitary facilities
Offer
Sport
Swimming pool/wellness
Swimming pool with heated water
Dogs
Rental option
Camping pricelist (in EUR) for year 2023
Contact
GPS: 44.933931,15.630011
Address: Smoljanac 67, Smoljanac, 53231 Plitvička jezera
Reception:

+385 53 652 484
Mobile Homes
Mobile homes description
Rental of mobile homes in camping Plitvice - it is possible to rent one of 17 modern mobile homes for 4 - 6 persons.
There are two types of available, both 36 m2 large - Premium Family, Delux Family and two Deluxe mobile homes with private jacuzzi.

All mobile homes have two bedrooms, two bathrooms, full equipped kitchen (cooking plate, fridge, microwave, ..), living room with terrace. All mobile homes have air-conditioning with heating in cooler days.
Rental price includes bed linen and towels during stay.Living room has satellite television, free wireless internet and seating area with extra beds. Additional seating areas is on terrace.
Deluxe mobile homes with jacuzzi - in addition to the terrace, the mobile home has a private hot-water jacuzzi.
Dogs are allowed in mobile homes.

Mobile homes information
Number of persons in mobile homes
Mobile homes for 4 - 6 persons

Mobile homes for 2 - 3 persons

Mobile homes for 6+ persons
Mobile homes
Dogs allowed in mobile homes

Mobile homes for handicapped

Mobile homes with 3 bedrooms
Pricelist for mobile homes (in EUR) for year 2023
Avtokampi camping card
2023 - 10% discount on camping and renting mobile homes, in case of min. 3 nights discount is 15%
Price for
8.7. - 22.9.
17.6. - 7.7.
1.4. - 16.6.
23.9. - 13.10.
14.10. - 1.11.
Mobile home for 4 + 2 persons (Premium)
​​375
​​328
​​260
​​216
Mobile home for 4 + 2 pers. (Deluxe)
​​416
​​363
​​293
​​260
Mobile home for 4 + 2 persons (Delux + jacuzzi)
562
472
381
338
Bed linens and towels
​​gratis
​​gratis
​​gratis
​​gratis
Final cleaning
​​gratis
​​gratis
​​gratis
​​gratis
Dog
​​25
​​25
​​25
​​25
Tourist tax
​​1,10
​​1,10
​​1,10
​​1,10
Special offer
​​-15 / -20 %*
​​-15 / -20 %*
​​-15 / -20 %*
​​-15 / -20 %*
PDF - Pricelist for year 2023 (19KB)
*Discount - if you rent a holiday cottage for 2 nights, the discount is 15%, and for 3 nights or more, the discount is 20%.