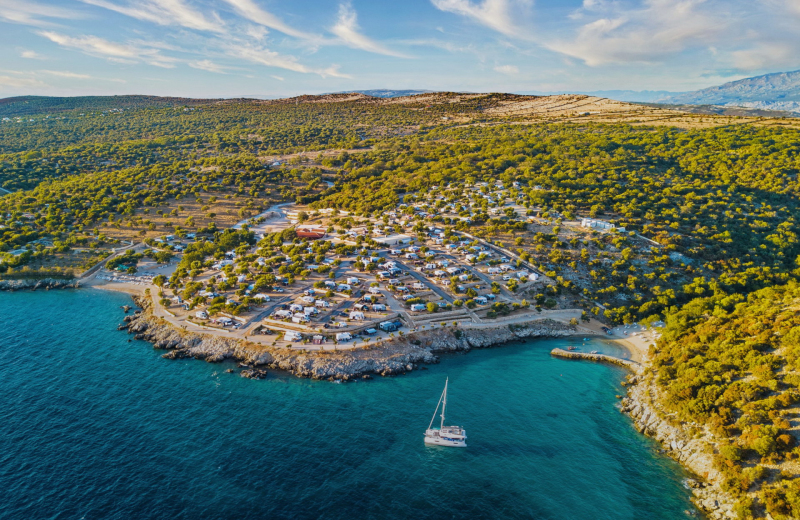 Information
Basic information
Campsite Olea - Pag island is located 12km north of Novalja in direction towards Nin on the western side of the island. This is very peaceful location, far away from larger tourist complexes, where guests are able to relax and children will be able to enjoy beautiful nature and two pebbled beaches.
Campsite accepts the Avtokampi Camping Card, which will make camping holidays more affordable. The discount is listed at the price list of the campsite - order for free and get camping card by email.
NEW - shop and new small toilets at the pitches by the sea, sports centre with basketball and football pitches, additional beach volleyball court.

Camping Olea is arranged in the olive grove and offers 200 well arranged camping pitches. They are from 100 – 150 m2 large, with connection to electricity, water and sewage. They are divided according to their location: Luxury are located by the sea and under the reception, Premium from the second row form the sea, Comfort in the central part of the camp and Standard in the upper part.
Due to its arrangement, camping is most appropriate for guests with campers and caravans. Because camping pitches are arranged in terraces, each of them offers great view across the open sea as well as unforgettable sunsets. Smaller playground is arranged close to the beach, smaller outdoor fitness, while most fun is ensured by clear sea.
Sanitary facilities are arranged in modern building and are adjusted to the height of children as well. Additionally, the have laundry and camper supply station.
Beach bar and restaurant are in the camp. They organize delivery of fresh bread, fruit, vegetable and fish.
Information about the Ferry Connections and its Prices to the Island Pag
Features and equipment
Type of the campsite
Pitch features
Pitches with electricity and water

Pitches with electricity, water and waste water connections

Non-parcelled camping plots
Location
Equipment
Chemical toilet discharge

Children sanitary facilities

Heated sanitary facilities
Offer
Sport
Swimming pool/wellness
Swimming pool with heated water
Dogs
Rental option
Camping pricelist (in EUR) for year 2023
Avtokampi camping card
2023 - 21 € for 2 persons + dog on a Comfort or Standard pitch with electricity and water in the periods 28.4. - 15.6. & 15.9. - 8.10. or 25 € in the periods 15.6. - 30.6. & 1.9. - 15.9.
Price for
1.7. - 1.9.
4.6. - 1.7.
1.9. - 20.9.
21.5. - 4.6.
28.4. - 21.5.
21.9. - 7.10.
Person
​​11,90
​​9,90
​​7,40
​​6,30
Children 7 - 12 yrs.
​​4,90
​​3,90
​​3,40
​​2,90
Person older than 60
​​8,90
​​7,90
​​4,80
​​4,10
Pitch by the sea (1. or 2. row, electricity, water)
​​48,90
​​37,90
​​27,90
​​22,90
Pitch by the sea (electricity, water)
​​36,90
​​29,90
​​23,90
​​19,90
Pitch (electricity, water)
​​27,90 / 31,90*
​​21,90 / 24,90*
​​16,90 / 19,90*
​​14,90 / 16,90*
Addit. tent
​​6,40
​​4,90
​​3,90
​​2,90
Addit. car
​​6,40
​​4,90
​​4,20
​​3,90
Addit. motorcycle
​​3,90
​​2,90
​​2,40
​​1,90
Dog
​​5,90
​​4,90
​​3,90
​​2,90
Utility Trailers
​​6,90
​​4,90
​​3,40
​​2,90
Private bathroom
​​15,90
​​13,90
​​11,90
​​8,90
Tourist tax
​​1,33
​​1,33
​​1,33
​​1,33
Check-in
​​1
​​1
​​1
​​1
PDF - Pricelist for year 2023 (20KB)
* the lower price is valid for standard pitches in the upper part of the campsite, and higher for comfort pitches in the central part of the campsite

Contact
GPS: 44.628032,14.795137
Address: Sonjevi Stani 38 b, 53291, Novalja, hrvaška
Reception:

+ 385 21 770 017
Rating and reviews
Reviews:
Published on day from anonymous

Category

Camper

Company

In couple

naravno čudovito, lepo mesto, ampak to je edina stvar, ki jo ima. postrežba v restavraciji izredno slaba, prav tako osebje.​​

Published on day from anonymous

Category

Tent

Company

Family with teenager

Kamp je manjši in odmaknjen od vrveža v Novalji. V času, ko smo bili je bilo zelo mirno in tiho. Osebje je nonstop skrbelo za čistočo sanitarij in okolice. Možnost zastonj pranja perila, ležalnikov, pinkponk in namizni nogomet. Dodatna možnost zasebnih sanitarij in hladilnika za plačilo. Wifi dela odlično. V kampu je restavracija, trgovina, tržnica ter vsak drugi dan ribarnica. Nekaj težav je bilo opaziti pri dostopu za večje prikolice in avtodome (precej strmo), vendar osebje pomaga tudi z bagerjem. Gosti so bili večinoma tujci. Ena plaža je namenjena psom, druga ima mivko in manjši pomol.
Osebje govori po večini angleško, kar nas je presenetilo, a nas ni motilo.
Dostop do kampa je po makadamu. Za šotor je potrebno imeti močnejše kline, ker so tla skalnata in prekrita z drobnim peskom. Nekatere parcele imajo klasičen 220v in CEE priključek, nekatere pa samo CEE in potrebujete adapter (nekaj jih imajo tudi na recepciji).
Primerno za ljudi, ki se res želijo odmakniti od gužve in spočiti. ​​

Published on day from anonymous

Category

Tent

Company

Family with small children

Published on day from BurgarK2

Category

Caravan

Company

In couple

Čiste sanitarije. Urejena plaža s senčniki in ležalniki. Prijeten bar na plaži.
Manjka samo delovni čas in cenik za pekarno in gostilno. Ponudba sadja, zelenjave in rib zadovoljiva. Ribe ti tudi lepo očistijo.
Cena z avtokampi kartico res super! ​​

Published on day from MojcaP

Category

Caravan

Company

Family with teenager

Odlična lokacija, odmaknjena od mestnega vrveža s čudovitim razgledom z vsake parcele (terasast kamp) in sanjsko plažo, v glavnem vse kar potrebuješ za sprostitev&počitek. Kamp nudi tudi vez za čolne in gratis uporabo pralnih in sušilnih strojev. Pogrešali smo samo trgovino; vsak dan pa smo imeli na voljo mini pekarno, stojnico s sadjem&zelenjavo in 3 x tedensko s svežimi ribami. Hvala lepa tudi avtokampi.si, z vašo kartico smo imeli celo 10%popusta na osebe in katerokoli parcelo (mi smo bili na luxury v 1.vrsti:-) in to v glavni sezoni!!! Sanitarije zelo čiste in opremljene z zvočniki, čistilke skrbijo še za glasbo:-) Edina slabost je zelo strm dostop do parcel v prvih dveh vrstah - brez 4x4 pogona na avtu ni možno izvleči prikolice s parcele, kamp pa nima traktorja... gostje si naročajo avtovleko.. ​​​​

Published on day from anonymous

Category

Camper

Company

In couple

Kljub vnaprejšnji rezervaciji in potrditvi le-te s podatkom, da rabiva parcelo za avtodom 7,4 m dolžine, sva ob prihodu dobila parcelo, do katere je nemogoče priti, razen, če reskiraš in uničiš avto (strma makadamska pot med oljkami in škarpami), sama parcela strma, katastrofa z eno besedo. Kako lahko tako parcelo sploh tržijo, ..., na recepciji očitno osebje, ki nima osnovnega vedenja o kampiranju, po vrhu vsega pa govori samo angleško in polomljeno hrvaščino??!! Pa še to, do kampa prašna makadamska cesta!!!​​

Published on day from Gospodar

Category

Caravan

Company

In couple

Naju je kamp navdušil. Super odnos in kontakt z lastnikom, mir, velike parcele, noro lepo morje, razgled, čudoviti sončni zahodi med oljkami - super. Če bo drugo leto dodanega pol tega kar je načrtovano in če cena ob uporabi avtokamp.si kartice ostane vsaj podobna letošnji, bo že kičasto.
Obvezna "kontrola" 2021.
Priporočam.​​

Published on day from anonymous

Category

Caravan

Company

Family with small children

Super, miren kamp, na sicer malo bolj odmaknjeni lokaciji. Super smo preživeli en del dopusta tam. Nam je samo manjkala ena trgovinica v kampu. Drugače pa sanitarije super, redno čiščene. lokal na plaži odličen, za popit kakšno pijačo. Osebje zelo prijazno in ustrežljivo. Mi smo se imeli lepo. In sigurno še pridemo.​​

Published on day from kapelica

Category

Caravan

Company

Family with teenager

- Lepo urejen nov kamp, parcele precej velike
- Sanitarije glede na zasedenost kampa dovolj velike, v letu 2021 napovedujejo še en nov sanitarni objekt
- Lepo urejen lokal s pijačo in sladoledom, v letu 2021 napovedujejo tudi restavraciji in trgovino
- Plaža (pesek in malce večje kamenje v vodi) z senčniki in brezplačnimi ležalniki , morje zelo čisto (znanilci čistosti morja tudi ježki, ki pa so v malce globji vodi, če pa kak zaide v nizko ga kopalci vrnejo v globjo). Druga peščena plaža, ki so si jo prisvojili kopalci, pa je starejša "lučica" za privez čolnov, tako da se je potrebno zavedati da se morajo kopalci občasno tudi umakniti kakemu čolnu.
- Vsak drugi dan v kampu prodajajo ribe ( v času našega obiska dobra ponudba; brancini, orade, sardele, jadranski lignji, kozice, dagnje...) in vsak drugi dan tudi sveža zelenjava in sadje
- Kruh "pečejo" (po naročilu dan prej) vsak dan v kampu (Mlinarjevi izdelki)
- Manjša trgovina v bližnji vasi Jakišnica, večje pa v Novalji
- Nekaj restavracij v bližnji vasi Jakišnica, 2x obiskali Bistro "Toni", in obakrat zadovoljni
- Parcele v terasah nudijo lep pogled na morje (tudi delfine :), nekatere so v senci oljk, druge precej na soncu, vendar bodo tudi te čez leta krasila drevesa oljk

Odličen miren kamp
​​

Published on day from johnnyjanez

Category

Caravan

Company

Family with small children

Glede na to da je nov kamp je zelo lepo urejen. Res da je bolj v klancu, ampak se da vse uredit. Nam je bil všeč ker je na zelo mirni lokaciji in tudi zvečer je mir. Edina slabost je da nima trgovine, drugače pa za nas je bil super, lep in ugoden kamp.​​