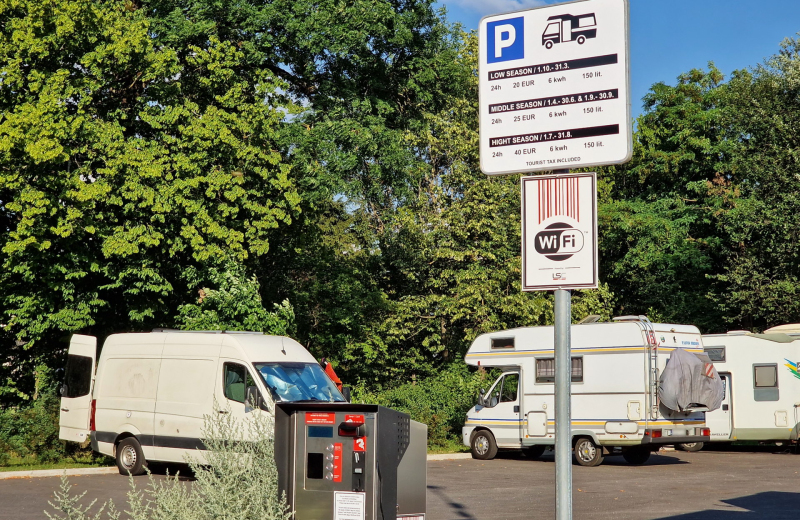 Information
Camper stop description
Camper stop Bled is arranged at the beginning of town Bled, close to the Information Centre and Mercator centre. This is about 10min walk from the Bled lake.
Camper stop provides 22 parking places with electricity connection, has camper supply station that offers fresh water, option to empty the water waters and empty the chemical toilet cassette.
Visiting Bled is interesting any time in the year. It offers many walking, hiking and cycling paths around the lake and in the neighborhood, opportunity to visit the island and church with traditional boat - pletna - or climb to the castle above the lake.
Information about camper stop
Camper stop type
Camper stop with supply station
Features of the camper stop
Discharge of faeces / chemical wc

Camper stop with sanitary facilities
Features and equipment on location
Location
Equipment
Chemical toilet discharge

Children sanitary facilities

Heated sanitary facilities
Offer
Sport
Swimming pool/wellness
Swimming pool with heated water
Dogs
Rental option
Pricelist for camper stop (in EUR) for year 2023
Price for
1.7. - 31.8.
1.4. - 30.6.
1.9. - 30.9.
1.1. - 31.3.
1.10. - 31.12.
Camper stop (24h)
​​40
​​25
​​20
Electricity per 6 kWh
​​gratis
​​gratis
​​gratis
Water per 150l
​​gratis
​​gratis
​​gratis
Tourist tax
​​gratis
​​gratis
​​gratis
Rating and reviews
Reviews:
Published on day from noninino

Category

Camper

Company

In couple

We spent one night in the camperstop. Mostly it was ok, but there was a big problem for us because we have an electric heater. It was -2 that night, so the 6 kWh which comes with 20 euros payed for a night we used throughout pretty soon.
I saw here that electricity is free of charge so it was a surprise. Even bigger surprise, a real cold shower, came when I wanted to buy more electricity and I discovered that it is not possible, I could just pay one more day to get 6 kWh more, so we payed 20 euros for 6 kWh, which is more than 3,3 eur/kWh or 10 times more than official pricer for non-households with taxes. And still it did not last throughout the night.
I think that if a camperstop is open in winter, there should be possibility to buy extra electricity for a reasonable price, let's say 6 euros for 6 kWh.
Also, on this page it says that the registration fee is free. On the site there is a sign which says that the registration is obligation, so we went to the infocenter and we payed there more than 6 euros for registration.
Also also, the button "contact details" on this page does not give any contact details.
Also also also, the button "official website" on this page does not lead to the camperstop page.​​