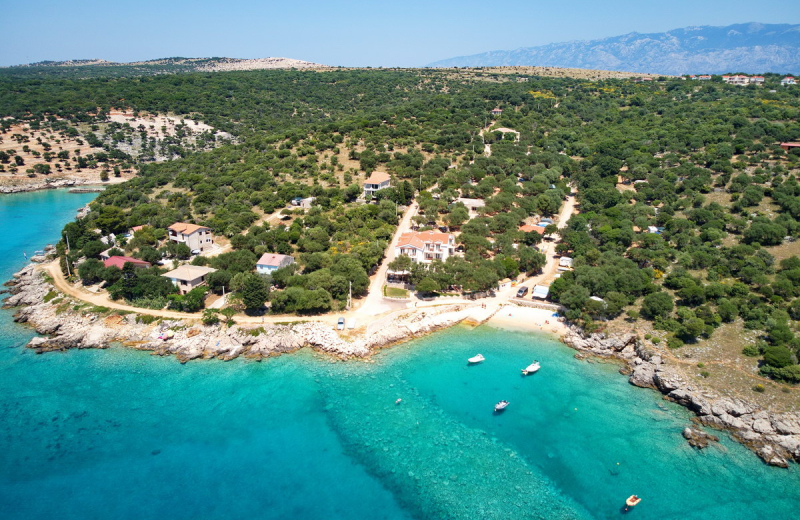 Information
Basic information
Camping Drazica is located on the north-western side of the island Pag, about 10km from city Novalja in direction of town Lun. Drazica is located 2km from the main road, and can be reached via narrow, asphalted road, which is a bit challenging for caravans.

Campsite Drazica accepts the Avtokampi Camping Card, which will make camping holidays more affordable. The discount is listed at the price list of the campsite - order for free and get camping card by email.
It is encircled with olive trees, beach in this family camp is pebbled; close by you can find smaller bay only for yourself. Camp has arranged ramp for launching boats into the sea.
Pitches are arranged in terraces. Some pitches are arranged for campers in the lower part of the campsite. Electricity connection is possible, but longer extension is needed. Some pitches have water and sewage.

Camp has modern sanitary that are as well tidy. Guests can enjoy camp's restaurant with offer of home meat dishes. Free wireless internet is accessible across the campsite.

There is no shop in camp, but the camp owners go every day to the city and they will be happy to bring you anything you will need from the shop. Three times a week fresh fruits and vegetable are delivered to the camp. Rental of SUP boards and kayaks is possible in the camp.

Information about the Ferry Connections and its Prices to the Island Pag

Features and equipment
Type of the campsite
Pitch features
Pitches with electricity and water

Pitches with electricity, water and waste water connections

Non-parcelled camping plots
Location
Equipment
Chemical toilet discharge

Children sanitary facilities

Heated sanitary facilities
Offer
Sport
Swimming pool/wellness
Swimming pool with heated water
Dogs
Rental option
Camping pricelist (in EUR) for year 2023
Avtokampi camping card
2023 - 10% discount per person in the periods 15.4. - 30.6. & 2.9. - 15.10. and 5% discount per person in the period 1.7. - 2.9.
Price for
10.7. - 20.8.
1.7. - 10.7.
20.8. - 1.9.
10.6. - 1.7.
2.9. - 16.9.
27.5. - 10.6.
15.4. - 27.5.
16.9. - 15.10.
Person
11
10
8
5,50
4,90
Children 4 - 12 yrs.
6
5
4,10
3,90
3,40
Pitch (electricity, water)
32
28,50
24
19
16
Pitch with electricity
28
24
20
15
12
Motorcycle + tent
18
15,50
12
8,50
6,70
Addit. car / tent
​​5,70
5
4,50
4
3,30
Boat trailer
5
4,50
4
3,60
2,80
Dog
​​4,20
​​3,50
​​2,50
​​2,50
2,50
Private bathroom
​​15
​​15
​​10
10
8
Internet access - WIFI
​​gratis
​​gratis
​​gratis
​​gratis
​​​​gratis
Tourist tax
​​1,35
​​1,35
​​1,35
​​1,35
​​​​1,35
Check-in
​​1
​​1
​​1
​​1
​​​​1
Contact
GPS: 44.624436,14.799427
Address: Šonjevi Stani 5a, 53291 Novalja - Pag, Hrvaška
Reception:

+385 53 669 018

Reservation:

+385 98 416 759
Rating and reviews
Reviews:
Published on day from anonymous

Category

Tent

Company

Family with teenager

Odličen mali kamp s senčnimi parcelami v terasi.
++ odlična lega v peščenem zalivu odmaknjeno od živžava
++ družina za kampom skrbi, da je ljudem prijetno (pripelje prikolico na parcelo, spusti/dvigne čoln iz morja, pripelje kruh in pecivo v kamp...)
++ parcele lepe, velike, individualizirane, el. omarice (šuko) blizu
++ naravna senca na vseh parcelah, veliko starih oljk za napenjanje visečih mrež :)
++ 3 senčne plaže (mivka, pesek, kamenčki) v in neposredno ob kampu
+ možnost rezervacije parcel brez kotizacije
+ možnost predhodnega odhoda iz kampa brez penalov
o 3x tedensko pride v kamp kombi z zelenjavo/sadjem: zelenjava kvalitetna (a ne lokalna!), toda zasoljena
o sanitarije so večinoma čiste a stare. Lastnik napoveduje pred novo sezono kompletno obnovo.
- ni možnosti souporabe hladilnika. Lasnik pravi, da bo morda rešeno že za sezono 2019.​​

Published on day from anonymous

Category

Other

Company

Family with small children

Lep družinski kamp, velike parcele z vodo in odtokom, plaza z drobnim peskom čiste sanitarije. Miren in odličen za družine.

Trgovine ni, osnovne stvari naročiš na recepciji ali se peljes 5km...
Možnost izposoje supov in kajakov. ​​

Published on day from anonymous

Category

Other

Company

Family with small children

Peaceful, shady, spacious camping places. Bathroom and toilets were always clean, there's always hot water. The beach by the camp was always crowded, but there are two beaches, one sandy and one pebbled close, so that's not really a problem. Nice and helpful staff.​​

Published on day from anonymous

Category

Tent

Company

Family with small children

Odličen kamp za vse tiste ki si želite miru,ko pade tema je v kampu tišina,plaža je odlična za majhne otroke,veliko sence na parcelah​​

Published on day from anonymous

Category

Other

Company

Family with small children

Za ljubitelje mira i prirode ovaj kamp je savrsen! U blizini se nalazi mala pjescana plaza koja je savrsena za obitelj s malom djecom! Vlasnici su izuzetno susretljivi i prijazni.​​

Published on day from Mobilna

Category

Other

Company

Other

Za druzine z majhnimi otroci ni saj si ne mores privoščit sprehoda z vozickom ali zabave za otroke. Se nikoli nismo imeli toliko mravelj v šotoru, ko se ti ze zdi da si se jih resil eto nove brigade. Otroci so se razveselili zelvic, ko so jih pa drugi otroci mrcvarili po kampu in delali z njimi kar so hoteli. Lastnik je nemo hodil mimo in se mu je ocitno to zdelo normalno. To da se moras najavit en dan prej za vecerjo nas je pa prepricalo da ne pridemo vec. Kamp je glede na velikost kar glasen. Skratka nas niso prepricali. ​​

Published on day from anonymous

Category

Other

Company

Other

Odličen kamp, če si le želi človek miru.
V kampu smo bili lani skoraj 2 meseca in to s 7 mesecev starim dojenčkom. Morda trgovine res ni za vogalom, ti pa lastniki (če večer prej le poveš) prinesejo iz trgovine vse osnovno kar bi človek potreboval.
Sanitarije izredno čiste, prav tako prostor za pomivanje posode. Res izredno čisto!
So pa v kampu po večini nemški turisti + večina upokojencev.
In enkrat tedensko živa glasba :)).
Priporočam, če za oddih le ne potrebujete štantov s kičem, trgovskih centrov in pijane mladine.​​