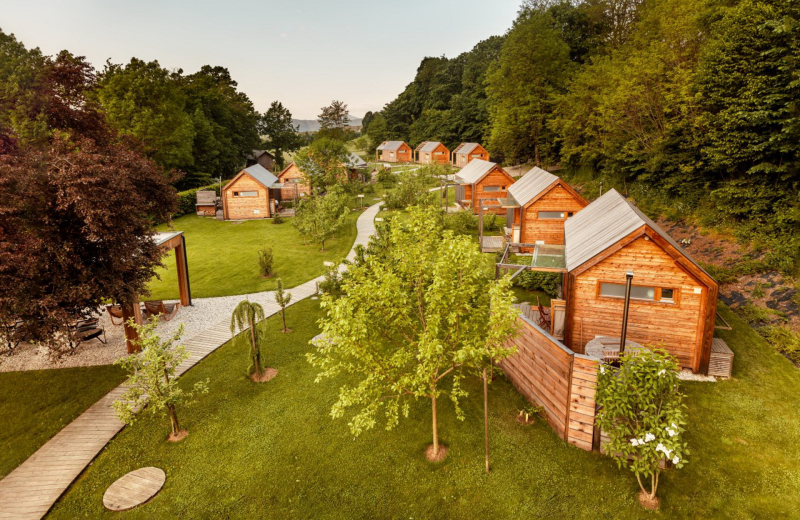 Best camp Adria 2023

2. place
Information
Glamping description
Glamping Mountain Fairy Tale is located in a beautiful natural environment in Trzic, where 9 wooden glamping houses and a wellness house have been built according to Feng Shui principles.
The location of Trzic itself offers many activities for guests, from sports, culture to historical experiences. You can go sightseeing, such as the Dovžana Gorge, the Šentan Mine, the Stegovnice Waterfall, the Borna Tunnels... You can visit the mountain huts at Kofce, Sija, Stari Ljubelj, the Dolga njiva mountain...
In the immediate vicinity there is also a swimming pool with a swimming pool Gorenjska beach, there are many marked cycling paths, fishing, climbing, paragliding, and in winter there is also cross-country skiing and tobogganing.
Glamping Mountain Fairy Tale offers wooden glamping houses for up to 4 people, furnished in a minimalist style. They are equipped with large panoramic windows, well insulated and heated so they are usable all year round. All glamping chalets are also equipped with an outdoor wooden hot tub - jacuzzi - and one chalet has its own sauna. Massages are available by prior arrangement.
Dogs are allowed in the glamping houses upon prior reservation.
Each glamping house has a central room with a kitchen, dining table, bathroom and one or two double beds in a semi-detached room. A cot and highchair can be arranged for smaller children. Each chalet also has an outdoor terrace with a beautiful view of the neighbouring hills. Guests can enjoy fresh vegetables, herbs and fruit in the garden inside the glamping site.
The glamping site also has a reception, a children's play area, a barbecue area, a relaxation and meditation area and a charging station for electric vehicles.
Breakfast is included in the rental price and is brought in a picnic basket in front of the chalet.
Guests can also enjoy free tickets for swimming at the Trzic summer swimming pool, rent bicycles and go on a trip or hike up one of the hills to sample local cuisine in the mountain huts. If you want to spend a more adrenaline-fuelled day, the glamping site will organise parachuting, rafting, canyoning, zip-lining, etc.
They have put together a selection of packages that will give you a slightly different way to spend your glamping holiday. You can also give selected packages to your family and friends as a gift voucher.
Information about glamping
Glamping type
Number of persons in glamping
Glamping hut for 2 - 3 persons

Glamping huts for 4 - 6 persons

Glamping huts for 6+ persons

Glamping tents for 2 - 3 persons

Glamping tents for 4 - 6 persons

Glamping tents for 6+ persons
Location and features of glamping
Bathroom in accommodation
Features and equipment on location
Location
Equipment
Chemical toilet discharge

Children sanitary facilities

Heated sanitary facilities
Offer
Sport
Swimming pool/wellness
Swimming pool with heated water
Dogs
Rental option
Pricelist for glamping (in EUR) for year 2024
Price for
1.7. - 31.8.
20.12. - 2.1.
26.4. - 30.6.
1.9. - 3.11.
3.1. - 25.4.
4.11. - 19.12.
Glamping - wooden hut for 2 persons
145
135
120
Glamping - wooden hut for 4 persons
185
170
150
Children under 3
​​gratis
​​gratis
​​gratis
Pool entrance
​​gratis*
​​gratis*
​​gratis*
Bed linens and towels
​​gratis
​​gratis
​​gratis
Final cleaning
​​gratis
​​gratis
​​gratis
Breakfast
​​gratis
​​gratis
​​gratis
Dog
​​10
​​10
​​10
Minimum stay
​​3 /4**
​​2
​​2
Tourist tax
​​2
​​2
​​2
PDF - Pricelist for year 2024 (21KB)
*The price of renting a cottage in the summer months also includes swimming tickets for the Gorenjska beach, which is located in the immediate vicinity of the glamping village, and free entry to the Tržič Museum all year round.
Children up to 3 years stay free, all older children are considered adults. Dogs are allowed with prior approval from reception.
** minimum stay is 3 nights during the summer months and 4 nights during the Christmas and New Year holidays.
Extra charge: - use of Finnish sauna for 3 hours - € 40, daily use of wooden hot tub for the first day € 40, each following day € 20.
Contact
GPS: 46.353332,14.293943
Address: Cesta Ste Marie aux Mines 19a, 4290 Tržič, Slovenija
Reception:

+386 31 603 050
Rating and reviews
Best camp Adria
2023: 2. place in category Slovenia and Croatia - Glamping