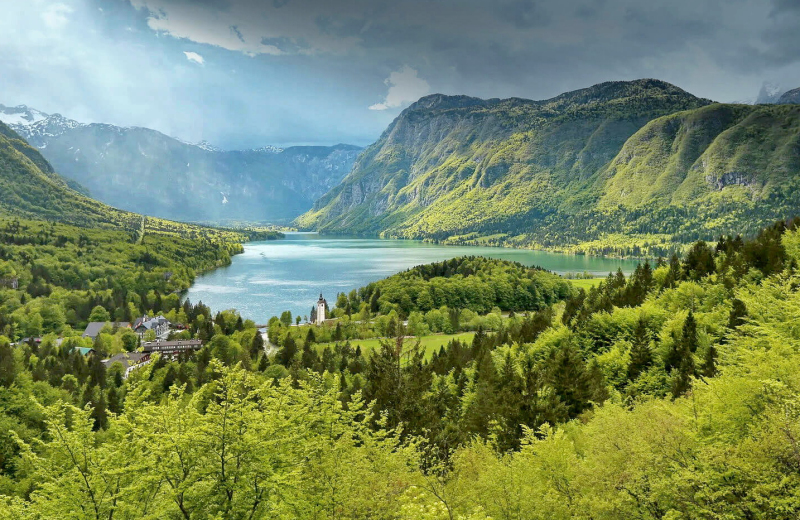 Information
Camper stop description
Camper stop Bohinj is located on the railway station Bohinjska Bistrica It has 22 parking spots for campers that are equipped with electricity. A supply station is arranged at the entrance to the parking. It is possible to add fresh water, empty waste water and toilets there.

Camper stop Bohinj is open from April to October.

Guests can also use a small sanitary facility with toilets and free use of wifi internet. Among the novelties is also the possibility of ordering breakfast from local delicacies, wine shop at the reception of the station, rental of conventional and electric bicycles and scooters and the possibility of booking adrenaline activities (rafting, canyoning ...).

Camper stop location is very interesting due to the proximity of cycling and hiking paths, adrenaline sports, water park with swimming pools near by and as well train station - it is possible to try the car train or museum train.

The train passes through the Bohinj tunnel several times a day, connecting Bohinjska Bistrica with Podbrdo and Most na Soci, and with it Gorenjska and Primorska. Passenger cars, vans, small trucks and even smaller motorhomes can go to the autocar - maximum height of the vehicles is 3 meters and the width is 2.4 meters.

You can also choose to go on a museum train that runs several times a month. The train takes you along the picturesque Bohinj route in the past. Advance booking is welcome! Excursion program - departure of the museum train from Jesenice past Bled and Bohinjska Bistrica towards Most na Soci station (exit of passengers registered for a trip to Kobarid and Most na Soci) and Kanal (exit of passengers registered for a trip to Goriska Brda and Sabotin). Continuation of train travel with non-scheduled passengers to Nova Gorica. On the train, the guides and animators take care of the atmosphere. The train also includes a buffet wagon where you can refresh yourself. In the afternoon, the museum train from Nova Gorica returns to Jesenice via the same route.

Information about camper stop
Camper stop type
Camper stop with supply station
Features of the camper stop
Camper stop with sanitary facilities

Discharge of faeces / chemical wc
Features and equipment on location
Location
Equipment
Chemical toilet discharge

Children sanitary facilities

Heated sanitary facilities
Offer
Sport
Cross-country skiing (1000 m)
Swimming pool/wellness
Swimming pool with heated water
Dogs
Rental option
Pricelist for camper stop (in EUR) for year 2023
| Price for | 1.4. - 31.10. |
| --- | --- |
| Camper stop + electricity + water (24h) | ​​20 |
| Internet access - WIFI | ​​gratis |
| Tourist tax | ​​2 |
Contact
GPS: 46.275489,13.959174
Address: Triglavska cesta 1, 4264 Bohinjska Bistrica, Slovenija
Reception:

+386 51 224 728
Rating and reviews
Reviews:
Published on day from Romzi

Category

Camper

Company

Family with teenager

Zelo dobra izbira za aktivne dopustnike.
Dobro izhodišče za kolesarje (tudi družine s kolesi) in pohodnike, na več koncev vozi tudi brezplačni bus.
V času obiska ni delaloval avtomat za plačilo in je bilo na ta račun nekaj zmede.
Moteča je edino mladina, ki se zadržuje in popiva na klopcah pred recepcijo, občasno mirno bivanje zmoti tudi kak "domačin" z glasnim avtom in nabijanjem "glasbe", ki bolj spominja na Istanbul kot na prelepo gorenjsko.
Pod črto: priporočam.​​

Published on day from anonymous

Category

Camper

Company

Alone

Camper stop Bohinj smo obiskali po naklučju. V petek smo se odpravili proti Gorenjski in po spletu smo rezervirali postajališče v Bohinjski Bistrici. Osebje je bilo izredno prijazno. PZA je lično urejen z dodatno ponudbo najema električnih koles in skirojev. Na recepciji imajo prav tako urejeno mini prodajalno (vina,sladoled, spominki). WC-ji so bili čisti. Vsekakor priporočamo. ​​