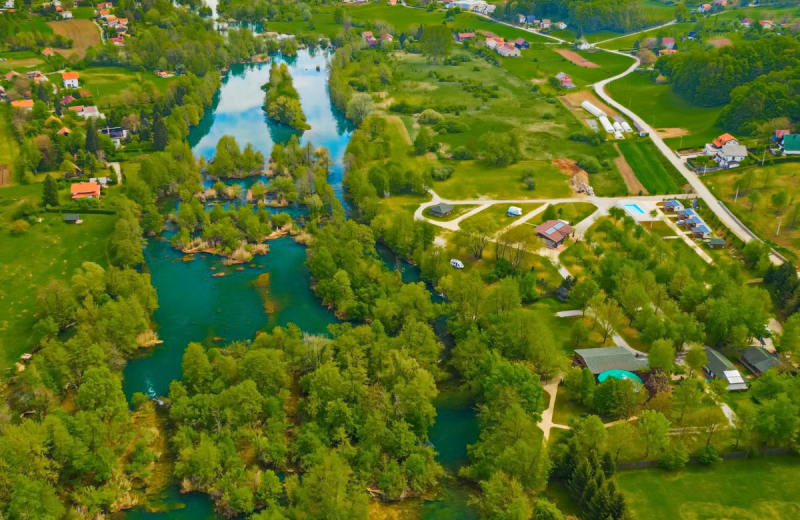 Information
Basic information
Camping Slapic is located 5km southern from town Duga Resa, in place Mreznicki Brig and 15km from Karlovac. It is one of the best smaller Croatian campsites winning various awards. It is perfect getaway for guests that are looking for peaceful holidays in clean nature.
Besides camping camping Slapic offers rental of wooden glamping huts and mobile homes. The novelty is the outdoor swimming pool, which is built near mobile homes.

Campsite accepts the Avtokampi.si Camping Card, which will make the camping more affordable. The discount is listed at the price list of the campsite, and you can order free camping card HERE

Campsite Slapic, located on the right side of river Mreznica, has 89 camping pitches with access to electricity, water and sewage. and arranged place for picnic and recreation. Part of the camp is well shaded, most of the pitches is arranged on soft grass.

Camping has two modern sanitary buildings, camper supply station, laundry, dog showers and picnic places. Two children's playgrounds are available for smallest camping lovers.

Camping Slapic is great getaway in summer as it is located just next to river Mreznica that warms up to 27 degrees in summer. It has nice bathing entrance, offers rental of canoe, rafting trips, fishing and many cycling paths around. Close to the camp you can play tennis, beach volleyball, table tennis. Camp Slapic is great staring point for visiting Karlovac where you should not miss aquarium of all sweet water fish from the region, and Natural Park Plitivce lakes. Restaurant with large terrace and tasty fish and meat dishes is in camp, shop is close by.
Features and equipment
Type of the campsite
Pitch features
Non-parcelled camping plots

Pitches with electricity and water

Pitches with electricity, water and waste water connections
Location
Equipment
Chemical toilet discharge

Heated sanitary facilities

Children sanitary facilities
Offer
Sport
Swimming pool/wellness
Swimming pool with heated water
Dogs
Rental option
Camping pricelist (in EUR) for year 2023
Contact
GPS: 45.420256,15.483536
Address: Mrežnički Brig bb, 47250 Duga Resa, Hrvaška
Reception:

+385 98 860 601

Reservation:

+385 47 854 754
Mobile Homes
Mobile homes description
Rental of mobile homes in camping Slapic - camp is offering rental of mobile homes that are 30m2 large and can host 5 people.

They have living room with kitchen, bathroom, bedroom, kids bedroom with three beds and terrace. All mobile homes are set on the upper part of the camp, dogs are allowed.
Mobile homes information
Number of persons in mobile homes
Mobile homes for 4 - 6 persons

Mobile homes for 2 - 3 persons

Mobile homes for 6+ persons
Mobile homes
Dogs allowed in mobile homes

Mobile homes for handicapped

Mobile homes with 3 bedrooms
Pricelist for mobile homes (in EUR) for year 2023
Price for
1.7. - 31.8.
1.6. - 30.6.
1.9. - 30.9.
1.4. - 31.5.
1.10. - 31.10.
Mobile home for 5 persons
140
100
60
Bed linens
​​gratis
​​gratis
​​gratis
Dog
​​4
​​4
​​4
Final cleaning
​​gratis
​​gratis
​​gratis
Tourist tax
​​1,10
​​1,10
​​0,80 - 1,10
Glamping
Glamping description
Rental of glamping huts in camping Slapic - camp Slapic is offering charming wooden glamping huts for 2 people that are furnished with beds.
They are set just next to the river with terrace just above it - and each glamping hut has its moored its own canoe.
Information about glamping
Glamping type
Number of persons in glamping
Glamping hut for 2 - 3 persons

Glamping huts for 4 - 6 persons

Glamping huts for 6+ persons

Glamping tents for 2 - 3 persons

Glamping tents for 4 - 6 persons

Glamping tents for 6+ persons
Location and features of glamping
Bathroom in accommodation
Pricelist for glamping (in EUR) for year 2023
Price for
1.7. - 31.8.
1.6. - 30.6.
1.9. - 30.9.
1.4. - 31.5.
1.10. - 31.10.
Glamping - wooden hut for 2 persons
70
55
40
Dog
​​4
​​4
​​4
Final cleaning
​​gratis
​​gratis
​​gratis
Tourist tax
​​1,10
​​1,10
​​0,80 - 1,10
Rating and reviews
Reviews:
Published on day from anonymous

Category

Camper

Company

Family with small children

Odličen kamp in lokacija. Zelo prijazni in čudovita narava.​​

Published on day from natasawm239

Category

Camper

Company

In couple

Najljepši, najmirniji i najudobniji kamp u kojem smo boravili zadnje 3 godine. Izuzetno čisti sanitarni čvorovi, odličan restoran, profesionalno i ugodno osoblje. Savršeno mjesto uz prekrasnu čistu Mrežnicu. Prihvatljive cijene kampiranja kao i one u restoranu. Unatrag 2 godine svaki slobodni vikend provodimo tamo. Prekrasno!​​

Published on day from Gospodar

Category

Caravan

Company

In couple

V tem kampu kampiram že 10 let. ( komentiral sem ga že leta 2015 ).
Ponovno bom napisal, greh je iti mimo Karlovca proti morju in se ne ustavit v tej čudoviti oazi lepote.
V kampu vse TOP, odnos lastnikov, parcele, sanitarni blok, bazen, restavracija, dobrodošli psi....
Meni osebno, najbolj priljubljen kamp v katerem kampiram. ​​

Published on day from bogomir_sutej

Category

Caravan

Company

Family with small children

Super kamp, lastniki izjemno prijazni. Hrana v restavraciji vrhunska, cene ugodne. Zagotovo se še vrnemo.​​

Published on day from gagi

Category

Camper

Company

In couple

Žal jim je letošnji moker in hladen maj malo ponagajal, vendar v tem kampu, kljub veliki mokroti, smo se imeli zelo lepo (prispeli smo namreč samo nekaj dni po poplavi). Vse je urejeno v nulo, čistoča brez pripomb, hrana v restavraciji odlična, cene poštene, osebje prijazno. Avtobusne povezave s Karlovcem so dobre.​​

Published on day from anonymous

Category

Camper

Company

In couple

Odličen camp ko je nad 30st. Za konec devetega meseca malo hladno. (topla oblačila brrrrrr) ​​

Published on day from anonymous

Category

Camper

Company

In couple

Published on day from anonymous

Category

Tent

Company

Family with small children

Kamp je vreden ogleda s svojo čarobno, mirno, čisto reko Mrežnico. Prednost kamp je bila nam tam da smo bili v 4 dnevih edini Slovenci. Drugače je kamp poln Nizozemcev. Gostinska ponudba zadovoljiva. V samem kampu so nam vsako jutro dostavili svež kruh. Prva založena trgovina je v bližini. Latniki kampa zelo prijazni, ustrežljivi, skratka priporočam obisk​​

Published on day from Gospodar

Category

Caravan

Company

In couple

V kamp se vračava že četrto leto. Vsako leto dodatna vsebina in nekaj novega ( pa novi sanitarni blok - 2013, na novo urejen plato bifeja z vodometom 2014, pa hišice 2015 itd ). Solidna gostinska ponudba po sprejemljvi ceni. Izredno prijazni lastniki in osebje kampa. Narava - sama reka Mrežnica čarobna. Odlične izletniške točke v bližini kampa, dosegljive s kolesom. V kampu večina gostov Nizozemci . Mir. Reka doseže v Juliju in Avgustu prijetne temperature. Letos Septembra 21 °C - smo se kopali. V glavnem naju je kamp z kristalno čisto reko Mrežnico >> kupil << in greh je zapeljati mimo Karlovca in se ne ustaviti v tem raju. Priporočava :)​​