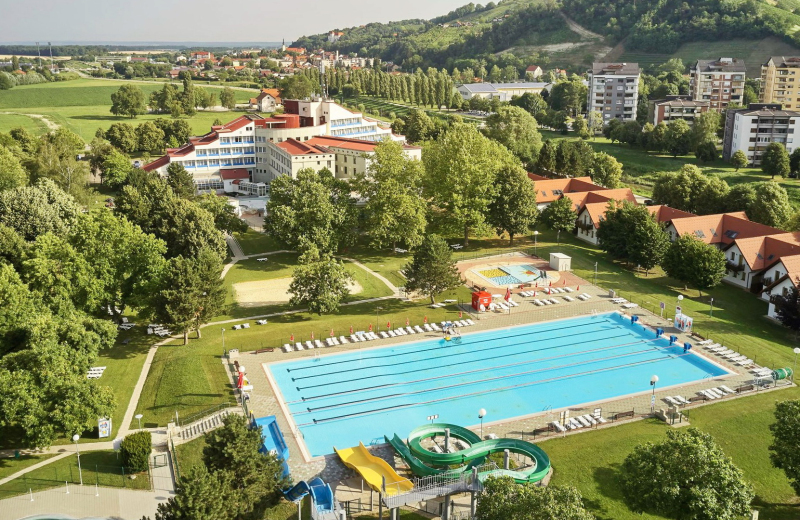 Information
Basic information
Camping Thermal Resort Lendava is part of the tourist complex Thermal Resort Lendava, which offers 92 pitches for campers, caravans and tents. The campsite is open all year round.
The pitches are on grass, sand and asphalt, partly shaded by medium-high deciduous trees. Electricity is available.
Campsite Thermal Lendava accepts the Avtokampi Camping Card, which will make camping cheaper. The discount is published in the campsite price list, and the camping card can be ordered free of charge by registering on our website

In the immediate vicinity of the campsite there is a swimming pool with natural thermal mineral paraffin water, where swimming for naturists is possible from mid-September to mid-May (in 2023 from 15 September onwards).
There are two indoor swimming pools, a winter-summer pool and a children's pool for campers in the hotel complex. In the summer months, there is also an outdoor Olympic swimming pool with a slide and a slide and a children's pool with heated water of 27°C. The price includes unlimited swimming in the Thermal Resort Lendava pool complex. In addition, guests can benefit from wellness and catering services, as well as entertainment.
There are two sanitary facilities - one larger, the other smaller, a campervan supply room, a chemical toilet, indoor and outdoor washbasins. A washing machine, tumble dryer and dishwasher can be used at an extra cost.
Buffet breakfast and dinner also available for camp guests in the hotel restaurant!

The campsite has a beach volleyball court, and the spa offers guided exercise classes. There are well-marked cycle paths in the surrounding area (bikes can be rented at the destination) and the Lendava Wine Route, which leads you along scenic routes to natural and cultural-historical attractions and numerous wine bars serving fine wines and local food. From the campsite, you can also hike to the Vinarium lookout tower.

Features and equipment
Type of the campsite
Pitch features
Non-parcelled camping plots

Pitches with electricity and water

Pitches with electricity, water and waste water connections
Location
Equipment
Chemical toilet discharge

Children sanitary facilities

Heated sanitary facilities
Offer
Sport
Swimming pool/wellness
Swimming pool with heated water
Dogs
Rental option
Camping pricelist (in EUR) for year 2023
Contact
GPS: 46.552368,16.458402
Address: Tomšičeva 2 A, 9220 Lendava, Slovenija
Reception:

+386 2 577 44 13
Rating and reviews
Reviews:
Published on day from Milan.HOJNIK531

Category

Camper

Company

In couple

Sanitarije bi lahko malo bolje vzdrževali, če se kaj pokvari,na bazenih precej dotrajani ležalniki,komarjev preveč,potrebno je nekaj ukreniti,osebje še zdaleč ne dosega nivoja prejšnjega lastnika,v bazene niso nič vložili ​​

Published on day from mojca_savsek119

Category

Caravan

Company

Family with teenager

Ravno prišli iz term Lendava. Osebje prijazno, bazeni po tleh zelo umazani( polno peska na dnu). Kljub temu, da smo prej poklicali, če tobogani delujejo, kar so nam zatrdili, toboganov niso odprli. Razlog, da je premalo otrok na bazenu. Sanitarije urejene in zelo čiste. So pa velik problem komarji. Od jutra do večera jih je vse polno. Kaj takega še nismo videli, niti doživeli. Noben insekticid ni pomagal. Vsi smo bili popikani od pet do glave. Groza...Poleti se sigurno ne bomo vrnili. Mogoče po zimi ko ni komarjev. ​​

Published on day from anonymous

Category

Caravan

Company

In couple

Dobro urejeno,mirno,wc urejen,večjega so ravno odpirali,veliko izhodov za kolesarjenje,tudi letos se bova vrnila,in to že za prvomajske praznike​​

Published on day from anonymous

Category

Camper

Company

Alone

Storitve so podražili, glede na to kaj nudijo. Nimajo popustov, ponujajo samo olimpijski bazen in komarje. ​​

Published on day from anonymous

Category

Other

Company

Family with teenager

Ravnokar prišli, zadovoljni z bivanjem in kopanjem.​​