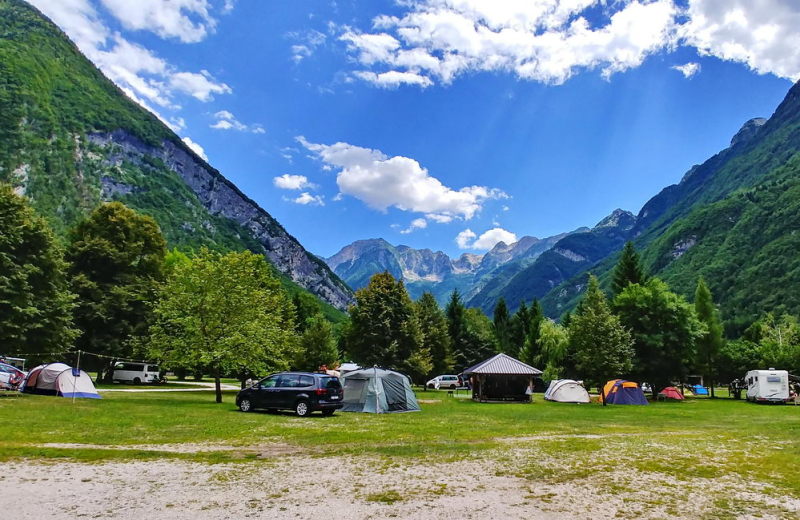 Information
Basic information
Camping Soca - Bovec is located by the river, approximately 10km from Bovec in direction of Trenta. It is found a plateau above river Soca, just at the end of famous »Great river beds of river Soca« (»Velika Korita reke Soče«). There you can also relax on nice graveled beach.

Camping Soca is the largest and best equipped campsite in and around Bovec.Camping pitches are arranged on wide meadow, where anyone can find their peaceful place. It is possible to choose between sunny and more shaded pitch, that are mostly arranged on a grass, some are sandy. It is as well possible to park larger camper and caravan. All pitches have access to electricity, while all camping area is covered with wireless internet.
Campsite Soca is very peaceful and guest must duly obey a bit more strict camping rules.
Campsite has two heated sanitary blocks, a larger and a bit smaller one. Both are very nice, with numerous toilets, showers and places for cleaning the dishes. They also have a washing and drying machine. A station for camper supply is very useful.

Within the capsite Soca you can also rent modernly equipped apartments for 2 - 6 people, rooms for up to 3 people and bungalows for 2 - 4 people.

Access to river Soca is very easy with help of wooden bridge, just below the camp, where you will find as well pebbled beach that is appropriate for kids. Water is quite cold, but great for refreshing in hot summers.
Campsite Soca is an oasis of peace, which offers relaxation and resting in the nature. It is great starting point for all water sports and day trips into the nature. Guest can in the camp buy bread and croissants, as well as rent a grill.
Features and equipment
Type of the campsite
Pitch features
Non-parcelled camping plots

Pitches with electricity and water

Pitches with electricity, water and waste water connections
Location
Equipment
Chemical toilet discharge

Heated sanitary facilities

Children sanitary facilities
Offer
Sport
Swimming pool/wellness
Swimming pool with heated water
Dogs
Rental option
Camping pricelist (in EUR) for year 2023
Price for
1.7. - 31.8.
15.4. - 30.6.
1.9. - 15.10.
Person
​​12*
​​10*
Children under 5
​​gratis
​​gratis
Children 5 - 15 yrs.
​​8,50*
​​6,50*
Tent - small
​​3,50
​​3
Tent - big
​​4,80 / 5,80**
​​3,50 / 4,50**
Car
​​2,50
​​2
Motorcycle
​​2
​​1,50
Caravan
​​5,80 / 6,30**
​​4,50 / 5**
Camper
​​6,30 / 7,80**
​​5 / 6**
Van
4,80
3,50
Utility Trailers
4,80
3,50
Minimum stay
5
3
Electricity
4
4
Dog
​​6,50***
5***
Tourist tax
​​1 - 2
​​1 - 2
PDF - Pricelist for year 2023 (20KB)
*Price per person in high season is valid for a minimum of 5 nights or for a minimum of 3 nights in low season.

** price for tents, caravans and motorhomes depends on the size or length of the tent, e.g. lower price for tents with a surface area
from 6m² to 15m² or caravans and motorhomes up to 8m.

***max 1 dog per pitch and limited total number of dogs in the campsite
Contact
GPS: 46.33502,13.64420
Address: Soča 8, 5232 Soča, Slovenija
Reception:

+386 31 824 486
Rating and reviews
Reviews:
Published on day from anonymous

Category

Camper

Company

Family with teenager

Kamp je lep,urejen,žal imam občutek,da niso naklonjeni domačim,slovenskim gostom.Želeli smo prosto mesto,vendar so nas odslovili,češ,da imajo polno.Kljub temu smo se čez kamp sprehodili peš in bili neprijetno presenečeni,ko smo ugotovili,da je še kar nekaj mest praznih,v kampu pa sem naštela zgolj eno slovensko registrsko tablico,vsi ostali so bili tujci.Pred leti smo pri njih že kampirali in smo bili zadovoljni.Žalostno,da smo domači gostje,ki se redno vračamo na Sočo manj vredni.​​

Published on day from Gospodar

Category

Caravan

Company

In couple

Pred obiskom kampa zmeraj preberem mnenja oz. ocene predhodnih obiskovalcev. Zaradi tega sem bil pozoren na odnos lastnikov do nas Slovencev. Ne bi mogel reči, da nismo dobrodošli, nek občutek pa mi vseeno govori, da lastnik raje vidi tujce. Sam nisem imel slabih izkušenj, odnos ženskega dela osebja je potrebno pohvalit - vzorno.
Tudi na tem delu Slovenije sem si ogledal več kampov v bližnji in daljni okolici, zame osebno je ta kamp najboljši na tem območju, lepa mesta za kampiranje, super narava, mir, lepi in čisti sanitarni blok, dobrodošli psi...
Še se vrnem v te kraje in obvezno v kamp Soča.​​

Published on day from anonymous

Category

Other

Company

In couple

V kampu smo preživeli že nekaj naših dopustov. Do sedaj je bilo vedno super. najprej nasj e zmotila tabla,ki je vedno napisana samo v slovenščini in ne v tujem jeziku. Ko smo prispeli v recepcijo,nas bi najraje odslovili,ker baje ni prostora. Srečo smo imeli,ker so bili pred nami tujci in so njim dovolili ogled. Sam lastnik je vsakodnevno in večkrat na dan obiskoval kamp, ampak ne s prijaznim namenom. Take neprijaznosti,kot smo jo doživeli lani,bi si zaslužili da se ne bi noben več vrnil v ta kamp. Mi vem da se ne bomo,dokler bo lastnik ta kot je. Po ostalih komentarjih sodeč vedno bolj opažamo, da smo Slovenci žal nezaželeni. Očitno je naš denar drugačen od ostalih. Sam kamp je na odlični lokaciji in odlično opremljen,tudi sanitarije so čiste. Problem bo in ostaja samo eden,upam da ne dolgo.​​

Published on day from anonymous

Category

Other

Company

In couple

PA SE RES NE MARAJO SLOVENCEV. ALI JE TO KASEN ODNOS DO LJUDI, KI PRIDEJO NA DOPUST. HALOOOO ČE BI SE RADI NAUČILI NEPRIJAZNOSTI, PROSIM POJDITE V KAMP SOČA - KOMAC. NIKOLI VEČ, NASLEDNJE LETO SE SE ELIMO V SOSEDNJI KAMP.​​

Published on day from anonymous

Category

Other

Company

In couple

No, za začetek ne bodimo žaljivi. Gospod, ki s kolesom večkrat dnevno obkroži kamp (ki nikakor ni vaški pijanček, pač pa izjemno delaven mož, ki si prizadeva za urejenost in spoštovanje "pravil igre" v kampu) je poleg vestne skrbi za urejenoat kampa tudi dogovorljiv, v kolikor se tudi gostje z njim pogovarjamo spoštljivo. Verjetno nesramnih komentarjev od tujcev, ki tukaj dopustnikujejo, ni deležen zato, ker se tudi oni vedejo kot gostje, ki tam niso doma. Tako kot mi ne. Mislim, da ni prav, da se počutimo depriviligirane, če nimamo posebnih bonusov, samo zato, ker smo Slovenci.
Moje izkušnje z lastniki so pozitivne in še vedno se je dalo na prijazen način dogovoriti pravzaprav za karkoli. Pričakujejo le držanje 'pravil igre' - od vseh - tujcev IN nas, Slovencev. Včasih se vprašam, ali nas je res tako malo "evropskih državljanov", ki ne pričakujemo posebne obravnave, če smo iz iste države?
Obenem se zavedam, da to, da plačam nastanitev v kampu še ne pomeni, da je ta kos zemlje za ta čas 'moja last', pač pa sem nekje skorajda 'na obisku', kjer veljajo določene zakonitosti. In če želim v tem kampu dopustnikovati še naprej, je moja naloga, da se s temi pravili uskladim. In šele ko storim to, lahko s kritične perspektive pogledam na lastnike kampa oz. na njihove načine sporočanja 'hišnega reda'.
Tako pač razmišljam jaz. V tem kampu imam veliko lepih spominov, dobre izkušnje in z veseljem bom sem še prihajala. In sem Slovenka ;)​​

Published on day from anonymous

Category

Other

Company

With friends

Kot je bilo tudi že predhodno napisano. Na vhodu tabla v slovenščini, da je kamp zaseden (sicer je bil res dokaj poln). Nizozemci vseeno brez težav gredo naprej (itak tudi ne razumejo, kaj pomeni tabla). Še preden smo ugasnili avto na parkirišču pred recepcijo, nas lastnik (starejši) napade, da tukaj ne moremo pustiti avta in naj ga peljemo drugam. Mimogrede bi ga lahko zamenjal za lokalnega pijančka, saj se ni niti predstavil (tam smo bili prvič) in nas vprašal kaj želimo oz. napotil do recepcije. Vse bi bilo rešeno v par normalnih prijaznih besedah. Ali pa nam povedal, da je kamp poln in naj gremo drugam. Ta isti lastnik tudi pogosto patruljira po kampu s kolesom in nadzira ter teži (tudi če ni nič narobe), predvsem še tistim Slovencem, ki še pridejo k njim (saj nizozemsko, nemško ali sploh angleško itak verjetno ne zna). Očitno so nizozemski € več vredni, saj praktično ni Slovencev. Tudi bog ne daj da pridete h komu na obisk v kamp, saj vas bo obtožil "švercanja" na črno.

Narava je sicer krasna, kar pa nima veze s samim kampom.

The attitude of the owner is very unprofessional, has no manners and he is rude. Keep away from this camp if you want a calm vacation.​​

Published on day from anonymous

Category

Other

Company

With friends

V ta kamp s fantom hodiva ze 10 let, vsako leto se vracava, ker nama je to preprosto najboljsi kamp pri nas! Trenutno je zelo polno, a so sanitarije ciste - vsakic, ko grem na wc je ravno pocisceno ali pa ga cisti prijazno osebje, wc papirja se nisem dozivela, da bi zmanjkalo, tus ima vedno toplo vodo, ponoci je tisina, osebjr se zares trudi za dobro pocutje svojih gostov - nisem opazila, da bi kogarkoli favorizirali. Skratka, zagotovo prideva se!​​

Published on day from anonymous

Category

Other

Company

With friends

Kamp leži na zelo lepi lokaciji, na začetku doline Lepena, nad koriti reke Soče. Do kampa vodi tudi zelo slikoviti viseči most. Sanitarije so nove, urejene in vedno čiste. Všeč so mi bili tudi topli radiatorji v kopalnici, ker se na večer malo shladi in je zelo prijetno, če je pod tušem toplo. Zjutraj ponujajo svež kruh in rogljičke. Mi se bomo zagotovo še vrnili.​​

Published on day from anonymous

Category

Other

Company

In couple

Super! Najboljsi kamp pri nas!​​