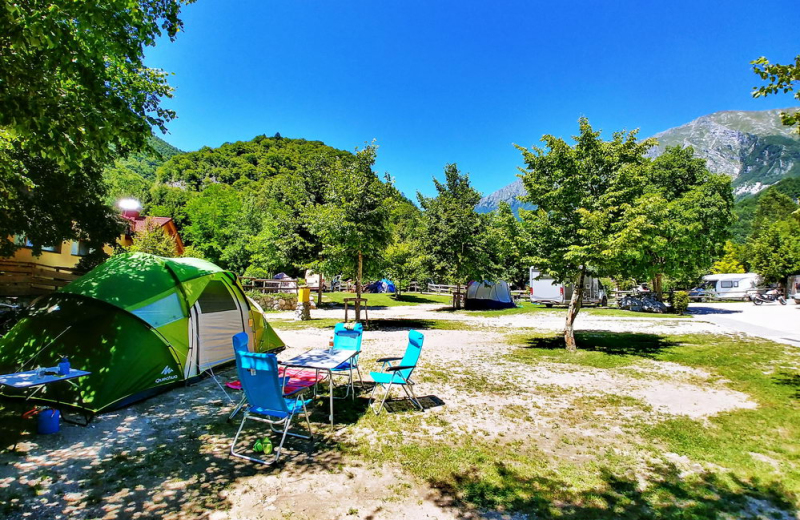 Information
Basic information
Camping Lazar - Kobarid is located by green river Soca, about kilometer away from Kobarid in direction of town Bovec. In Kobarid you will find shops and all other facilities, but if you need only fresh bread in the morning, you can order it an evening before in camp reception.

In the heart of the camp you will not miss wooden cottage with bar, grill place, pancakes place and reception. Cottage serves also as a closed place for social events that is also heated in cooler days.

Close by the camp you will find many options for active holidays. You can cycle, row, sail, raft or go fishing or back horse ridding. Without doubt you will not miss a refreshing swimming in Soca.

Larger holiday house was opened in 2010 with 1 apartment and 5 rooms as the only holiday house built on the bank of Soca river. It is encircled with large garden where you catch sun, listen the river and birds and scents of the flowers.
Features and equipment
Type of the campsite
Pitch features
Non-parcelled camping plots

Pitches with electricity and water

Pitches with electricity, water and waste water connections
Location
Equipment
Chemical toilet discharge

Children sanitary facilities

Heated sanitary facilities
Offer
Sport
Swimming pool/wellness
Swimming pool with heated water
Dogs
Rental option
Camping pricelist (in EUR) for year 2023
Price for
1.7. - 31.8.
1.4. - 30.6.
1.9. - 31.10.
Person
​​15,50
​​14
Children under 7
​​gratis
​​gratis
Children 7 - 13 yrs.
​​9
​​8
Bikers, cyclists, pedestrians
​​-10%
​​-10%
Electricity
​​6
​​6
Dog
​​2
​​2
Internet access - WIFI
​​gratis
​​gratis
Tourist tax
​​1- 2
​​1- 2
PDF - Pricelist for year 2023 (18KB)
Groups over 10 people are granted a 10% discount and 5% for stays longer than 7 days.

Contact
GPS: 46.255569,13.586800
Address: Gregorčičeva 63, 5222 Kobarid, Slovenija
Reception:

+386 5 388 53 33

Reservation:

+386 41 520 784
Rating and reviews
Reviews:
Published on day from anonymous

Category

Camper

Company

Family with small children

Restavracija se je v zadnjih letih samo še izboljšala ter več kot očitno postavila na višji nivo hkrati se mi pa zdi, da je ostal občutek domačnosti. Gneča v času kosila je prisotna kar je normalno v avgustu ampak se to enostavno reši z rezervacijo mize za željen termin. Večerni koncert v istem ambientu je pa ena boljših zadev na katere smo letos "naleteli". Pohvalno!

Glede zasedenosti sploh v spodnjem delu je bilo času primerno in zato je pač WC-jev in tople vode vedno na meji. Ampak so nas v kampu na to pred prihodom opozorili in so nam odsvetovali prihod po 15h, ker ga bodo v primeru prevelikega navala zaprli za nove goste. ​​

Published on day from anonymous

Category

Caravan

Company

Family with small children

Zelo dober kamp z odlično lego, le nekaj stopnic do Soče. Poudariti velja le to, da ob gneči v restavraciji le te ne obvladujejo - odnos osebja zna biti moteč. V nasprotnem primeru, je kljub visoki ceni restavracija vredna denarja.

Potovali smo s prikolico, ki zna biti za to lokacijo kar izziv. Ceste in sam kamp niso prilagojene.

Morda bi, ob velikosti kot jo imajo, morali razmisliti tudi o razparceliranju in uvedbi zemljevida parcel. ​​

Published on day from anonymous

Category

Tent

Company

Family with small children

V kamp se vračava/mo vsako leto oz. skoraj vsako leto zaradi preteklih lepih izkušenj/spominov, vendar imam občutek, da je vsako leto slabše(glede na moj komentar IneBor iz 2013).
Sedaj je to bolj restavracija z možnostjo kampiranja kot sam kamp. Enostavno je izgubil (vsaj pri meni)tisti čar, ki ga je imel. Osebje v kampu je uradno, ne bom rekel neprijazno, ampak brez neke "dodane" vrednosti. Sanitarije so sicer čiste, vendar služijo čedalje večjemu številu ljudi, nekih novosti pa ni opaziti.
Menim, da je lastniku primarni cilj/vir dohodka postala restavracija, ki ji roko na srce manjka precej, da bi bila na nivoju, kakršnega si želi, hkrati pa je izgubila tisto nekaj več kar je imela.
Da opišem situacijo, kako je potekalo naše letošnje "druženje":
-ob približno enih popoldne smo se iz sprehoda do slapa Kozjaka, z ne triletnim sinom ustavili v restavraciji na kosilu.
-"prevzel" nas je natakar, ki je imel očitne probleme s slovenščino, kar me nečeloma ne moti, ampak jedilni list je dobro poznati.
-za pijačo smo naročili veliko pivo, kozarec vina in jabolčni sok, po želji po dodatnem kozarcu vode, je natakar odgovoril, da vode ne strežejo v kozarcu ampak lahko naročim ustekleničeno vodo?? V nobeni restavraciji še mi še ni zgodilo, da ob naročeni pijači ne bi dobil dodatnega kozarca vode, lahko je plačjiv ampak, da sploh ni možno??Se pravi naj sredi soške doline pijem Zalo?Kretenizem brez primere. Namenoma nisem želel usteklenične vode, pa tudi pri samo enem pivu sem ostal. Me zanima kako bi bilo, če bi naročil kavo, da ne govorim, da zraven kozarca vina nekaterim tudi paše kozarec vode. Naj vam povem, v Hiši Franko, se dobi kozarec vode brez problema.
-sedaj pa k hrani, ker otrok ne je praktično nič oz. testenine z omako sem se odločil za divjačinski golaž s testeninami, ki ga seveda ni bilo mogoče dobiti, ker se golaž lahko dobi samo z njoki, polento, in še neko drugo stvarjo, ki sem jo do sedaj pozabil?? Na meniju je bil posebaj napisan golaž in golaž s polento za par eur več, seveda sem logično sklepal, da lahko izberem golaž s čimer si pač poželim in seveda ustrezno doplačam.
Ni mi jasno, gost si nekaj zaželi, gost bo to plačal, ampak sploh ni možno??na koncu sem/sva pojedel tiste njoke...Res velika razlika za kuhinjo, če bi namesto njokov skuhali testenine...
-tretje, kar pa je še najbolj moteče pa je to, da sem glavno jed dobil dobri15 min pred partnerko, kar je absolutno nesprejemljivo, saj sem pojedel preden je ona jed sploh dobila.
Čeprav s suhim grlom namenoma nisem želel v času ko sem čakal, da ona poje naročiti še ene pijače ali česarkoli drugega in mislim, da imam te restavracije za nekaj časa dovolj.
Takšne neprilagodljivosti se ne spomnim, sploh pa ne od restavracije, ki naj bi bila na "višjem" nivoju. Zapomnite si, če hočete višji nivo, ustrežete "kupcu" in njegovim muham sploh, ker menim, da niso pretirane, hkrati pa kupci pričakujejo tudi postrežbo, ki so jo deležni v vsaki picerji ( cene so malenkost višje, ampak glede na odnos/ustrežljivost...)
pa še oena restavracije:
-ambient 8/10
-prijaznost osebja 4/10
-kvaliteta hrane 7/10 ( juha podpovprečna, ostalo ok)
-prilagodljivost/ustrežljivost 1/10
vrednost glede na ceno 5/10

Menim, da naj se lastnik odloči kaj želi, ker sedaj je vse nekaj na pol.
Se vidimo čez nekaj let. lp



​​

Published on day from anonymous

Category

Mobile home

Company

Family with small children

Letos smo se odločili kampirati ob Soči in si izbrali ta kamp na podlagi dobrih ocen in ker je bilo večino kampov že polnih, mi pa nismo imeli rezervacije. Ob prihodu v kamp nas je pričakalo prijazno osebje in zelo dober občutek, ki je ostal ves čas bivanja. Predvsem je ostal v spominu prijeten natakar, ki je tako zabaval naše otroke, da ga sploh ne morejo pozabiti :)
Dobili smo celo dober prostor v senci, saj je veliko gostov v kampu samo kak dan ali dva in se najde prazen prostor, zvečer pa se kamp kar napolni. V kampu je ponoči mirno, čez dan pa je kot ponavadi v kampu. Zunanji tuši in pipe za vodo so posejani po kampu, tako da se lahko osvežiš brez obiska sanitarij, ki so urejene in po mojem mnenju dovolj velike.
Restavracija v kampu je odlična, na nivoju, le cene so mogoče malo višje, predvsem to velja za pivo, katerega sem si privoščil le enkrat, drugače pa sem raje pil kar svojega.
Športnih objektov ni in jih tudi nisem pogrešal, saj tja nisem prišel zaradi tega, temveč zaradi obiska Soče in okoliških hribov ter znamenitosti, ki jih ne manjka.
Kamp toplo priporočam, mi se bomo še vrnili, saj si nismo uspeli ogledati vseh znamenitosti v okolici.​​

Published on day from anonymous

Category

Tent

Company

In couple

Zadnjih 10 let sem bil reden gost tega kampa, ampak se po letosnjem dopustu tja ne vrnem vec. Ce je bil to nekdaj majhen, miren, simpaticen kamp, kje si resnicno lahko odklopil in se spocil temu sedaj ni vec tako. Horde tujcev z otroki, ki se ne znajo obnasat, neskoncno sirjenje kampa na sosednje travnike z istimi kapacitetami sanitarij... Odnosi zaposlenih hladni, na recepciji mozakar hotel z mano po vsej sili govort anglesko, sele ko sem mu na ene 5 vprasanj odgovoril v slovenscini je preklopil :D ​​

Published on day from anonymous

Category

Tent

Company

With friends

Kamp je urejen in na kar dobri legi ob Soči.
Nekaj težav smo imeli na začetku pri prijavi, saj je velik del prostora namenjen za goste, ki so si rezervirali prostor(čeprav so prostori neparcelirani).Osebje ne zna točno povedati, kje se lahko nastaniš. Osebje na recepciji ne obvlada slovenskega jezika.​​

Published on day from anonymous

Category

Tent

Company

In couple

V tem kampu sem bila letos s partnerjem in kužkom prvič in preden sem se odpravila sem, sem pregledala mnenja ostalih gostov, ki kamp hvalijo, prav tako lastnika. Očitno sem jaz naletela na čuden dan, ker sprejem je bil formalen, nič kaj navdihujoc. Kampirala sva od sredine tedna pa do vikenda in je nama lastnik povedal da za vikend pričakuje rezervirane goate in da morava šotor postaviti izven rezerviranega območja, a dan po najini ustalitvi, je lastnik francoskemu paru dovolil postavitev šotora na rezerviranem območju?! Na koncu pa je nama zaračunal kar tei dni bivanja, namesto dve nočitvi in k sreči sem to opazila in komaj obrazložila uslužbenki, ki pa ni najbolje razumela slovensko ampak me to ni zmotilo. Očitno sva midva naletela na nesrečen slučaj, da je vse bilo bolj čudno. Urejenost kampanin bližina znamenitosti pa je super. ​​

Published on day from anonymous

Category

Tent

Company

Family with small children