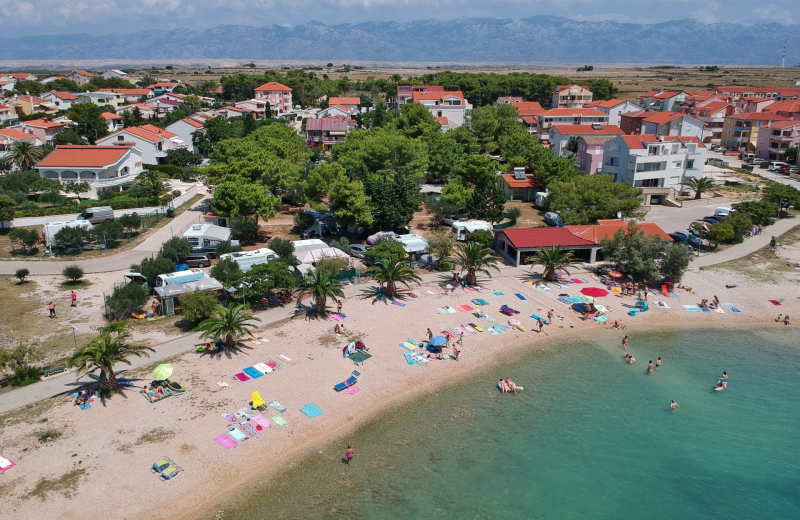 Official category: 2 from 5 stars
Camping Mali Dubrovnik
Address: Kralja Petra Svačića b.b., 23249 Povljana - Pag, Hrvaška

Season: -
Compared price: 2 people + pitch with electricity - between 25 - 30 €
Discounts:
Information
Basic information
Camping Mali Dubrovnik is located in Povljana, right by the sea and the sandy beach, which is very suitable for families with children.

The camp is smaller and privately owned, but is nicely decorated. Most of the plots have a favorable shade of Mediterranean plants, on the plots it is possible to connect to electricity.

The sanitary facilities in the camp are tidy and always very clean according to the responses of the guests. They also have a chemical toilet, allow laundry.

A shop and a restaurant are in the immediate vicinity, as well as all other services on site. For larger purchases, you can also drive to the town of Pag, 15 km away. There is also a tennis center nearby.

As all pitches in the camp are often occupied, it is advisable to make a reservation in advance.

Information about the Ferry Connections and its Prices to the Island Pag

Features and equipment
Type of the campsite
Pitch features
Non-parcelled camping plots

Pitches with electricity and water

Pitches with electricity, water and waste water connections
Location
Equipment
Chemical toilet discharge

Children sanitary facilities

Heated sanitary facilities
Offer
Sport
Swimming pool/wellness
Swimming pool with heated water
Dogs
Rental option
Contact
GPS: 44.349227,15.100771
Address: Kralja Petra Svačića b.b., 23249 Povljana - Pag, Hrvaška
Reception:

+385 98 961 84 39
Rating and reviews
Reviews:
Published on day from anonymous

Category

Caravan

Company

In couple

Zelo lep in miren kamp v bližini morja lepi wcji že tretjo leto zapored v tem kampu lastniki prijazni kod Silvani in kod Stojan z obema se da kaj poklepeta in tudi pohecat ​​

Published on day from natasa.robic

Category

Caravan

Company

Family with teenager

Mi smo kampirali v tem kampu od 25-07 -2020 pa do 09-08-2020 kamp je bol majhen za 30 prikolic je pa zelo lepi in mirni parcele solidno velike z veliko sence vceji novi in čisti obala zelo lepa lastnik Silvano zelo miren v glavnem smo preživeli lepi dopust in se še bomo vrnili v ta kamp​​

Published on day from Laurinca

Category

Caravan

Company

In couple

Majhen ampak ima svoj čar. Je veliko sence, kopalnica sicer majhna ampak vedno čista. Lastniki so prisotni cel dan in skrbijo za red in vse ostalo. Kamp je dobesedno na eni izmed 3 plaž v kraju. Konec avgusta ni bilo pretirane gneče, v kampu pa se je tudi dobila parcela brez rezervacije. Je še čisto "pristen" kamp brez mobilnih hišic. Edini minus je gotovinsko plačilo. Menda je pa v glavni sezoni precej polno. Priporocamo rezervacijo. ​​

Published on day from anonymous

Category

Other

Company

Family with small children

Uh to pa je norišnica, saj človek ne ve ali sam plačaš, da si v kampu ali so ti plačali za tako norišnico. Veliki BOSS Stojan je paznik kampa. Klub temu, da ima hišo v neposredni bližini kampa, živi v prikolici v kampu, kjer ima pogled direktno na tuše in wc. V kolikor se tuširaš dlje kot 2 minuti, pride in te s šlaufom ledene vode zalije skozi zgornjo odprtino. Nato se živalsko dere in na koncu te huje kot psa vrže iz kampa. Ni dneva, da ne bi koga nazjal. Otroci se ne smejo igrati, saj on čez dan spi, zvečer pa naj bi otroci motili ljudi v kampu, čeprav imajo skoraj vsi gosti otroke in razen njega ne motijo nikogar. Medtem ko pomivaš posodo, ti zapira vodo, da posode sploh ne moreš oprati. Eno Čehinjo je tako nadrl, da je z umazano posodo odšla. Žena se je šla tuširat z otrokoma ( 2 in 3 leta) in ko je stopila izpod tuša jo je čakal in napadel, da so trije v tušu preveč. Situacija v kampu je totalno napeta, saj nihče ničesar ne sme. Bog ne daj, da imaš kake kolege, ki pridejo na pijačo k tebi (pa smo povedali, da dobimo obiske in je Stojanov sin Silvano, ki sprejema goste rekel, da lahko pridejo), vendar ko smo dobili obiske nas je vse skupaj vrgel ven iz kampa. Če imaš klimo v prikolici in je prižgana te nadere ko psa, da mu kuriš elektriko (pa posebej smo plačali elektriko). Skratka lahko bi našteval in našteval kaj vse ta človek počne. Potem ima za kompanijo čistilko, ki vsako jutro pride ob 8.00, ko ljudje vstajamo in je čist besna, da moraš na wc medtem ko ona čisti. Da ne govorim, da hodi popolnoma za vsakim v wc in poroča gospodu BOSSu o čistoči človeka. in ko za sabo obvezno vse očistiš ona najde nekaj (kar seveda sploh ni res) in leti k bossu, ta pa tuli čez cel kamp, da kak prasec si in sploh ne vem kje najde vse te ponižujoče besede. In ko smo opazovali kako boss vsak dan meče ljudi ven iz kampa, smo enako usodo dobili tudi mi, skupaj s prijatelji, ki so prišli na kavo. Še dobro, da je zraven kamp Porat, ker tistih 14 dni dopusta, ki jih imamo in da moramo še tako sranje imet. V Poratu smo spoznali nekaj ljudi, ki so leta gostovali v kampu Mali Dubrovnik in so nam rekli, da tja pa živo glavo ne grejo več. Torej ljudje, če želite imeti lep dopust, se izognite temu kampu kar se da. Naj še omenim, da smo normalna, čista družina, miroljubna in popolnoma nesporna, ampak to kar se dogaja v temu kampu pa presega vse meje. Sem prebral spodaj napisane komentarje in se z vsemi popolnoma strinjam. Da je šefe šizofrenik, pa ne rabiš biti psihiater, da to vidiš.​​

Published on day from anonymous

Category

Camper

Company

In couple

Kamp je cist i uredjen bio sam samo 5h u njemu jer me je vlasnik kampa prebacio na drugo mjesto od prvog gdje me je njegov prijazni sin smjestio.Poslije 1h je dosao i slagao da moji psi smetaju gostima iz Njemacke ja sam ih pitao i oni su kazali da nemaju pojma o tome da je on to izmislio.Poslije je dosao i vriskao kao da je pobjegao iz ludnice i kazao da je on zivot i smrt u tom kampu.Psihicki bolesnik kojeg se treba sklonit.Svaka cast njegovom sinu na kulturnom i prijaznom dostupu.Treba vlasnika sklonit u dusevnu bolnicu da se lijeci.Ide okolo i napada zene i ljude.​​

Published on day from anonymous

Category

Tent

Company

Family with teenager

Kamp je lep in ima nove sanitarije. Je zelo čisto in urejeno. Sence je dovolj in plaža je le nekaj korakov stran. Lastnika (oče in sin) sta bila zelo prijazna. Toda, po treh neprespanih nočeh smo kamp zapustili. Pavšalni gostje v kampu nimajo občutka za druge goste. "Žuranje" s prijatelji si dovolijo podaljšati v noč kakor dolgo jim paše, v apartmajih neposredno ob kampu čez cesto, pa se je vsako noč dogajala podobna situacija. Škoda, drugače bi ostali dlje. ​​

Published on day from anonymous

Category

Other

Company

Other

Lastnik katastrofa...vulgaren, nekulturen, prostaski, primitiven, neuravnovesen....skratka psihicno motena osebnost!!!!!!!​​

Published on day from anonymous

Category

Other

Company

Other

Lastnik je izredno prostaški, nekulturen in agresiven!!! Resnično vam odsvetujem izbiro kampa. Naša družina ni gostovala v kampu
vendar smo enkrat šli kopat hči v njihove sanitarije zaradi alergije. Pač vedeli smo, da ne smemo vstopati ampak je bilo res nujno. Lastnik je napadel ženo in ji izrekel vse mogoče! Bil je tako agresiven, da smo morali poklicati policijo. Tudi na plaži nas je naslednje dni ogovarjal pri drugih letovalcih! Resnično vam odsvetujem obisk kampa! Delam v turizmu in takšnega odnosa še nisem videl.​​

Published on day from eos76

Category

Tent

Company

Family with small children

Kamp je lep, urejen, v neposredni bližini plaže, ampak lastnik pa... svoj nos vtakne v vsako stvar, komentira in nadzoruje vse goste, vse skupaj meji že na bolestno obsesijo po kontroli. Prav je, da je v kampu red in mir, o tem ni dvoma, ampak človek pretirava na vseh nivojih in je za moje pojme absolutno preveč vsiljiv, red se da doseči tudi na bolj "normalen" način, meni je tak odnos izjemno moteč. Tisti pa, ki vas tak odnos ne moti, pa boste v kampu zagotovo uživali...​​

Published on day from anonymous

Category

Other

Company

In couple

Bjezite što dalje od kampa. Vlasnik je sizofrenicar. Galama od strane vlasnika, hladna voda u ruševina, arogantan. Jebe mater Slovencima što dolaze kod njega a od njih živi. Užas, nikad više.​​