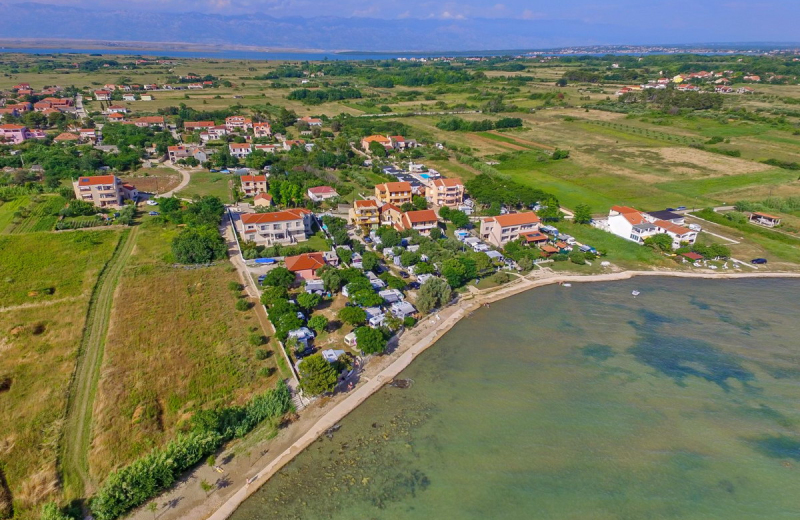 Information
Basic information
Camping Medanic is family campsitelocated in the town of Privlaka (settlement Livadica), which is approximately 20 km north of Zadar towards the island of Vir.
The campsite has about 20 arranged camping pitches, which located are only 50 meters from the sea. Pitches are arranged on a grassy surface and have a partial shade of Mediterranean trees. Guests of the campsite are welcome to use the outdoor swimming pool and a private beach that is paved, while grounds in the sea are sandy.
The camp also offers rental of apartments and mobile homes.
The camp ground's sanitary facilities are completely renovated, they also have a chemical toilet, and guests can also use shared barbecue and the refrigerator. The nearest shops and restaurants are approximately 1 km from the campsite. They also offer food orders - half board or full board.

Features and equipment
Type of the campsite
Pitch features
Non-parcelled camping plots

Pitches with electricity and water

Pitches with electricity, water and waste water connections
Location
Equipment
Chemical toilet discharge

Children sanitary facilities

Heated sanitary facilities
Offer
Sport
Swimming pool/wellness
Swimming pool with heated water
Dogs
Rental option
Camping pricelist (in EUR) for year 2023
Price for
1.7. - 31.8.
1.4. - 30.6.
1.9. - 31.10.
Person
​​7,50
​​5
Children under 12
​​4
​​3
Tent - small
​​5
​​4
Tent - big
​​6,50
​​5
Car
​​5
​​4
Motorcycle
​​4
​​3
Caravan
​​5 - 9*
​​4 - 5*
Camper
​​9 - 10,50*
​​6 - 7,50*
Utility Trailers
​​3,50
​​3
Dog
​​3
​​3
Electricity
​​6,50
​​6,50
Tourist tax
​​1
​​1
PDF - Pricelist for year 2023 (18KB)
* The price depends on the size of the trailer or motorhome



Contact
GPS: 44.248876,15.133799
Address: Put Brtalica 47, 23233 Privlaka, Hrvaška
Reception:

+385 23 367 375

Reservation:

+385 91 729 34 14
Mobile Homes
Mobile homes description
Camping Medanic in Privlaka also offers rental of mobile homes (4+2 people), which are located right next to the newly built swimming pool. These are modern mobile homes with large terraces.
They are equipped with two bedrooms, a kitchen, a living room and a bathroom. All mobile homes are also air-conditioned.

Mobile homes information
Number of persons in mobile homes
Mobile homes for 4 - 6 persons

Mobile homes for 2 - 3 persons

Mobile homes for 6+ persons
Mobile homes
Dogs allowed in mobile homes

Mobile homes for handicapped

Mobile homes with 3 bedrooms
Pricelist for mobile homes (in EUR) for year 2023
Price for
1.8. - 31.8.
1.7. - 31.7.
1.6. - 30.6.
1.9. - 30.9.
1.4. - 31.5.
Mobile home for 4 + 2 persons
​​135
100
70
50
Tourist tax
​​1
​​1
​​1
​​1