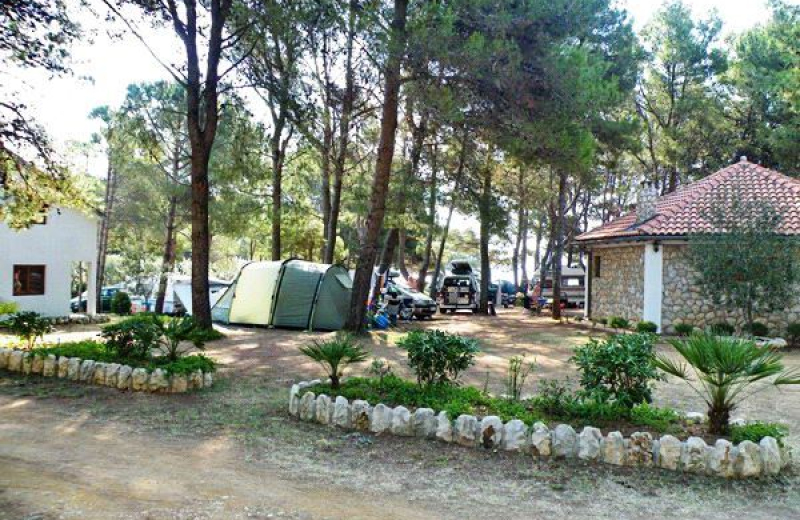 Information
Basic information
Camp Sapavac is the only camp at the island Vir that is located north of Zadar and connected with the bridge to the mainland.

Pitches are arranged in pine woods, next to the sandy beach that is well known for healing muds.

Location is great as it is offering protection from the wind, close by is also historical monument Kastelina. Surely we advice to visit towns NIna, Zadar, islands of Kornati.
Features and equipment
Type of the campsite
Pitch features
Non-parcelled camping plots

Pitches with electricity and water

Pitches with electricity, water and waste water connections
Location
Equipment
Chemical toilet discharge

Children sanitary facilities

Heated sanitary facilities
Offer
Sport
Swimming pool/wellness
Swimming pool with heated water
Dogs
Rental option
Contact
GPS: 44.294327,15.076402
Address: Put Bunara 101, 23234 Vir, Hrvaška
Reception:

+385 91 207 2267
Rating and reviews
Reviews:
Published on day from anonymous

Category

Camper

Company

In couple

The campsite is beautifully located west of the city of Vir on a public bathing beach.
Unfortunately there is no drinking water.
The own well has in the main season salty water.
At night you can hear loud music from the beach club and other localities every day until 5 a.m.​​

Published on day from anonymous

Category

Other

Company

Family with small children

Vlasnik neuraćunljiv. Tuševi imaju "radno vrijeme" i ovraničenje max 5 minuta. Prekrasna lokacija i sve ali radi odnosa mušičavog vlasnika ipak preporuka izbjegavati. ​​

Published on day from anonymous

Category

Other

Company

In couple

Kamp je zelo primeren za družine, saj je kamp umirjen in brez prometa. Takoj ob kampu pa sta tako peščena kot plaža z manjšimi kamni, ki imata obe izhod na plitvo morje in tako ni bojazni, da bi tudi še neplavalci kam zašli.​​

Published on day from anonymous

Category

Other

Company

Family with teenager

Ceny dyktuje według nastroju ( humoru). w jednej minucie mu się podobasz a w drugiej każe ci opuścić obóz. jak powiedziałem właścicielowi ( brudny nieogolony i obszarpany) ,że wakacji mam 3 tygodnie to był miły , ale jak powiedziałem,że zostanę u niego na kilka dni to mnie wyrzucił.
klucz do toalety nosi przy sobie! spędzam urlop w Chorwacji od 15 lat na kempingach ale czegoś takiego nie widziałem. radzę omijać to miejsce szerokim łukiem. masakra!!!

Cijene određuju raspoloženje (humor). za jednu minutu vam se sviđa, au drugom vam govori da napustite logor. Kao što sam rekao vlasniku (prljavim neobrijanim i oštroumnim) da imam 3 tjedna odmora, bilo je lijepo, ali kao što sam rekao da ću ostati s njim nekoliko dana, bacio me van.
toaletni ključ je s vama! Provela sam svoj godišnji odmor u Hrvatskoj 15 godina na kampovima, ali nisam vidio ništa slično. Savjetujem vam da izbjegavate ovo mjesto s velikim lukom. Masakr !!!​​

Published on day from anonymous

Category

Tent

Company

Family with small children

Kamp nas je septembra neprijetno presenetil, ker so delali zgolj do konca avgusta. ​​

Published on day from anonymous

Category

Tent

Company

With friends

lepo urejen kamp z pravo mero reda v kampu ​​

Published on day from anonymous

Category

Tent

Company

Family with small children

V avgustu kar dobro zaseden kamp, ni pa za prefinjene goste.​​

Published on day from alf13

Category

Other

Company

Family with small children

Lastnik te prve tri dni za vsak obisk toalet zaslišuje od katere prikolice si (malo primitivno)
- ni tople vode za pomivanje posode
- popoldne po 17h uri več tople vode tudi v kopalnici
- tuši zakelnjeni med 22h in 7h zjutraj
- lastnik ne trpi da pridejo obiski od zunaj, kr med obiskom pride in teži od kod so pa koliko časa bodo tukaj itd.
- ni igral za otroke
- drag kamp glede na to kaj nudi
- cena za osebo 48 KN
​​