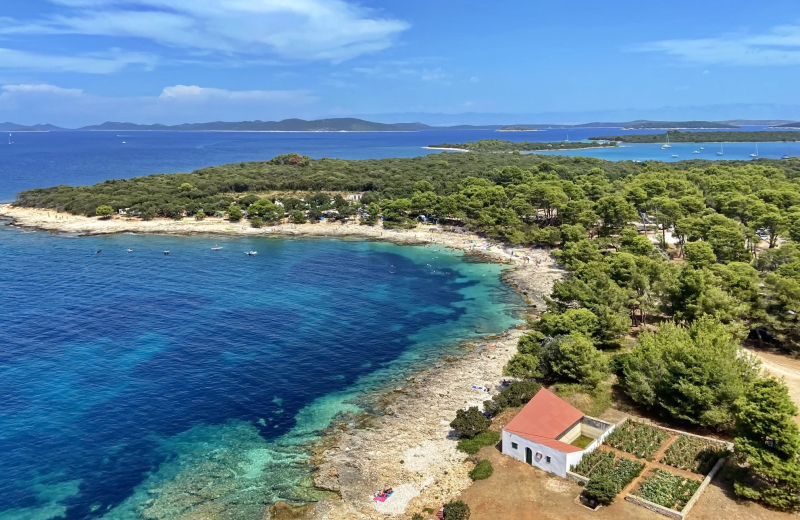 Information
Basic information
Camping Kargita - Dugi otok is located on the northern part of the island - at the Veli Rat lighthouse or Punta Bjanka. Campsite is located 25km away from ferry port Brbinj, road to its premises is asphalted so camping is easy to reach.
The campsite Kargita accepts the Avtokampi.si camping card - they offer a discount in their restaurant. Order your camping card HERE.
Campsites allow camping on regulated pitches and non-parceled place. Due to the extraordinary arrangement, the camp belongs to the group of Croatian OK Mini Camps.
Camping Kargita host up to 200 people and has about 53 pitches equipped with electricity and suitable for campers with tents, trailers or campers. Part of the camp is also non-parceled and intended only for tents. There is also the most shade there.

Pitches are not pretty shaded as newly planted trees are not high enough. For this reason, some wooden shelter have been added, however we advise you to bring a parasol with you.

Campsite has a nice sanitary building and in 2019 they add a new small sanitary facilities. There is also a restaurant offering Dalmatian specialties. Guests can also use grills to make their own meal, as well as refrigerator and washing machine.

Beach in camp is stoned and has one pier, close by is also smaller pebbled bay. Very popular beach Sakarun is 3,5km away. In camp it is possible to moor smaller boats.

In season 2015 smaller shop was opened as well as volleyball court. Guests can play table tennis, rent a bike, children can play at playground. The closest smaller shop is in Sali.

We recommend you to visit lighthouse, beach Sakarun and National Park Telascica.

Information about ferries and its prices to the island Dugi otok

Features and equipment
Type of the campsite
Pitch features
Non-parcelled camping plots

Pitches with electricity and water

Pitches with electricity, water and waste water connections
Location
Equipment
Chemical toilet discharge

Children sanitary facilities

Heated sanitary facilities
Offer
Sport
Swimming pool/wellness
Swimming pool with heated water
Dogs
Rental option
Camping pricelist (in EUR) for year 2023
Avtokampi camping card
2023 - 10% discount on lunch and dinner in the campsite restaurant
Price for
15.7. - 25.8.
24.6. - 14.7.
26.8. - 5.9.
3.6. - 23.6.
6.9. - 15.9.
19.5. - 2.6.
16.9. - 30.9.
Person
11,50
10,50
9
6,50
Children 3 - 12 yrs.
7
6,50
5,50
4,50
Pitch by the sea (1.row, electricity)
40
37
31
22
Pitch by the sea (electricity)
33
30
23,50
16
Pitch with electricity
​​25 / 29 *
​​22 / 25,50 *
18,50 / 21 *
14 / 14,50*
Pitch for big tent + electricity
26 / 30*
21 / 25,50*
17 / 21*
12 / 16*
Pitch for small tent + electricity
14
12
9
7
Refrigerator
4
4
4
4
Dog
5
4,50
4,50
4
Check-in
​​2
​​2
​​2
​​​​2
Tourist tax
​​1,40
​​1,40
​​1,40
​​​​1,40
PDF - Pricelist for year 2023 (19KB)
*Pitch price includes vehicle, tent or caravan and electricity. The lower price applies to pitches at the rear of the campsite, in the case of tent pitches the lower price applies to tents of 5 - 15 m2, the higher price applies to tents over 15 m2, in the case of tents the car is parked in a regulated parking area and not directly at the tent.
Contact
GPS: 44.152836,14.821152
Address: Veliki rat bb, 23287 Veli Rat - Dugi otok, Hrvaška
Reception:

+385 98 532 333
Rating and reviews
Reviews:
Published on day from lucija.skrbis

Category

Tent

Company

In couple

Odnos zdolgočasene gospodične na recepciji je bil daleč pod pričakovanji. Receptorka ob prihodu ni pokazala nobenega interesa, da bi nama karkoli pomagala. Trajalo je 5 minut, da se nama je posvetila, kljub temu, da pred nama ni bilo nobene druge stranke. Številke parcel, ki so proste, je kar tako naštevala, brez, da bi nama sama kaj zapisala ali označila na mapi, kot, da imam neskončno sposobnost pomnenja. Prav tako podatki na spletni strani niso usklajeni z realnim stanjem prostih parcel. Midva sva se ob takem sprejemu raje obrnila in odšla v drugi kamp.​​

Published on day from Tomaž Klemenc

Category

Tent

Company

In couple

Kamp je nezagrajen in nima ograje ali varnostnikov, sploh pa ne rampe. Razdeljen je na levo in desno stran, loči ga makadamska centa, ki se nadaljuje naprej do konca rta. Na desni so neparcelirani prostori za šotore, na levi pa parcelirani za (v glavnem) prikolice.
Spletna komunikacija je izredno težavna: na maile ne odgovarjajo in ko jih pokličeš in se skušaš dogovoriti, njihov odgovor ni zanesljiv. Rečeno nam je bilo, da imamo rezervacijo, a te rezervacvije ni bilo. Prostor za šotore je neoštevilčen, rezervacija torej sploh ni možna. Delavci na recepciji so družinski člani, a popolnoma nesposobni opravljati delo, ki ga delajo. Zadnji dan, ko sva poravnali račun, nismo slišali 'dober dan', ko sva vstopila v recepcijo, nisva slišala 'hvala', ko sva izročili denar, nisva slišala 'hvala' ali 'nasvidenje', ko sva zapustila recepcijo. V prostoru sva bila sama, ni da se je receptorka morala ukvarjati s strankami. Popolna odsotnost normalne komunikacije, če se razumemo.
V kampu je vsak dan smrdelo po kanalizaciji. Zjutraj zelo, dopoldne pa se vonja sploh ni dalo prenašati. Kdaj so praznili, kako so praznili, ne vem, ker smo morali pobegniti pred smradom. Ljudje po kampu so noreli in preklinjali in negodovali, nekaj jih je predčasno zaključilo dopust in se preselilo drugam. Kakor kaže, so pač preveč nabasani in greznica količine fekalij ne zmore.
Urniki so poglavje zase: imajo sicer objavljen urnik, za recepcijo in trgovino, a ne drži. Menja se skoraj vsak dan, imajo različe urnike in dajo naprej tistega, ki jim ustreza, a ga sproti dopolnjujejo z listki: pridem takoj, smo na kosilu, trenutno zaprto, malica od 12 do 12.45 in tako naprej. Posledica? Kadar prideš, je seveda zaprto.
Odnos do gostov je zelo neprofesionalen in pokroviteljski. Nimajo pojma, kako se vodi takšno podjetje.
Čisto realno si kamp zasluži oceno 1. Pač, najnižjo. Najraje bi jim namenil ničlo.​​

Published on day from anonymous

Category

Camper

Company

In couple

Već par godina planiramo doći u kamp Kargitu i evo nas ove godine. Kamp je predobar, sve pohvale gospođicama na recepciji, gospođama u sanitarcima, vlasnicima ukratko svima! Sanitarci uredni, čisti u svako doba dana. Kamp za poželiti , povratak zagarantiran!! ​​

Published on day from anonymous

Category

Tent

Company

In couple

Čudovit miren kamp, z ločenim šotorskim delom, kar je enkratno. Veliko sence. V bližini čudovite plaže.​​

Published on day from JožicaG

Category

Tent

Company

Family with teenager

Zelo lepo urejen in miren kamp. Osebje, še posebno čistilke, zelo prijazno. Bili smo v neparceliranem delu kampa. Veliko sence pod borovci. Narava, okolica in razgledi so nepozabni. Dugi otrok ponuja ogromno zanimivih aktivnosti, naravnih znamenitosti in lepih razgledov. Zelo malo turistov, razen okoli kampa in večjih atrakcij (Telaščica). Zanimivi so izleti na Kornate z barčico, odhod iz Salija.

Trgovinica v kampu je zelo mala in slabo založena, imajo pa skozi ves dan svež kruh. Rezervacije v kampu niso 100%, lahko se zgodi, da vam, dan pred prihodom pošljejo e-mail s spremembo (samovoljno skrajšajo vaš dopust). Vendar se da potem v kampu vse dogovoriti in se trudijo ustreči gostu. Hladilniki so skupni in lahko kaj odide ali pride (tudi to se zgodi). V kampu je možnost uporabiti njihovih žarov in tudi nekaj kuhalnikov je na voljo v skupnem prostoru. Voda naj bi bila pitna (mi smo uporabljali britto). Vodo dovažajo s tankerji, otok ima zelo malo svoje pitne vode. Obisk svetilnika je mogoč, vendar je odvisen o volje upravljalca :). Pri svetilniku gospa prodaja sveže sadje in zelenjavo (večino pridela sama).

Preživeli smo zelo lep dopust in se ob priliki vrnemo! :)​​

Published on day from tineroj

Category

Tent

Company

Family with small children

Super lokacija in čudovit kamp.
Bili smo v neparceliranem delu, kjer sta imeli punci stari 2 in 9 let veliko družbe (prav tako odrasli)
Zelo primerna destinacija za kolesarje.

Velika pohvala čistilkam, saj so sanitarije v vsakem trenutku vzorno čiste.
Osebje je zelo prijazno in z lahkoto vzpostaviš prijateljski odnos.

Vodo sicer dovažajo z ladjo, ampak je pitna (spodobi se, da varčuješ z uporabo)

Zagotovo se vrnemo!
​​

Published on day from mbratina1909

Category

Tent

Company

In couple

Prijazni lastniki, dobra cena. ​​

Published on day from anonymous

Category

Tent

Company

Family with small children

Super kamp z najlepšo lokacijo.
Osebje prijazno.
Sanitarije lepo urejene, vedno topla voda, mogoče samo prevelika gneča..
super skupni prostori za recepcijo.
Šotorišče ima senco v borovem gozdu, parcele pa se mi zdijo precej majhne, nagnetene in z manj sence.
Škoda, ker se nikjer ne da kupiti rib. Priporočam, da si hrano čimveč pripeljete s sabo, ker je trgovinica kar draga.
Čez dan pogosto pridejo dnevni turisti, ki naredijo kar precej gneče na plaži.
Načrtujejo širitev kampa, kar je po mojem mnenju velika škoda.
​​

Published on day from anonymous

Category

Other

Company

In couple

Published on day from anonymous

Category

Other

Company

Family with teenager

V kampu sem letos pogrešala dogajanje v večernih urah vsaj kako uro muzike. Hvala vsaj za otroke je bil 3 dni čarovnik. Avto smo imeli prašen kot bi bili v kamnolomu. Ponoči smo imeli vrečo smeti zunaj pa so mačke iz kampa vse raztrgale in prebrskale. Vidla sem podgane.,ki so švigale okoli smetnjakov. Tudi povožene podgane na cesti. Lastnica preveč poseda in se druži z izbranci ta čas bi lahko več naredila za kamp. Odšli smo 3 dni prej.​​