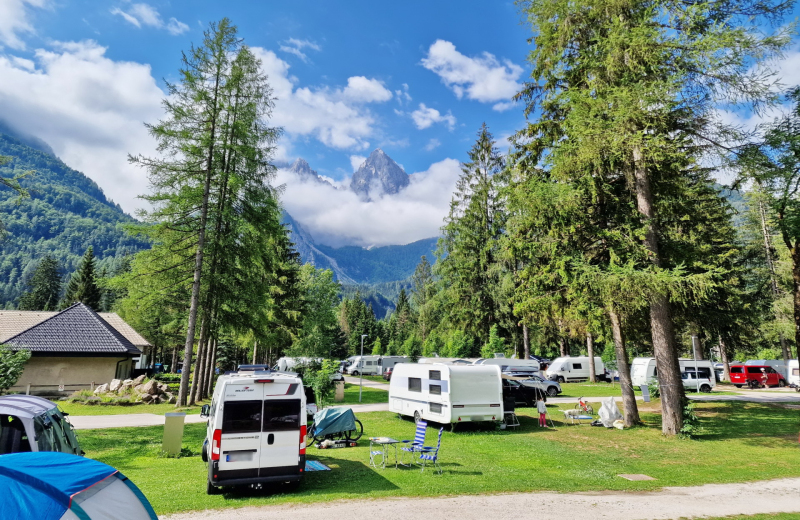 Information
Basic information
Camping Spik - Gozd Martuljek offers 200 pitches on the surface of 3 ha for campers with tents, campers and caravans. It is opened all year long.

The campsite Spik accepts the Avtokampi.si Camping Card, which will make the camping more affordable. The discount is listed at the price list of the campsite, and you can order free camping card HERE
NEW - A bike storage room will be built near the reception so that guests can store their bikes safely.

Pitches are equipped with electricity, some have also water connection. Camper supply station is arranged.
Camping Spik will be opened all year long and is equipped for winter camping as well. It is possible to reach river Sava Dolinka with smaller pebbled beach from camp. In winter time (from mid-December to mid-March) there is a free bus from Camping Spik to Kranjska Gora and Planica several times a day.
Shop has been renovated, smaller sanitary facilities added, new room for social events and bar with terrace.
Sanitary facilities are arranged in two buildings - the larger/main and smaller one - and are very nicely arranged. Besides all needed for basic needs, you will find as well children's bathroom, access for wheelchairs and laundry.
Camping Spik is few times daily connected with bus to Kranjska Gora. It is convenient to use it and easily reach skiing resort. Access to Sava Dolinka is arranged in the camp, where you will find smaller pebbled bay. For season 2017 natural bathing place is planned.

Campers have an opportunity to use all the hotel services of the neighbouring hotel Spik with 30% discount - wellness centre with indoor swimming pool, saunas and massges, restaurant, bar and sport terrains.

As camping is situated in the woods it offers many options for active holidays, such as hiking, cycling, rollerblading to all kinds of winter sports in Kranjska Gora and Planica.

Features and equipment
Type of the campsite
Pitch features
Non-parcelled camping plots

Pitches with electricity and water

Pitches with electricity, water and waste water connections
Location
Equipment
Chemical toilet discharge

Children sanitary facilities

Heated sanitary facilities
Offer
Sport
Swimming pool/wellness
Swimming pool with heated water
Dogs
Rental option
Camping pricelist (in EUR) for year 2023
Avtokampi camping card
2023 - 5% discount on camping between 1.1. - 30.6. & 1.9. - 31.12.
Price for
1.7. - 31.8.
1.5. - 30.6.
1.9. - 31.10.
1.1. - 30.4.
1.11. - 31.12.
Person
​​22
​​18
​​14,50*
Children under 7
​​gratis
​​gratis
​​gratis
Children 7 - 14 yrs.
​​15,40
​​12,60
​​9,80
Electricity
​​4,90
​​4,90
​​4,90
Dog
​​4,50
​​4,50
​​4,50
Washing machine
​​7
​​7
​​7
Refrigerator
​​5
​​5
​​5
Breakfast
​​12
​​12
​​12
Dinner
​​18
​​18
​​18
Internet access - WIFI
​​gratis
​​gratis
​​gratis
Check-in
​​1,50
​​1,50
​​1,50
Tourist tax
​​1
​​1
​​1
PDF - Pricelist for year 2023 (20KB)
* during low season, prior notice of arrival is appreciated

The price of the person also includes a parcel (motorhome, trailer or tent) and a vehicle. insurance.
Discounts in campipng Spik:

5% Avtokampi camping card (not valid between1.7. - 31.8. )
10% for staying 7 or more nights
10% to the entrance to the swimming pools and saunas at the Hotel Spik

Pricelist for yearly rental (in EUR) for year 2022
| Price for | 1.4. - 31.10. |
| --- | --- |
| Yearly rental of camping pitch with electricity | ​​2.350 |
| Winter lodging of the caravan | ​​400 |
| Winter parcel rent with electricity | ​​1.200 |
| Tourist tax | ​​1 |
| Check-in | ​​1 |
PDF - Pricelist for year 2022 (858KB)
The flat rate includes up to 6 persons - family members of a flat rate carrier. For businesses it has been flat for more than 700 euros.
Camping Spik also offers monthly flat-rates at prices from 450 eur in May and October to 750 eur in July and August.

Contact
GPS: 46.483837,13.837888
Address: Jezerci 15, 4282 Gozd Martuljek, Slovenija
Reception:

+386 51 634 466
Rating and reviews
Reviews:
Published on day from jmulec890

Category

Caravan

Company

Family with small children

Zelo prijazno osebje kampa,odlična mirna lokacija,otroška igrala zaposlijo otroke,urejene sanitarije,možnost kolesarjenja,pohodništvo in še bi lahko našteval.Skratka se v tem letu se še vrnem in uživam v prelepi naravi.Notranji bazen je v sosednjem hotelu.Preživel sem zelo aktivni dopust.​​

Published on day from anonymous

Category

Camper

Company

In couple

Rada bi bila prenočila iz nedelje na ponedeljek, pa ni bilo mogoče. Ni bilo nikogar, da bi bil odprl rampo. Čakat bi bilo treba 1,5 ure????​​

Published on day from anonymous

Category

Camper

Company

With friends

Published on day from anonymous

Category

Camper

Company

In couple

Published on day from anonymous

Category

Tent

Company

In couple

Sanitarije so vedno čiste, tople vode v 5 dneh nisva opazila, da bi zmanjkalo. Vso območje kampa je parcelirano, kar se mi zdi super, da ne dobiš čisto zraven šotora še nekoga. Vedno je na voljo tudi milo in wc papir. Na recepciji ustrežljivi in prijazni. Bila sva sicer ob nekoliko slabšem vremenu (2 od 5 dni) in je bil kamp bolj prazen, (kasneje se je napolnil) ne vem kako je v polni sezoni (predvsem glede parcel), ampak midva sva uživala 100/h in se 100% še vrneva. ​​

Published on day from anonymous

Category

Camper

Company

Family with small children

JE ZELO DRAGO. OKOLI 70 EUR NA DAN. KAMP JE DRUGAČ OK , DA NE BO POMOTE SAMO PREDRAG​​

Published on day from anonymous

Category

Caravan

Company

Family with small children

Super kamp z veliko možnostmi. Oskrbnik odlično skrbi za kamp.
Manjka edino še kakšen sušilec za roke v kopalnici in pomivalnici.​​