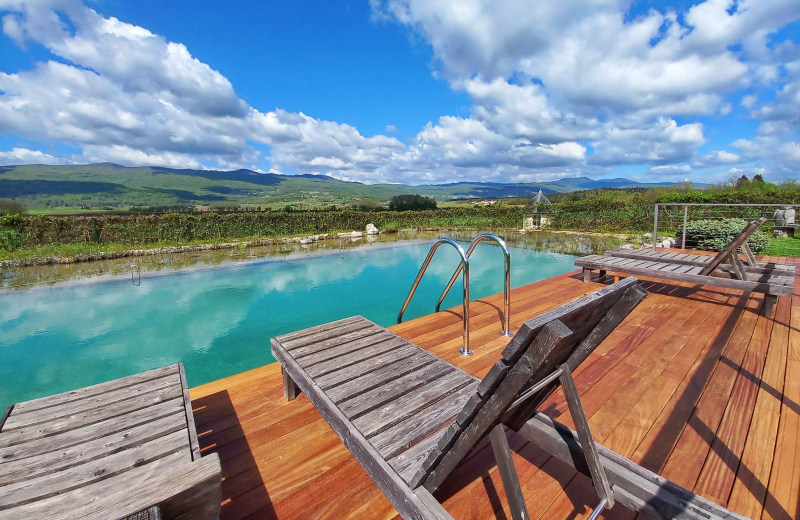 Information
Glamping description
Glamping Maleric is set in the village Podlog near Dragatus, 9 km from Crnomelj, region Bela krajina. Guests can rent glamping homes for 4 + 2 persons and apartments for 2 or 4 persons.
Glamping accepts the Avtokampi Camping Card, which will make holidays more affordable. The discount is listed at the price list of the glamping house, and you can order free camping card HERE
Glamping homes combine modern design and functionality, and the materials used are of the highest quality. Each home sleeps up to four people and has two extra beds for kids. The homes are 40 m² in size and have an 18 m² outdoor terrace.

Each glamping home includes a living room with kitchen and dining area, a bathroom, a bedroom and a children's room. Dogs are allowed in the glamping homes at an extra cost.

For a perfect and unforgettable holiday, there is a natural pond in front of the homes, where you can relax from the stress of everyday life and go for a swim. Guests of the glamping homes also have free use of one of the jacuzzis next to the pond, as well as the indoor swimming pool near the cottages.
They also have 6 beautifully furnished apartments, out of the traditional accommodation. Two are smaller apartments for 2 + 1 person, two are for 4 people and two are for 4 + 1 person. The apartments are also fully equipped with kitchen facilities (cooker, microwave, fridge, dishwasher and all necessary crockery and cutlery), bathroom facilities (towels, soap and hairdryer), bed linen, TV, internet connection, telephone and air conditioning. Dogs are also allowed in the apartments at an extra charge.

On the ground floor of the building there is a reception, a common room (can accommodate 30 people), where there is also a fireplace and a wood-burning stove. It is possible to use the shared kitchen. There is also a recreation room and a wellness area with a small indoor pool, finnish and infrared saunas and a jacuzzi.

The Maleric bungalow (65 m2) can be rented for up to 6 people and is located on a wine-growing hill called Sadeži. The cottage offers beautiful views of the vineyards and is furnished as an apartment with two bedrooms - one with a double bed and the other with four single beds. There is a TV, wifi in the living room, a fully equipped kitchen, a terrace and a barbecue in the garden. Dogs are allowed in the cottage at an extra charge.

The entire surroundings of the Glamping Maleric site offer many interesting sightseeing tours of the Belokranj natural heritage and excursions, both by bike and on foot. You can also visit the renovated Kostel Castle.
Glamping Maleric offers bicycle and boat rental, as well as rowing and rafting within 10 km. The Lahinja and Kolpa Landscape Parks are nearby, and a tennis court is 1 km away.
Throughout the year, interesting events take place in Bela Krajina, e.g. Wine Vigil, Yurjevanje, Semiska ohcet, Martinovanje, etc.
Information about glamping
Glamping type
Number of persons in glamping
Glamping huts for 4 - 6 persons

Glamping hut for 2 - 3 persons

Glamping huts for 6+ persons

Glamping tents for 2 - 3 persons

Glamping tents for 4 - 6 persons

Glamping tents for 6+ persons
Location and features of glamping
Bathroom in accommodation
Features and equipment on location
Location
Equipment
Chemical toilet discharge

Children sanitary facilities

Heated sanitary facilities
Offer
Sport
Swimming pool/wellness
Swimming pool with heated water
Dogs
Rental option
Pricelist for glamping (in EUR) for year 2023
Contact
GPS: 45.525371,15.189736
Address: Podlog 3c, 8343 Dragatuš, Slovenija
Reception:

+386 7 30 57 120

Reservation:

+386 40 300 676