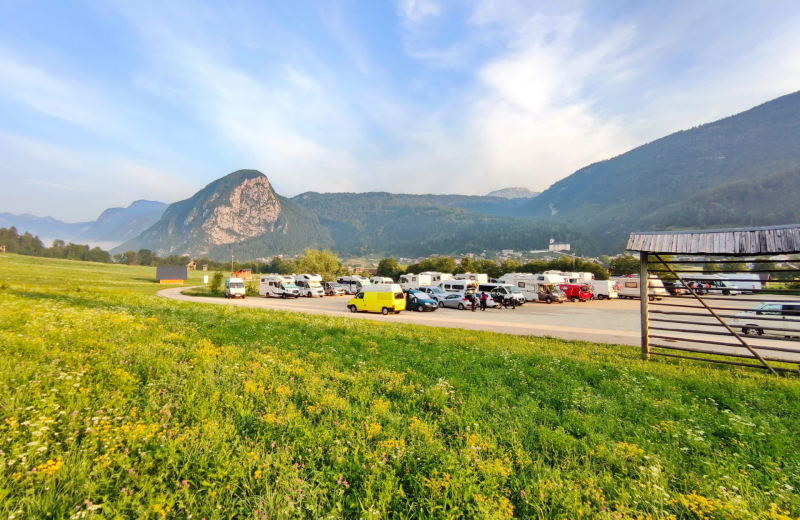 Information
Camper stop description
Camper stop Senozeta - Bohinj is arranged right next to a small ski slope Senozeta near Srednja vas in Bohinj. The location is interesting for visiting the mountains, as a bus (P + R) runs from the parking place several times a day to the Blato mountain, which is the starting point for several hiking directions, for example Triglav lakes and many other hills in the Julian Alps.

In the parking lot there is space for 20-25 campers, there is also a supply station for the discharge of wastewater, a tap with fresh water, it is possible to empty the cassette with faeces, and there are also some electricity connections.
Maximum caravan parking is 12 hours!
In winter, in case of favorable snow conditions, there is a ski resort (1 ski lift + children's ski lift), cross-country trails are also arranged, and there is also a well-kept cycling trail.

Information about camper stop
Camper stop type
Camper stop with supply station
Features of the camper stop
Discharge of faeces / chemical wc

Camper stop with sanitary facilities
Features and equipment on location
Location
Equipment
Chemical toilet discharge

Children sanitary facilities

Heated sanitary facilities
Offer
Sport
Swimming pool/wellness
Swimming pool with heated water
Dogs
Rental option
Pricelist for camper stop (in EUR) for year 2023
Price for
1.6. - 30.9.
1.1. - 31.5.
1.10. - 31.12.
Camper stop (12h)
​​20
​​10