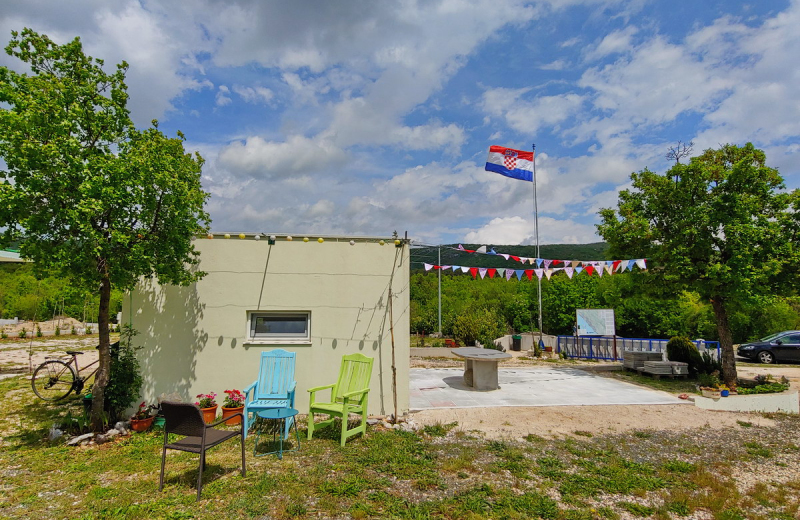 Information
Basic information
Mini camp Biokovo is located in Dalmatia hinterlands. It is 1km away from the highway exit and 15km from town Baska voda. From camp, you can enjoy the scenery across biokovski hills and Sv Jure mountain (1762m).

It has 20 camping spaces, 2 of them are arranged in pitches, while the others are not. Sanitary facilities are arranged, including chem toilet and supply station for campers.
Campsite accepts the Avtokampi.si Camping Card, which will make the camping more affordable. The discount is listed at the price list of the campsite, and you can order free camping card HERE


Camp Biokovo is perfect selection for all the ones that are travelling towards south Dalmatia and want to rest a bit. Camp owner will offer you vegetable and fruits from their garden.

Neighborhood is great for cycling and hiking.

Guests have fridge and washing machine at their disposal. Shop, restaurant, post office and all other facilities are in town Zagvozd.

Features and equipment
Type of the campsite
Pitch features
Non-parcelled camping plots

Pitches with electricity and water

Pitches with electricity, water and waste water connections
Location
Equipment
Chemical toilet discharge

Children sanitary facilities

Heated sanitary facilities
Offer
Sport
Swimming pool/wellness
Swimming pool with heated water
Dogs
Rental option
Camping pricelist (in EUR) for year 2023
Avtokampi camping card
2023 - 10% discount throughout the year
Price for
20.7. - 24.8.
1.7. - 19.7.
25.8. - 24.9.
1.6. - 30.6.
25.9. - 31.10.
1.5. - 31.5.
Person - camper
17,50
16
14,50
12,50
Person - tent
14,50
13,50
11,50
9,50
Person - caravan
17,50
16
14,50
​​12,50
Children under 5
​​gratis
​​gratis
​​gratis
​​​​gratis
Children 5 - 12 yrs.
7
7
7
7
Pitch
​​gratis
​​gratis
​​gratis
​​​​gratis
Refrigerator
​​gratis
​​gratis
​​gratis
​​​​gratis
Electricity
​​gratis
​​gratis
​​gratis
​​​​gratis
Washing machine
​​5
​​5
​​5
​​5
Dog
​​gratis / 3,50*
​​gratis / 3,50*
​​gratis / 3,50*
​​​​gratis / 3,50*
Tourist tax
​​gratis
​​gratis
​​gratis
​​​​gratis
PDF - Pricelist for year 2023 (20KB)
The price per person also includes the plot, electricity and water on the plot.
*first dog is free, all other dogs are subject to a fee

Contact
GPS: 43.397449,17.048465
Address: Put Remonta 15, 21270 Zagvozd, Hrvaška
Reception:

+385 98 17 333 18