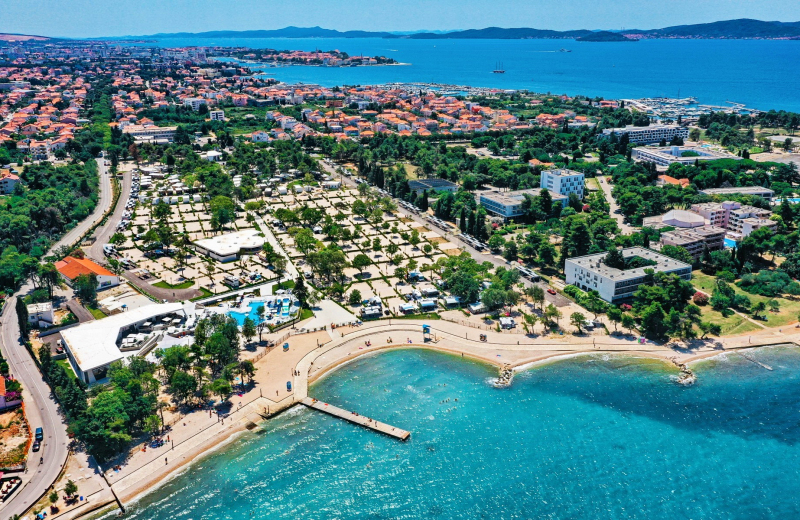 Information
Basic information
Camping Falkensteiner Premium Camping Zadar is newly opened campsite that has grown on the premises of previously known camping Borik. It is located on the northern side of the city Zadar, which is about 3km from the old city centre from Zadar. It is opened all year long.
In season 2019 campsite was completely renovated, getting new camping pitches, offering rental of mobile homes and Adria glamping tents. Premium Camping Zadar provides well organized animation, which is usually most appreciated by families with children.
Campsite accepts the Avtokampi.si Camping Card, which will make the camping more affordable. The discount is listed at the price list of the campsite, and you can order free camping card HERE

NEW - a beach bar, an additional outdoor children's playground and a rich animation program during the main summer season - Summer Fest.

Camping Falkensteiner Premium Camping Zadar is 9 ha large and offers 270 camping pitches with electricity and water connection and sewage. Guests coming with caravans are able to use separated parking places that provide them more space at their camping pitch.
Sanitary facilities are modern, including baby changing room, laundry, sanitary facilities for children and handicapped, showers for dogs.
Beach in camp is pebbled, new swimming pool complex with swimming and children's park was built, along with sun bathing platform, restaurant and bar. The pools are open from late April to mid-October.

From April to October, adult wellness enthusiasts can enjoy saunas, jacuzzis and massages in a separate facility next to the larger pools. The wellness area also includes two smaller outdoor pools and one with heated water.

In winter (from the end of October to the beginning of April), camp guests can also use the hotel's wellness centre with indoor heated pool (sauna, fitness and relax area) in the nearby Hotel Falkensteinfer Funimation Borik free of charge.
Whole campsite is covered with free wireless internet. Camping will have shop and common picnic places. In summer great children's animation activities are organized for kids of different age. From sport activities guests can play football, volleyball, tennis, indoor and outdoor fitness, sports centre with rental of bikes, boats, SUP boards, canoes, with children's playground and outdoor performance place.
Features and equipment
Type of the campsite
Pitch features
Pitches with electricity and water

Pitches with electricity, water and waste water connections

Non-parcelled camping plots
Location
Equipment
Chemical toilet discharge

Children sanitary facilities

Heated sanitary facilities
Offer
Sport
Swimming pool/wellness
Swimming pool with heated water
Dogs
Rental option
Camping pricelist (in EUR) for year 2023
Avtokampi camping card
2023 - 23 € for 2 people and a dog on the Blue or Sky Blue pitch with electricity included in the periods 1.1. - 25.5. & 15.9. - 31.12. 10% discount on rent mobile homes and glamping tents for direct bookings.
Price for
8.7. - 18.8.
17.6. - 7.7.
19.8. - 1.9.
18.5. - 16.6.
2.9. - 22.9.
31.3. - 17.5.
23.9. - 4.11.
2.1. - 30.3.
5.11. - 31.12.
Person
​​19
​​18
​​13
​​11
​​7
Children 6 - 12 yrs.
​​15
​​12
​​9
​​8
​​7
Person older than 60
​​18
​​16
​​11
​​10
​​8
Pitch by the sea (water, sewer)
​​131 / 163
​​110 / 133
​​93 / 111
​​75 / 90
​​48 / 58
Pitch (electricity, water, sewer)
​​91 / 113
​​74 / 88
​​59 / 71
​​46 / 55
​​33 / 39
Pitch Blue (electr., water, sewer)
​​55 / 64
​​45 / 53
​​34 / 39
​​28
​​24
Addit. motorcycle
​​9
​​8
​​5
​​4
​​4
Addit. car / tent
​​9
​​8
​​5
​​4
​​4
Dog
​​13
​​10
​​8
​​8
​​5
Refrigerator
​​6
​​6
​​6
​​6
​​6
Utility Trailers
​​13
​​13
​​11
​​11
​​10
Internet access - WIFI
​​gratis
​​gratis
​​gratis
​​gratis
​​gratis
Tourist tax
​​1,34
​​1,34
​​1,34
​​1,34
​​1,34
Reservation of the pitch
​​50 - 100
​​50 - 100
​​50 - 100
​​50 - 100
​​50 - 100
PDF - Pricelist for year 2023 (21KB)
Higher price applies for pitches closer to the sea

Contact
GPS: 44.136271,15.214434
Address: Majstora Radovana 7, 23000 Zadar, Hrvaška
Reception:

+ 385 23 555 602
Mobile Homes
Mobile homes description
Rental of mobile homes in Falkensteiner Premium Camping Zadar - campsite offers rental of various types of mobile homes. All together it provides 86 mobile homes.

Camping Cozy mobile homes for couples (30 m2 large) with one bedroom, mini kitchen, bathroom and living room with additional bed.

Families prefer mobile homes Camping Family Home (40 m2), having two or three bedrooms for 4 or 6 persons. These mobile homes have two bathrooms, modern kitchen (cooker, fridge, dishwasher) and well designed living room with additional web and exit to large terrace. All mobile homes have air-conditioning.

Mobile homes information
Number of persons in mobile homes
Mobile homes for 2 - 3 persons

Mobile homes for 4 - 6 persons

Mobile homes for 6+ persons
Mobile homes
Mobile homes with 3 bedrooms

Dogs allowed in mobile homes

Mobile homes for handicapped
Pricelist for mobile homes (in EUR) for year 2023
Glamping
Glamping description
Rent a glamping tent at Falkensteiner Premium Camping Zadar - the camp offers luxury glamping tents (50m2) for 5 - 6 people.
These are large safari tents for 5 - 6 people, which offer comfort and are equipped with 3 bedrooms, a kitchen, a bathroom and a spacious terrace. The glamping tents are air-conditioned and also come with a TV and free wifi.
Dogs are allowed in the glamping tents.

Information about glamping
Glamping type
Number of persons in glamping
Glamping tents for 4 - 6 persons

Glamping hut for 2 - 3 persons

Glamping huts for 4 - 6 persons

Glamping huts for 6+ persons

Glamping tents for 2 - 3 persons

Glamping tents for 6+ persons
Location and features of glamping
Bathroom in accommodation
Pricelist for glamping (in EUR) for year 2023
Rating and reviews
Reviews:
Published on day from Kaja.Perkovič964

Category

Camper

Company

In couple

Velike parcele, drevesa potrebujejo čas, da zrastejo in naredijo senco. Plaža slabše urejena, sprehajalne poti ob morju so potrebne prenove. Velike in čiste sanitarije. Glede na ponujeno, kamp drag. ​​

Published on day from 9sammy5

Category

Caravan

Company

Family with small children

Kamp je lep, sanitarije so paša za oči, sploh za otroke. Imajo pa kar nekaj nedelujocih stvari,ki kazejo na -slabo vzdrzevanost (recimo pipe bi bilo treba ocistit kamna, da bi voda lepo tekla iz tusev in pip in ne bi spricalo povsod, potem vrata pri finski savni se ne zapirajo).
Igrišče za otroke je zelo lepo. Bazen je še prazen tako da ne morem nic povedat.
Cene so navite, se splača iti ven ali uporabit Wolta.
Na recepcij smo imeli nekaj tezav, saj je gospodična zahtevala avtokampi.si kartico v fizicni obliki. Smo pa nasli tudi pristne zaposlene, ki se ne gledajo samo v ogledalo, tako da ne moremo pritozevati.
Na parcelah je nasut bel pesek oz. kamencki, ki so smrt za vozicek, ker se prevec pogreza.
Pranje je 30kn, susenje 20kn.
Wellness je zmaga za utrujene starse, ne vem pa kateri genij se je spomnil narediti normalno stekleno steno, ki gleda na bazen in restavracijo, ko si gol notri na ogled kot v izlozbi.
Plažo smo zaradi vremena in letnega casa uporabljali zgolj za sprehode. Je pa bolj kamenjar z ostrimi kamni, mislim da se tudi tukaj kaze, kot da jim je nekaj zmanjkalo.
Animacija izven sezone je bila za velikonočni vikend, sicer ne.
Tok da ja...za 22€ super, lep kamp, parcele vsecne velikosti, se pa vcasih cuti nepristnost in nezadovoljstvo.​​

Published on day from anonymous

Category

Caravan

Company

In couple

kamp je zelo na sončni strani,sploh potem k je blo neurje je se tistih par dreves kr jih blo polomilo.
Sanirariji so bili zelo umazani. Osebje pa tudi neprijazno in zmedeno! Ne priporocam​​

Published on day from 44camping

Category

Tent

Company

Family with small children

Težko podam relevantno oceno, glede na to kaj se je zgodilo. Če se v začetku omejim na bivanje pred neurjem. Kamp je bil lepo urejen, plaža čista z lahkim dostopom v morje (prod, mivka). Gostom so na voljo brezplačni ležalniki. Parcele lepo urejene in opremljene z vodo ter elektriko. Sanitarije so bile skozi ves dan čiste. Kot plus izpostavim da so bile na voljo tudi zasebne kopalnice, če komu prija več zasebnosti. Otroka sta uživala v animaciji, tu pa se plusi tudi končajo. Grajal bi dejstvo da se je z odprtjem mudilo in je bil kamp na pol pripravljen. Trgovino so šele gradili, bankomata ni bilo, osebje na recepciji zmedeno zaradi nove opreme (tiskalniki, programatorji zapestnic). Cene v baru visoke (Aperol npr. 75 kun, izven kampa 40 kun) .

Na tem mestu bi se drugače ocena končala vendar je neurje stvari obrnilo na glavo. Zaradi ogromne škode, senčnih parcel praktično ni več. V dopoldnevu po nemirni noči so požagali / odstranili večino dreves. Na žalost tudi osebje ni bilo doraslo situaciji. Tisti gostje ki smo ostali brez vsega smo zaman čakali na recepciji cel dan da bi dobili nadomestno namestitev. Odgovor je bil vedno enak: Pridite vprašat čez eno uro. Na koncu smo kamp zapustili brez opreme, s par buškami, zvitim gležnjem in poškodovanim zapestjem. Kamp je imel potencial, postati eden izmed najlepših. Držim pesti da ga uspešno obnovijo.​​

Published on day from Šotorist

Category

Tent

Company

Family with small children

Lokacija kampa je super za ogled Zadra, je pa dobro imeti s seboj kolesa oz. se jih lahko izposodi na recepciji. Parcele urejene, velike, več sence na parcelah pri mobilnih hiškah. Nekaj parcel za prehodne goste je tudi pri recepciji. So pa cene kampiranja in tudi v restavraciji kar visoke.​​