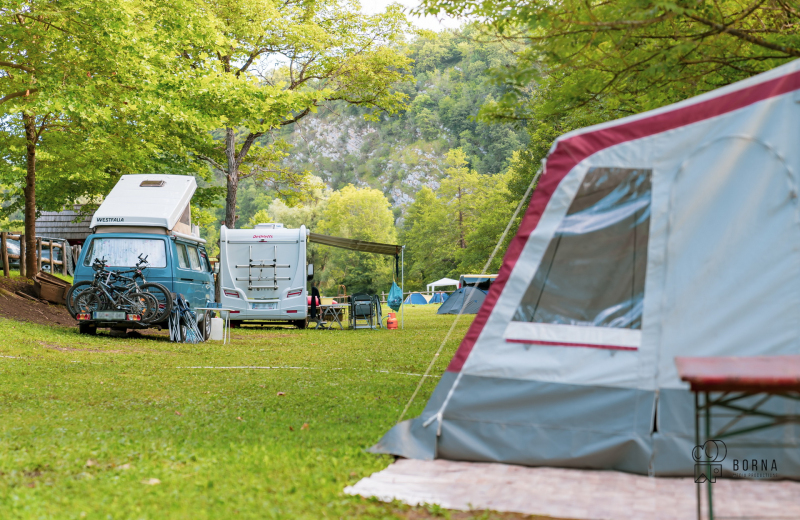 Information
Basic information
Campsite Jankovic - Stari pod can be found near the village Adlešiči, about a kilometer away from it. From the village till the camp leads you a macadam road which makes a camp bit more difficult to reach with campers and caravans.

In the campsite Jankovic - Stari pod offers the arranged camping area and rent of wooden glamping houses for 2 people.

In the camp you can enjoy the natural bathing spot along the stoned dyke (Trzkov slap) which is supposedly one of the most beautiful on Kolpa and appropriate also for children and non-swimmers.

Camping Jankovic - Stari pod is smaller, family run and it offers also an option of sleeping in the common room. Here you will find also bar with terrace that serves as the reception.

Main attraction is of course Kolpa, where you can swim, raft, fish or jump from the floating moat. Warm days and nights are appropriate for picnics and parties, for which separated place is saved. You can reserve a grill, picnic tables and other equipment for picnic. According to the owners, many events like this, especially on weekends, end up in the early morning. But also the camp staff is always amusing the guests, they invite also musicians or DJs to make the nights more interesting.

Smaller groups (cyclists, hikers, sport associations) can stay in a close by dormitory.

Shop is approximately 800 away, in the camp you can play volleyball.
Features and equipment
Type of the campsite
Pitch features
Non-parcelled camping plots

Pitches with electricity and water

Pitches with electricity, water and waste water connections
Location
Equipment
Chemical toilet discharge

Children sanitary facilities

Heated sanitary facilities
Offer
Sport
Swimming pool/wellness
Swimming pool with heated water
Dogs
Rental option
Camping pricelist (in EUR) for year 2023
| Price for | 1.5. - 30.9. |
| --- | --- |
| Person | ​​16,50 |
| Children under 7 | ​​gratis |
| Children 7 - 14 yrs. | ​​11,20 |
| Car | ​​3 |
| Camper / Caravan | ​​6 |
| Electricity | ​​5 |
| Dog | 3 |
| Breakfast | ​​7,50 |
| Tourist tax | 0,90 |
Contact
GPS: 45.517833,15.326500
Address: Adlešiči 24a, 8341 Adlešiči, Slovenija
Reception:

+386 41 622 877
Glamping
Glamping description
Novelty are glamping wooden challets for 2 people located right by river Kolpa. They are called Vile Kolpjanke (Villas from Kolpa).

They are made from local spruce wood and equipped with comfortable bed with blanket from natural feathers. They are isolated with sheep vool and flax fibers. Additionally, IR pannels are set for heating in cooler days.
Information about glamping
Glamping type
Number of persons in glamping
Glamping hut for 2 - 3 persons

Glamping huts for 4 - 6 persons

Glamping huts for 6+ persons

Glamping tents for 2 - 3 persons

Glamping tents for 4 - 6 persons

Glamping tents for 6+ persons
Location and features of glamping
Bathroom in accommodation
Pricelist for glamping (in EUR) for year 2023
| Price for | 1.5. - 30.9. |
| --- | --- |
| Glamping - wooden hut for 2 persons | 74 |
| Children under 7 | ​​gratis |
| Children 7 - 14 yrs. | 15 |
| Breakfast | ​​gratis |
| Bed linens | ​​gratis |
| Dog | 8,70 |
| Tourist tax | ​​1,80 |
Rating and reviews
Reviews:
Published on day from anonymous

Category

Tent

Company

With friends

Neverjetna izkušnja!
Če se želite na dopustu spočiti, ne hodite sem. Če pa se želite imeti super in žurati do onemoglosti, pa boljšega kampa v Sloveniji ni!

Osebje odlično, prav tako gostje, večina jih hodi sem že vrsto let. Dogaja se na polno, še posebej med vikendi; glasna glasba vseh zvrsti, fantovščine, random žurke, you name it!

Cene v gostilni so primerne, tudi hrana je solidna. WC-ji so novi in čisti, morda je minus le v tuš kabini, ki je prozorna, ampak spet odvisno od osebe do osebe, koliko jo to moti.

Kopati se da pri kampu, še lepša lokacija pa je par metrov nižje pri brzici. Voda je kristalno čista in topla.

Definitivno se bomo vračali sem vsako leto!​​

Published on day from anonymous

Category

Tent

Company

With friends

Kamp sam po sebi zelo všečen, z idealno lokacijo, tudi sence je dovolj. Lastniki relativno prijazni ampak, ko natakarja vprašaš kje so smeti, ti z aroganco odvrne, da je za te informacije pristojna šefica. (???)
Novi dodatni WCji in tuši mi tudi niso najbolj jasni, saj lahko zaradi steklenih vrat in steklenih tušev vsak vidi vsakega kako se tušira (???).
Je pa kamp izredno glasen in se skoraj ni mogoče naspati, gostje so večinoma pijani do daske, kar me niti ne moti, dokler se ne odločijo izklopiti tvoje elektrike, na katero imaš priklopljen hladilnik, da je potem valjda vse toplo.
Zaradi te izkušnje menim, da to ni kamp za kampiste, saj je večina gostov precej sebičnih, ampak je to kamp za žurerje. Je pa verjetno tudi to razlog za to, da v tem višku sezone sploh dobiš prostor, saj so vsi ostali kampi ob Kolpi skoraj 100% zasedeni.​​

Published on day from Igor1971

Category

Tent

Company

Family with teenager

Kamp, ki je ohranil prvinskost. Ko pokličeš, te opozorijo, da so vikendi mogoče malo glasni, tako, da veš, kaj te čaka. Ne hodi in ne jamraj pol. Bili smo s tremi otroci 7, 10 in 13 let. Pravijo, da je bilo bolje kot na morju. Osebje prva liga, brez vsakršne slabe volje. Sanitarije... bilo je čisto, če je stara keramika...big deal. Tuši..., če ti niso všeč, se umiješ, ko prideš domov, saj si itak vsak dan v Kolpi. Koristiš, kar ti je ponujeno in ne kompliciraš življenja sebi in drugim, dopust je kratek.
Letos na vsak način pridemo.
Nizka ocena je verjetno ven padla, ker nisem vsega ocenjeval, tako, da ne odraža mojega mnenja.​​

Published on day from anonymous

Category

Mobile home

Company

In couple

Kamp si ne zasluzi imena kamp, kaj sele glamping. Oddajajo glamping hisice, ki so se dalec od tega. Pri nas, do glamping sploh ni prislo, ker ko sva z mozem prisla v recepcijo ob 16.00 uri, hisica sploh se ni bila izpraznjena, ker se predhodni gostje niso zeleli umakniti. Vse naokrog je bilo razmetano, predno bi to pospravili bi bil ze vecer, ti pa rezervirano! Bolano! Skratka velika zmeda, popoldan ze cel kup pijanih -pa ne malo pijanih in glasnih dopustnikov, ki svoje potrebe opravljajo kar za drevesi. Na najino sreco se potem predhodni gostje niso umaknili, po videnem naju je pa tako ali tako minilo cakat in sva glamping zapustila, sokirana, da se to dogaja v Sloveniji. Ne priporocamo nikomur, morda le mladim zurerjem, ki jim je za vse vseeno, ostalim pa straaannn od te zmede.​​

Published on day from anonymous

Category

Other

Company

With friends

Sam kamp je prijeten vendar zelo so pomanjkljive informacije s strani lastnika (ki je večina časa sicer pijan) ter tudi zaposlenih. Še sami ne vedo kaj pride vključeno v zajtrku in kajne....v glavnem velika zmeda in nevednost. Žal.. Kamp ni primeren za ljudi, ki želijo mir, ker j, vsaj med vikendom precej glasno in prometno...Če želiš žurat je primereno, drugaqče pa je bolje izbrati kaj mirnejšega... ​​

Published on day from phoenixmac

Category

Other

Company

With friends

Lepa lokacija, čudovit kraj in prijazni ljudje. Morda se najde kak minus, a to vseeno ne spremeni mojega mnenja. Kamp sem prvič obiskal letos in vem, da ga bom še. Sicer pa je tukaj kar nekaj informacij o samem kraju: http://ksadlesici.si/​​

Published on day from mitosa

Category

Camper

Company

Family with small children

plus: kamp na lepi lokaciji, dostop je možen tudi z avtodomom, kuhar Drago je mega faca, lastnik Tone tudi. Pijača in hrana sta poceni in dobra.
minus: obupni sanitariji, cena kampa je za tisto kar ponuja, absolutno previsoka. Hrup, ki ga zganjajo nekateri gostje, pa presega vse meje zdravega razuma. Nismo zategnjeni, ampak budnica ob 7h zjutraj s strani mrtvo pijanih gostov, pač ne spada nikamor. Mogoče bomo še kdaj vrnili, ni pa to kamp, ki bi ga z veseljem priporočili. Škoda, ker ima velik potencial.​​

Published on day from anonymous

Category

Other

Company

With friends

lepa lega kampa
a žal sanitarije pokvarijo izgled
cena pa je premirna, še posebej sob in barak,
ki so primirna za popotnike kod so motoristi in kolesarji​​

Published on day from anonymous

Category

Other

Company

Other

Plus: lokacija, vzdušje, dogajanje ob koncu vikenda (to štejem v plus, čeprav lahko koga moti hrup)
Minus: precej umazane sanitarije (en tuš v moškem WCju in en v ženskem, oba samo z mrzlo vodo), neorganiziranost lastnikov. Pri glamping hišicah ni bilo obljubljenega kemičnega WCja, tako da je bilo treba hoditi do skupnih sanitarij, ki so daleč. Ob glamping hišicah je makadam, prehitro vozeči avtomobili pa dvigajo prah.​​