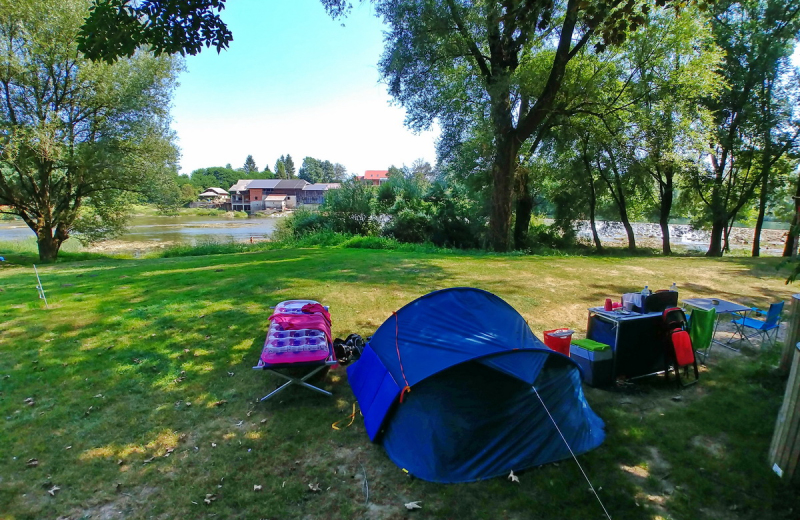 Information
Basic information
Campsite Pezdirc is located in the village Griblje, 4 km away from village Gradec and 10 km from towns Metlika and Crnomelj. It lays on the banks of Kolpa , just before the Slovenian – Croatian border. It is located on the banks of river Kolpa which is offering refreshment in summer.

Camping in Griblje is possible on soft meadow along river Kolpa. It is best suitable for campers with tents.

Camping Griblje is offering large place for picnic and social events, they will even support you with needed logistics and organization. It can be larger families, companies or even weddings.

River Kolpa is great for various activities, while neighborhood is appropriate for exploring with bike or on foot. At the bathing place Griblje you can go swimming in the river, fishing or rowing (you can rent a canoe).
From the sports infrastructure you can choose between volleyball, badminton, football and table football.

In bar Breg (at the bathing place) free wireless internet is accessible. Shop is about 3km from the campsite (Podzemelj). Close by it is possible to rent an apartment as well (10 min walk away).
Features and equipment
Type of the campsite
Pitch features
Non-parcelled camping plots

Pitches with electricity and water

Pitches with electricity, water and waste water connections
Location
Equipment
Chemical toilet discharge

Children sanitary facilities

Heated sanitary facilities
Offer
Sport
Swimming pool/wellness
Swimming pool with heated water
Dogs
Rental option
Contact
GPS: 45.569728,15.297952
Address: Griblje 25d, 8332 Gradac, Slovenija
Reception:

+386 40 858 732

Reservation:

+386 40 451 250
Rating and reviews
Reviews:
Published on day from anonymous

Category

Other

Company

With friends

Slabo imeli neko kuhanje pasulja pretepali se vsepovprek varnost na nuli.​​

Published on day from anonymous

Category

Other

Company

Other

Published on day from Jona

Category

Tent

Company

With friends

Se čutim dolžno da komentiram ta kamp. Kot je že predhodnjik napisal, je to kamp, v katerem sem se najmanj počutila varno kdajkoli. Prvo noč so celo noč razgrajalu mulci, tako da nismo spalni skoraj nič, padali po šotorih itd, napili pa se v baru, ki je tudi recepcija in sanitarije v enem, ki je pravtako nabijal muziko do petih zjutraj. Naslednjo noč so mulci šli domov in smo si oddahnili, vendar smo si kmalu zaželeli da bi rpišli nazaj, saj so z svojim drenjem vsaj odganjali potencialne druge obiskovalce. To noč nas je namreč obiskal pijanec, ki se je drl pred našim šotorom, ker smo se ustrašili, smo skočili pokonci in šli ven, da bi mu pokazali da smo budni saj je nekaj robantil čez naše avte. Torej dve neprespani noči, kamp popolnoma nezavarovan, podnevi si tebe in tvoje šotore ogledujejo mimoidoči ki se pridejo kopat na kolpo, ponoči pa raznorazni pijanci ki se ga napijejo v gostilni, saj ni nobene ograje, ničesar. Da ne omenim sanitarij, ki so čez dan v gostilni, torej mimo vseh pijanbcev hodiš na wc v bar, ponoči so na voljo dixiji. Seveda ker nihče, sploh moški nočejo uporabljat dixijev, vso grmovje naokoli smrdi po urinu. Tudi tuša ni, je le eden na kopališču, se pravi bolj primeren za ko prideš iz vode. Definitivno ni primeren za družine za otroke, bolj za neutrudne najstnike, ki se lahko v bližnjem baru napijejo in to je to. Tudi mi smo spokali po dveh dneh, pa še to nebi ostali če ne bi imeli že plačano preko kuponov. Prijatelja sta odšla potem raje v Podzemelj kjer sta bila nadvse zadovoljna, tole pa je največji poden od kampa, razlika v ceni med njima oa je minimalna. Še to kar smo plačali je bilo preveč. ​​

Published on day from ElDorado

Category

Other

Company

Family with small children

Slabo urejen kamp. Za kakšno varnost sploh ni poskrbljeno. Imeli smo neprijetno izkušnjo, sa j so nam Cigani vdrli v šotor in nam pokradli vse stvari. Lastnik kampa se je ob tem samo distanciral. Kamp Podzemelj je dosti lepše urejen. ​​