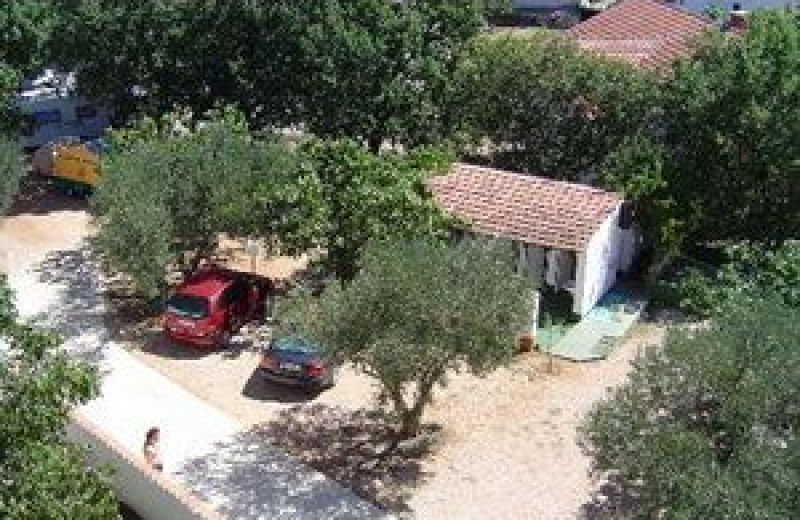 Information
Basic information
Auto camp Ivona is located in the city centre of Vodice, which is one of the leading tourist cities on the Adriatic.

Camp is about 200m from the beach, which is quite diverse: from concrete to stoned as well as sandy beach. Also all other facilities – shop, bank, post, restaurants, ambulant are very close by.

Camp has tidy sanitary, pitches are shaded by hundreds years old oak trees. For recreation you can try yourself in bowling. Here you can stay as well in apartments or private rooms, which have balcony, bathroom and optional use of kitchen.

City Vodice is lying between two national parks, Krka and Kornati. Years long tradition, friendliness of people, their hospitality as well as great kitchen are only few of good reasons to visit camp Ivona.

Features and equipment
Type of the campsite
Pitch features
Non-parcelled camping plots

Pitches with electricity and water

Pitches with electricity, water and waste water connections
Location
Equipment
Chemical toilet discharge

Children sanitary facilities

Heated sanitary facilities
Offer
Sport
Swimming pool/wellness
Swimming pool with heated water
Dogs
Rental option
Contact
GPS: 43.759111,15.775625
Address: Vlahov Venca 14/A, 22211 Vodice, Hrvaška
Reception:

+385 22 442 558

Reservation:

+385 98 785 351
Rating and reviews
Reviews:
Published on day from tedy41

Category

Camper

Company

Family with small children

Evo takole.
Prespali eno noč. Lokacija super za ogled mesta. Prijazna gospa in gospod Goran . Lahko bi malo uredili wc ,ki ga je pošteno načel zob časa. Verjetno je tudi cena temu primerna.
Tudi plaža je blizu samo je do konca natrpana. Mi smo šli v srimo tako da je bilo malo boljše. Priporočam postanek dan ali dva. Lp tedy​​

Published on day from anonymous

Category

Camper

Company

In couple

Super kamp sanitarji stari ampak cisti​​

Published on day from anonymous

Category

Tent

Company

Family with small children

Večkrat smo kampirali s šotorom v campu Ivona. Domačini izredno ustrežljivi in pripravljeni pomagat. Vzamejo te za svojega. Kljub temu, da je do morja kar precej hoda z majhnimi otroki, pa odtehta to, da si v kampu povsem miren, ko otroci tekajo okrog. Domači poskrbijo tudi za to, da vedno vedo, kdo pride v kamp.
V tem kampu smo se počutili izredno varno in vedno toplo sprejeti.​​

Published on day from anonymous

Category

Other

Company

Family with small children

Kampirali smo z avtodomom. Lastnik kampa Goran izredno Ustrežljiv in prijazen. Kamp oddaljen cca 200 m od centra in plaže. V kampu veliko sence pod borovci, in good price:) v sezoni. Še pridemo. Boštjan​​

Published on day from tevz86

Category

Tent

Company

In couple

Poden od kampa, osebje poden. rezerviral da pridem že v maju tako da smo bili zmenjenji za senco ter lep del parcele, ko pridem tja sem dobil točno nad otokom poskrbnik pijan da je komaj hodil mislim v ta kamp ne priporočam pa niti po pomoti. Izredno razočaran​​

Published on day from viki pekošak

Category

Camper

Company

In couple

V kampu Ivona sva bila junija in septembra.kam je res med majnšimi je zelo čist najbolj pa sem bil presenečen nad zelo prijaznimi lastniki kampa.Goran je pravi car-šef. V kampu je zelo mirno in je primerno za družine z majnšimi otroki. Morje je blizu in tudi do mesta je približno 300m.​​

Published on day from anonymous

Category

Camper

Company

In couple

Zelo zadovoljna s kampiranjem z avtodomom.... zanesljivo še prideva​​