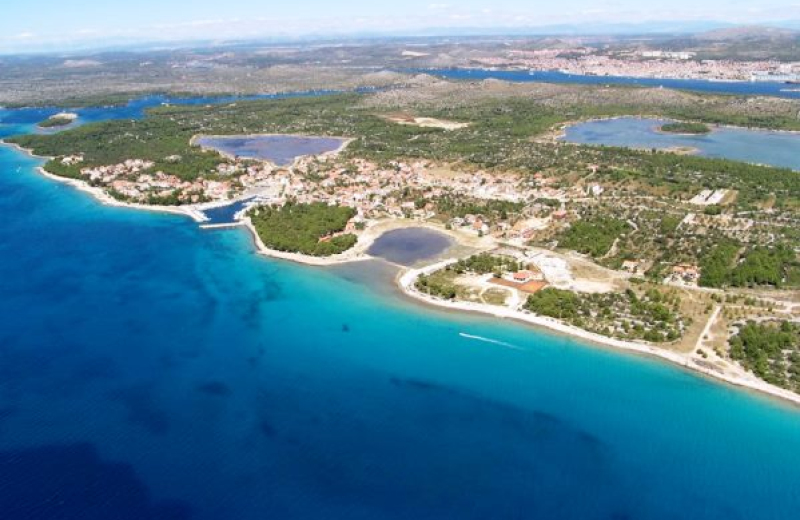 Information
Basic information
Camp Zablace is located 7km from town Sibenik, close to larger tourist complex Solaris.

It is located in pine trees woods next to the sea. Pitches are well shaded, connection to electricity is possible. They have two sanitary facilities and free access to internet.

Location of camp Zablace is perfect for discovering cities Sibenik, Vodice, Primosten and for visiting National Park Krka.
Features and equipment
Type of the campsite
Pitch features
Non-parcelled camping plots

Pitches with electricity and water

Pitches with electricity, water and waste water connections
Location
Equipment
Chemical toilet discharge

Children sanitary facilities

Heated sanitary facilities
Offer
Sport
Swimming pool/wellness
Swimming pool with heated water
Dogs
Rental option
Contact
GPS: 43.705763,15.868098
Address: Obala palih boraca 2a, 22030 Šibenik-Zablaće, Hrvaška
Reception:

+385 99 436 68 70
Rating and reviews
Reviews:
Published on day from anonymous

Category

Camper

Company

Family with small children

TOTALNA KATASTROFA.
NE MOREŠ SI PREDSTAVLJATI DA TO SPLOH ŠE OBSTAJA.
RECEPCIJA KATASTROFA ,BREZOBRAZNI TOLIKO, DA TE ŠE NE PRETEPEJO ČE KAJ REČEŠ.
CENA KAMPA NENORMALNA, INFRASTRUKTURA POLOMLJENA , NEVARNA ZA OBISKOVALCE , DA NE GOVORIMO O ELEKTRO OMARICAH.
TAKO SLABA IZKUŠNJA DA VSAKEMU ODSVETUJEM DA SE SAMO NAJ IZOGIBA ČE SE LE DA.


​​

Published on day from anonymous

Category

Other

Company

In couple

Published on day from anonymous

Category

Other

Company

In couple

Published on day from anonymous

Category

Other

Company

With friends

Published on day from anonymous

Category

Other

Company

In couple

Published on day from anonymous

Category

Other

Company

In couple

Škandalozno prakse na Camp Zablace - Šibenik
Obala boraca 2a Palih
22030 Šibenik-Zablaće

Porabili smo letos od 14-08-2016 do 08-09-2016 že sedmo leto zapored v tem taborišču.
Kamp, ki smo vedno mislili, ceno (32,50 € za dve odrasli osebi, avto in prikolico vključno z elektriko in turistično takso), je veliko previsoka za to, kar je mesto!
Vse razgrajuje se več ne omenja.
Obstaja stranišča brez vrat, veliko tuši in stranišča brez zapornic ali kavljev, da visi oblačila kjerkoli manjkajoče dele iz Popločan stene, tuš glavo, da se držite, svetilke na spletni strani so razdeljene in tako naprej.
Torej ni luksuz, in poleg tega veliko krtačo po počitnicah, saj je kamp v borovem gozdu, ki se nenehno kaplja smolo.

Zakaj smo še vedno tam prihaja sedem let?
To je čudovito tiho!
Poleg tega, greš po tako dolgem času, zelo prijazni domačini vedeli njihovih dnevnih delovnih mest kopanje v morju.
Bili smo tam, čeprav ni razkošje je, da naši volji.

Letos smo imeli prvič čoln z motorjem, da bi lahko uživali še bolj, na lepi jadranski obali.
Ladja se lahko prevaža v avtu in je zgrajena na plaži.
Po tem, da čoln 22 dni na morju, tako da nima prostora v zaseženega taboru.
Le en dan je nahajalo čoln v kampu za čiščenje in ponovno pakiranje.
To je naš pogled torej popolnoma neupravičeno nam na blagajni Camping 25x 50kuna se zaračuna za čoln.
Razlaga je bila, da smo ladjo z našim avtomobilom odraščali v kamp, zato smo imeli le 25 dni za plačilo našo ladjo 1250kuna približno 175,00 €!
Ker ste enkrat potrebno na tem taboru so osebne izkaznice ali potnega lista v času bivanja na recepciji so imeli, da nas zapustijo tako lepo v rod.

Seveda ne smemo nikoli vdati svoje osebne izkaznice, da je veliko vas opozoril. To bo nam nikoli več zgodilo.
Če ste zainteresirani za te strani, boste opozorjeni na to.
Mi jih ne vidim tam.

Fam. Van der Heijden
​​

Published on day from mgregor2

Category

Camper

Company

Family with teenager

Kamp leži v lepem borovem gozdičku, elektro omarice za priklop elektrike so neurejene, stare, polomljene in dotrajane, sanitarji stari potrebni temeljite prenove, vendar čisti. Osebje na recepciji prijazno, vendar ne pozna ne cenika, ne storitev, ki se oz. se ne zaračunavajo v kampu. V samem kampu ni nobene gužve - prostora dovolj.​​

Published on day from anonymous

Category

Other

Company

In couple

V kampu je dovolj prostora, senca dobra pod borovci. Za sanitarije je vsak dobil svoj ključ, stranišča niso bila umazana, vedno prosta. Plaža betonirana, wifi zastonj pri recepciji, kjer je tudi nekaj klopi. Midva sva bila zadovoljna, saj je v kampu mir. Šotorov in prikolic je bilo kar nekaj. Infrastruktura resda stara, vendar solidna za prijeten dopust.​​

Published on day from Spirit

Category

Tent

Company

In couple

v kampu preživeli 3dni. Notri bilo 5 gostov. Počutiš se kot traktor sredi njive. za dan ali dva so prišli tudi avtodomi ki so čakali da se sprosti parcela v sosednjem kampu. wc, tuši katastrofa, kot da bi po vojni samo odprili vrata senitarij.
Všeč mi je gostota borovcev. imajo wi-fi, spodobna trgovina z avtom 5min stran. delovala samo ena pipa, v drugi počen lijak. to nekako ni bil problem pri 5gostih. 4tuši vendar samo en je imel vrata. plaža solidna. parcele neoznačene, elektrika kot kaktus v puščavi. dobra hrana v lokalni gostilni. Res škoda ker bi bil lahko dobro obiskan kamp.​​