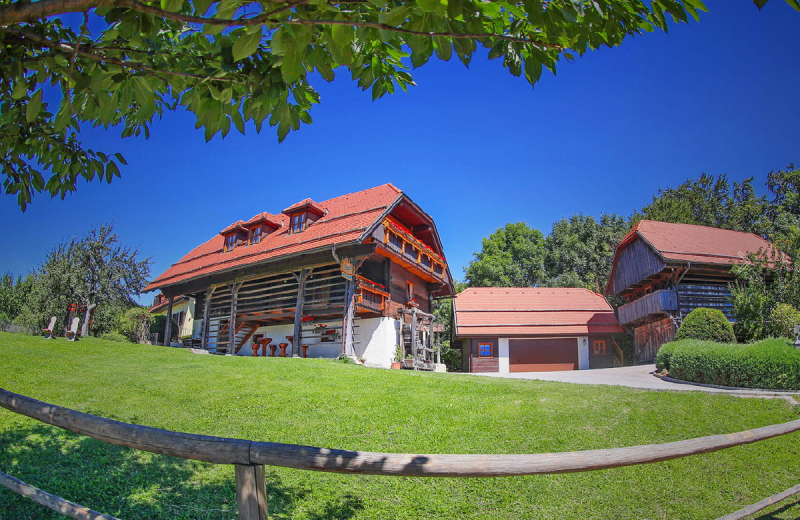 Information
Glamping description
The estate of Skaluc lies in the village Trobni Dol, on the very edge of the municipality of Lasko, in the eastern part of Slovenia. The property is 14 km away from the center of Lasko. The location, combined with well-appointed accommodations, wellness and an outdoor pool, offers guests a relaxing holiday in nature.

Skaluc offers sleeping at three different accommodations. You can choose from a romantic wooden tree house, neatly arranged rooms and apartment suites. A buffet breakfast is provided, there is a playground for the children and the surrounding area offers beautiful walks and biking.

The tree house is basically intended for couples who want a romantic break. The cottage is accessed by a wooden bridge, and the rustically furnished interior with furniture made of high altitude pine for a comfortable stay. The main space is equipped with a double bed, and the panoramic glass offers beautiful views of nature. The lodge has beautiful bathroom with a shower and an upstairs double bed for up to two children. The house is heated so that it can stay in the winter. Just a few steps from the lodge is a rustic wellness area with a Finnish sauna and an outdoor Jacuzzi so you can enjoy romantic evenings under the stars.

Apartment Suite - In the central building on the Skaluc estate, two suites were arranged at the first floor. The larger one includes three bedrooms for up to 7 people and the smaller one has two bedrooms for 4 people. Both suites are equipped with a bathroom, while shared common living room area is on the ground floor. The wellness is 10 meters away, only across from the courtyard.

Double room - mansard attic is converted into two comfortable rooms equipped with a double bed and a bathroom. One room has a balcony and the other has a smaller covered terrace.

Wellness Na Skaluc is closed and is only available to guests when renting accommodation. It is decorated in a renovated hayrick, which has two rooms upstairs. The special atmosphere of the wellness area gives a 150-year-old wooden building with panoramic glazing so guests can enjoy the view of nature while enjoying the saunas or Jacuzzi. Wellness offers four different saunas - outdoor Finnish, herbal, steam and IR as well as a large Jacuzzi.

During the summer months, an outdoor pool with sun terrace is available instead of an indoor wellness center.

They offer various packages of wellness and half board accommodation with dinner at the Savinja or Pavus pubs in Lasko.

Information about glamping
Glamping type
Number of persons in glamping
Glamping hut for 2 - 3 persons

Glamping huts for 4 - 6 persons

Glamping huts for 6+ persons

Glamping tents for 2 - 3 persons

Glamping tents for 4 - 6 persons

Glamping tents for 6+ persons
Location and features of glamping
Bathroom in accommodation
Features and equipment on location
Location
Equipment
Chemical toilet discharge

Children sanitary facilities

Heated sanitary facilities
Offer
Sport
Swimming pool/wellness
Swimming pool with heated water
Dogs
Rental option
Contact
GPS: 46.139609,15.338488
Address: Trobni Dol 33, 3271 Šentrupert, Slovenija
Reception:

+386 51 355 422