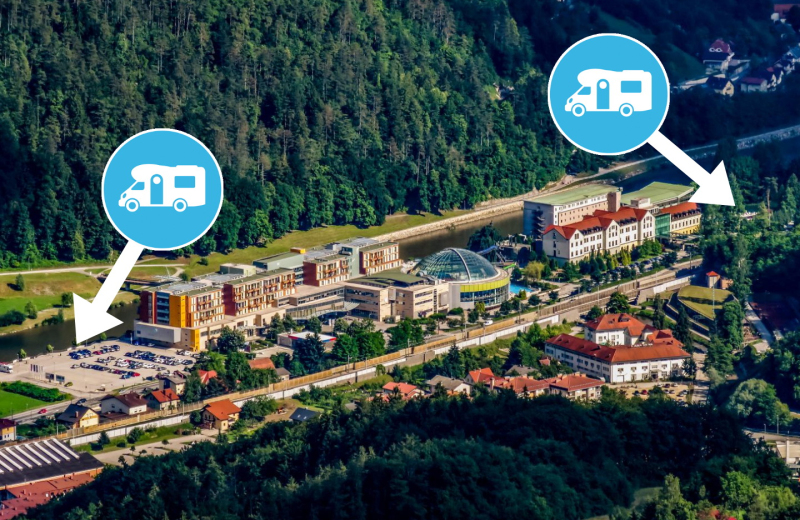 Information
Camper stop description
Terme Thermana Lasko can be visited with camper as they also have parking spaces for motorhomes. So you can enjoy the offer of spas: swimming pools, wellness, catering, you can see Lasko, while enjoying the freedom and privacy of living in a motorhome.
Camper stop accepts the Avtokampi.si Camping Card, which will make the praking more affordable. The discount is listed at the price list of the camper stop and you can order free camping card HERE
Camper stop is arranged in the immediate vicinity of the Thermana Park Lasko hotel, and the motorhome parking lot next to the Lasko Health Resort hotel. The first has space for 16 motorhomes and the second for 4 motorhomes. The camper stop is connected to electricity and from March to mid-November also to water. The discharge of the chemical toilet and the discharge of waste water are regulated.

Guests have access to a toilet within the hotel, and showers are available to guests visiting the pools and wellness center.

Lasko is a town with a diverse cultural, sports and tourist pulse and the Savinja River. It is best known for its brewing tradition and healing springs. It offers guests interesting hiking and cycling trails, a tour of the Laško Museum and Brewery, the Mining Museum, Tabor Castle and the Jurkloster Carthusian Monastery.

Information about camper stop
Camper stop type
Camper stop with supply station
Features of the camper stop
Camper stop with sanitary facilities

Discharge of faeces / chemical wc
Features and equipment on location
Location
Equipment
Chemical toilet discharge

Children sanitary facilities

Heated sanitary facilities
Offer
Sport
Swimming pool/wellness
Swimming pool with heated water
Dogs
Rental option
Contact
GPS: 46.163127,15.232248
Address: Zdraviliška cesta 6, 3270 Laško, Slovenija
Reception:

+386 3 423 20 00