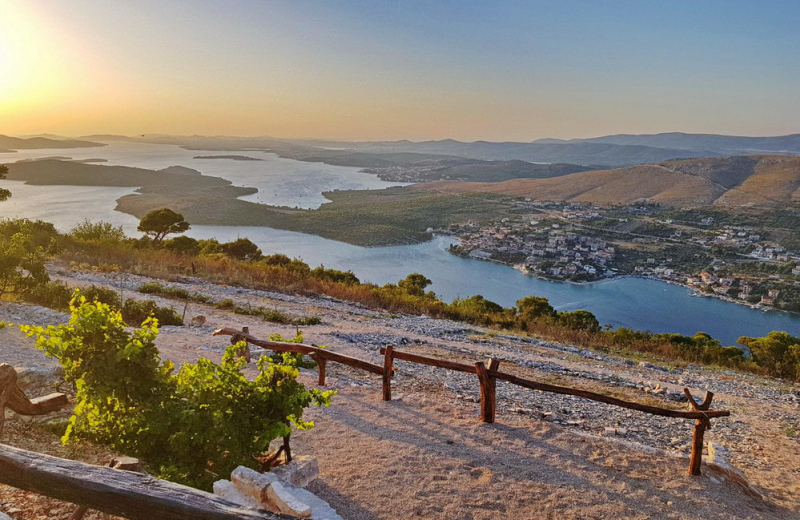 Official category: 1 from 5 stars
Camping Panorama
Address: Grebaštica Donja bb, 22010 Grebaštica, Hrvaška

Season: -
Compared price: 2 people + pitch with electricity - up to 25 €
Discounts:
By the sea
For boat owners
Free wifi
Information
Basic information
Camping Panorama is located in bay Grebastica, wbout 14km away from SIbenik in direction of Primosten. This is smaller campsite with 12 pitches and some apartments for rental. Beach and sea are 150 meters away. Bay is protected against strong wind (burja) which is quite important information for this part of the Croatian beach.

Pitches are arranged in terraces and have connection to electricity and water, there is as well refrigerator and arranged place for washing the dishes. Some pitches are well shaded, while some are difficult to access and therefore appropriate only for tents.

Building with sanitary facilities is smaller and tidy, it is as well possible to empty the chem toilet. The closes shop is 10 minutes walk away, while larger shopping malls are in SIbenik.

Beach in bay Grebastica is pebbled and sandy, if you have a boat you can as well discover many solitary bays with crystal clear sea near by. Two mooring berths are available for smaller boats.



Features and equipment
Type of the campsite
Pitch features
Non-parcelled camping plots

Pitches with electricity and water

Pitches with electricity, water and waste water connections
Location
Equipment
Chemical toilet discharge

Children sanitary facilities

Heated sanitary facilities
Offer
Sport
Swimming pool/wellness
Swimming pool with heated water
Dogs
Rental option
Contact
GPS: 43.637130,15.959322
Address: Grebaštica Donja bb, 22010 Grebaštica, Hrvaška
Reception:

+385 919 46 53 09
Rating and reviews
Reviews:
Published on day from bojkoker

Category

Other

Company

In couple

Ocenjevati posamičen kamp je lahko zelo osebna zadeva. Nekdo bo stvari videl povsem drugače, kot kdo drug. Zato ni rečeno, da moja ocena drži, je pa za mene realna.<BR>Naj takoj povem, da sem sam predlagal in dal podatke upravljalcu te internetne strani, da se kamp vpiše in opiše. In prijazni upravljalci so to naredili. Brezplačno. Vsa pohvala. Čeprav ne oni, ne jaz nimamo nič od tega.<BR>Vse kar sem poizkušal povedati in oceniti, se na tej strani ne da napisati, bi bilo preveč. Zato zadeve tule tudi realno ne morem oceniti. Točna ocena in vse o tem kampu skozi moje oči pa torej na mojem spodnjem linku, koder sem na mojih straneh (http:)//bojkoker.blogspot.si/2017/07/kamp-in-apartmaji-panorama-grebastica.html podrobneje vse skupaj opisal. Ne vem, če sem tam to zapisal…kamp je manj zaseden izven termina 15.7 – 15.7. V tem terminu pa praktično vedno poln.<BR>Septembra, ko se spet vrnem tja pa dodamo še nekaj boljših video posnetkov.<BR>PS<BR>Športnih objektov tam ni, čeprav sem sam dodal oceno, da ne zbijem moje realne ocene tega kampa.<BR>​​