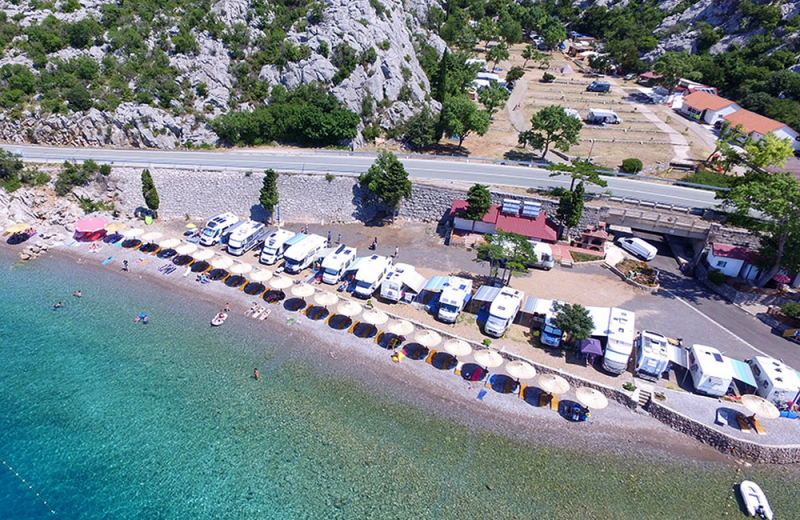 Information
Basic information
Camping Raca is located along the main road Senj - Prizna, about 1km from the village of Sveti Juraj. This beautifully maintained campsite is located directly by the sea and pebble beach. The campsite Raca is open all year round.

The campsite can accommodate up to 220 people in 75 camping sites right by the sea parking places for campers, but you can also sleep in one of 4 apartments for up to 5 people. Campsite has renovated sanitary facilities.

Just 50 meters from the campsite is a restaurant that is famous for its fish and grilled dishes. The campsite also offers a mini-market, a bar, a tennis court, volleyball and organizes diving courses.
Features and equipment
Type of the campsite
Pitch features
Non-parcelled camping plots

Pitches with electricity and water

Pitches with electricity, water and waste water connections
Location
Equipment
Chemical toilet discharge

Children sanitary facilities

Heated sanitary facilities
Offer
Sport
Swimming pool/wellness
Swimming pool with heated water
Dogs
Rental option
Camping pricelist (in EUR) for year 2022
Price for
1.7. - 31.8.
1.5. - 30.6.
1.9. 31.10.
1.1. - 30.4.
1.11. - 31.12.
Person
​​6,80
​​5,70
​​-
Children 5 - 12 yrs.
​​4,10
​​3,40
​​-
Pitch (car+caravan / camper)
​​13,50
​​12,50
-
Pitch (car+tent / car+caravan / camper)
​​11,50
​​8,80
​​-
Addit. car
​​3,30
​​3
-​​
Addit. motorcycle
​​3,10
​​2,80
​​-
Addit. tent
​​3,40
​​2,80
​​-
Camper stop (24h)
​​5,40
​​5,40
​​20
Electricity
​​5,40
​​5,40
​​5,40
Dog
5,40
4,70
​​4,70
Boat
​​5,40
​​4,70
​​-
Boat - mooring
​​6,80
​​6,80
​​-
Boat trailer
3
2,70
​​-
Washing machine
4,90
4,90
​​-
Tourist tax
​​1,10
​​1,10
​​​​1,10
Check-in
1
1
1
Pricelist for yearly rental (in EUR) for year 2022
| Price for | 1.5. - 30.9. |
| --- | --- |
| Yearly parcel rent | ​​1.550 |
| Check-in | ​​1 |
| Tourist tax | ​​1,10 |
Contact
GPS: 44.91666,14.9155900
Address: Rača bb, 53284 Sveti Juraj, Hrvaška
Reception:

+385 53 883 209
Rating and reviews
Reviews:
Published on day from [email protected]

Category

Tent

Company

Alone

Kamp leži ob jadranski cesti. Čez dan se sliši hrup ceste, vendar med 20. In 7. se promet umiri in je vse tiho.
Kamp v aprilu uradno še ni obratoval, zato ne morem komentirati prenovljenih sanitarij v srednjem delu kampa, saj ni bilo videt, da bi jih čistili. Sanitarije ob obali so bile umazane.

Večina kampa je na drugi strani magistrale, nekaj parcel pa je ob morju primernih za kamparje. Povezuje ga tunelček pod cesto.

Parcele za šotore so zelo majhne in si v sezoni tu ne predstavljam kampirat, saj si precej natlačen.

Igrišče za otroke je preprosto vendar, lepo v senci.

​​

Published on day from anonymous

Category

Other

Company

In couple

Kamp je stacioniran tik oz.pod Jadransko magistralo. Je zelo na udaru burje. Morje za ta letni čas relativno hladno. Sama plaža je lepa,vendar jo v večini zasedajo plačljivi ležalniki s senčniki- cena 100 kun/dan. Sanitarji in tuši glede čistoče v poraznem stanju. Morda je kamp alternativa za kakšno noč prespat,drugače pa ta kamp ni vreden tega denarja.​​

Published on day from anonymous

Category

Caravan

Company

Family with small children

Lega je ob magistrali, a se prometa ne sliši. Urejenost je slaba, wc papirja pač ni, snažilk tudi ne... Sence razen na dveh parcelah ni. Ne, ni, ker so posekali vsa drevesa. Slike na tem forumu so stare. Letos je od 22 dni dopusta pihalo 17 dni. Pihalo pa tako, da ti odpihne juho iz krožnika. Se ne hecam! Voda je imela več ali manj stalno 20-21 stopinj, več dni skupaj tudi 18.
Tako da, za par dni, v lepem vremenu je lepo. Lepa plaža. Za kaj več pa raje ne. ​​

Published on day from anonymous

Category

Tent

Company

In couple

mlce bolj bi lahko poskrbeli tudi z obnovo in čistočo​​