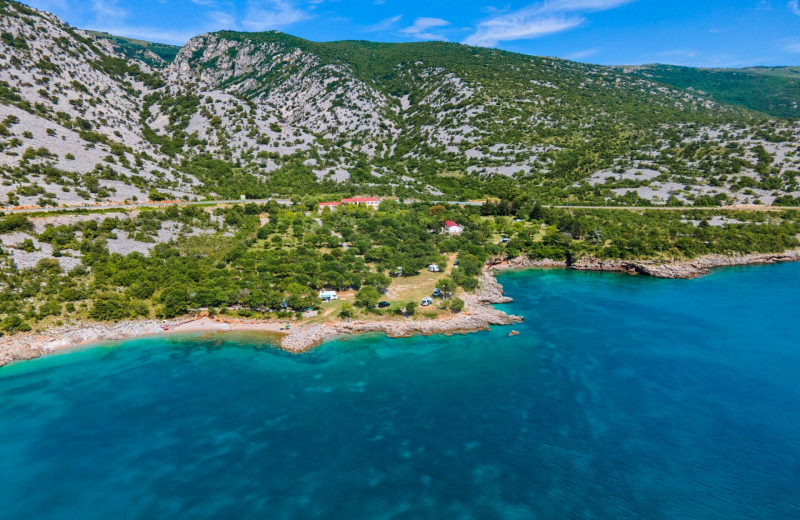 Information
Basic information
Camping Kozica - Klenovica is situated on the Adriatic road, in the picturesque Kozica bay, 9 km from Senj on the north. It is a medium-sized camp with 165 arranged pitches, which means that it can accommodate around 500 guests.

Thanx to the pleasant and peaceful surrounding that offers a relaxing atmosphere, it is an ideal place for a family vacation. The camp is surrounded by little stone walls and immersed in the smell of etheric herbs which are all typical for this region and in this way the camp offers to its guests unrestricted enjoyment of the surrounding nature.

Camping Kozica has completely new infrastructure and provides pleasant and easy going vacation to the guests but also a necessary comfort. Within the camp there is a restaurant with diversity of fish and meat specialties, a grocery store with necessary supplies and goods, as well as an exchange office within the reception, offering guests complete information and services. The beach is rocky and gravelly, and the diversity of natural bays in the area will create a special Robinson-like feeling. The natural private beach offers guests possibilities to enjoy water sports activities, and the vicinity of Velebit mountains offers the challenge of hiking and photo-hunting.
Features and equipment
Type of the campsite
Pitch features
Non-parcelled camping plots

Pitches with electricity and water

Pitches with electricity, water and waste water connections
Location
Equipment
Chemical toilet discharge

Children sanitary facilities

Heated sanitary facilities
Offer
Sport
Swimming pool/wellness
Swimming pool with heated water
Dogs
Rental option
Camping pricelist (in EUR) for year 2022
Price for
10.7. - 20.8.
26.6. - 9.7.
21.8. - 3.9.
1.5. - 25.6.
4.9. - 15.10.
Person
​9,70
8,30
6,50
Children 7 - 12 yrs.
5,50
4,50
3,70
Pitch with electricity
19,80
16,50
14,50
Addit. car / tent
7
5,40
4,50
Addit. motorcycle
5,10
4,40
3,80
Dog
4,40
3,70
2,80
Boat
9,10
7,90
6,70
Check-in
​​1
​​1
​​1
Tourist tax
​​1,40
​​1,40
​​1,40
Contact
GPS: 45.056520,14.872340
Address: Jadranska cesta b.b., 51252 Klenovica, Hrvaška
Reception:

+385 51 627 410

Reservation:

+385 51 627 413
Rating and reviews
Reviews:
Published on day from anonymous

Category

Tent

Company

In couple

Published on day from anonymous

Category

Camper

Company

Family with teenager

Na poti v Dalmacijo in na poti nazaj smo se ustavili in smo bili zelo zadovoljni. Všeč so nam mirni kampi, brez umetnih zabavišč, bazenov... sanitarije obnovljene, čiste. Papir je. Morje zelo lepo in čisto. Spodaj desno je majhna plažica s peskom. Zelo prijazni na recepciji. Priporočam postanek.​​

Published on day from anonymous

Category

Camper

Company

Family with teenager

V glavni sezoni je to najboljša izbira za avtodomarje. Za ceno 40eur dobiš vse kar rabiš. Celo parcelo ob morju z izjemnim pogledom na Krk in mirno morje, saj tu nadležnih glasnih vodnih skuterjev in gliserjev ni. So vse večje marine k sreči predaleč. Parcele so travnate, wc-ji pa še v mejah znosnosti. Wc papirja ni. Voda je pitna.​​

Published on day from anonymous

Category

Other

Company

Family with small children

Sence je precej. Težava je veter, zato se je dobro prej pozanimati glede hitrosti vetra. Izjemno prijazna uslužbenka na recepciji gostom pove tudi natančno vremensko napoved. V restavraciji in trgovini je vse urejeno precej zastarelo, socialistično. Je pa osebje izredno prizadevno in prijazno. Morje čisto, plaža urejena. Na stranišču ni mila in ne papirja. Gotovo se bomo še vrnili.​​

Published on day from anonymous

Category

Tent

Company

In couple

Kamp se nalazi na dobrom mjestu odmah uz glavnu cestu te se prilikom trazenja ne moze promasiti. more je cisto, kamp je relativno cist ali sanitarije su najgore koje sam ikad u 35 godina kampiranja vidio. stare, prljave, zapustene sa gomilom muha koje se tamo gnijezde. necu pretjerati ako kazem da sam vidio najmanje 200 muha na okupu. uz to i smrad unutra je nepodnosljiv a 2-3 pipe sa tekucom vodom su bile potrgane. Trava u kampu je bila nepokosena, parcele su vecinom neravne i pune kamenja, neuredjene iako se to na slikama ne moze vidjeti. Sam kamp ima veliki potencijal kad bi se sve to sto ne valja uredilo jer je lokacija i oblik kampa idealan za miran odmor.​​

Published on day from anonymous

Category

Other

Company

Family with small children

Kamp ni urejen, sanitarije so obup. Med 10 tuši jih večina ne deluje ali pa so uničeni. Sanitarije so zgolj en objekt v sicer zelo velikem kampu, tako da če najdete parcelo ob morju se boste kar nahodili. Večino časa našega obiska je pihala močna burja. Kamp ima lepo manjšo plažo in je naraven (kot so bili včasih), vendar nobenih igral za otroke. V kampu smo bili 7 dni, vendar tega ne priporočamo. Kamp je primeren bolj za kratke postanke.​​

Published on day from primorci15

Category

Other

Company

Family with small children

V tem kampu smo bili prvič in je res prijeten, naraven in miren, sicer ni povsod sence, a zato lepa majhna plaža (in v peš okolici veliko kotičkov), kristalno čisto morje, čisto ok infrastruktura (sanitarije, ostalo); izpostavljen burji/vetru (ki pa poleti itak paše)​​