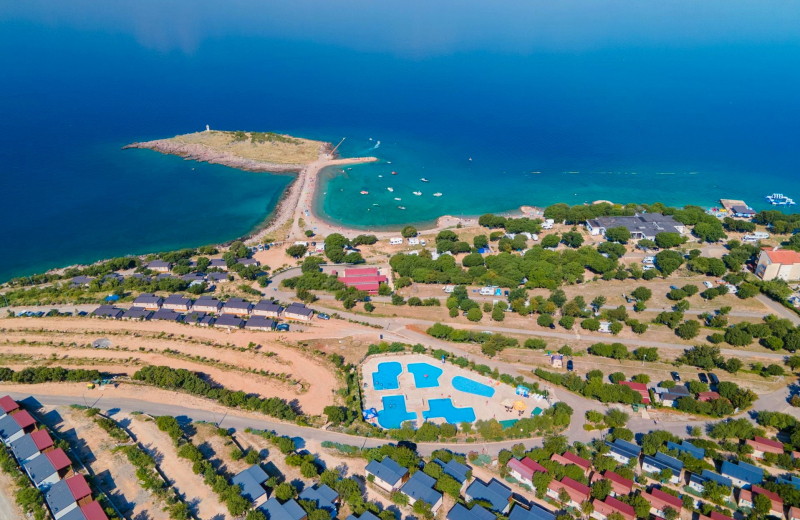 Information
Basic information
Campsite Klenovica has been opened since 1984 and is located along the main Adriatic highway, 20 km from Crikvenica to Senj or 8 km from Novi Vinodolski.
Camping Klenovica enables camping on regulated pitches and rental of mobile homes.
Camping Klenovica has a campsite pitches at the sea, as well as a terraced part in the central part of the camp. Shade is given to individual parcels by individual trees. The camping pitches are mostly arranged on a grassy surface, and some are also on the sand.
Klenovica camp has its own pebble beach, where guests can enjoy various water sports in addition to swimming alone. On the edge of the camp, the rocky beach is also intended for those who want more peace. The campsite also has 5 outdoor swimming pools (3 for adults and 2 for children) with fresh water and a local restaurant.

The camp has a restaurant and a shop that are open in the summer months, and guests can use free internet in certain places along the campsite.
Features and equipment
Type of the campsite
Pitch features
Non-parcelled camping plots

Pitches with electricity and water

Pitches with electricity, water and waste water connections
Location
Equipment
Chemical toilet discharge

Children sanitary facilities

Heated sanitary facilities
Offer
Sport
Swimming pool/wellness
Swimming pool with heated water
Dogs
Rental option
Contact
GPS: 45.097938,14.844499
Address: Zidinice b.b., 51252 Klenovica, Hrvaška
Reception:

+385 51 796 251
Mobile Homes
Mobile homes description
Rental of mobile homes in the Camping Klenovica - there are several different types of mobile homes for 4 - 6 people equipped with two bedrooms and also larger houses for 6 + 2 people with three bedrooms.

The location of the mobile homes is a 3-minute walk from the sea.

All mobile homes are equipped with one or two bathrooms, kitchen, covered terrace and air conditioning.

Free swimming pools are available for guests in the mobile homes.

Dogs are also allowed in certain mobile homes.
Mobile homes information
Number of persons in mobile homes
Mobile homes for 4 - 6 persons

Mobile homes for 6+ persons

Mobile homes for 2 - 3 persons
Mobile homes
Dogs allowed in mobile homes

Mobile homes with 3 bedrooms

Mobile homes for handicapped
Rating and reviews
Reviews:
Published on day from anonymous

Category

Mobile home

Company

With friends

Odsvetujem obisk kampa. Zanemarjeno, predimenzionirano, mobilne hišice natlačene druga poleg druge, brez privatnosti, ob ograji kempa smeti ki jih več mesecev nihče ne pobere, ponudba nikakršna, plaže ni oziroma je nabito polna s turisti iz apartmajev, povsod se kopajo psi, ni urejeno in označeno kje se lahko oziroma ne smejo kopati. Skratka, lokacija najnižje kategorije. ​​

Published on day from anonymous

Category

Tent

Company

In couple

če imate radi mrzlo vodo je to idealen kraj, saj ima voda skojz 15 stopinj zaradi močnih izvirov, ki se odtakajo v vodo. Pa če imate radi da vas odpihne in še vse vaše stvari, tud priporočam, ker piha skojz in orng še huje kot v hribih. Mene ne bojo več vidl....slabšega dopusta še nismo imeli. ni za kronične bolnike in otroke, razen, če želite vnetje jajčnikov zaradi vode, vnetje oči zaradi vetra pa ful priporočam...nikol več!!!​​

Published on day from anonymous

Category

Tent

Company

Family with teenager

Kamp ima zelo malo sence in je slabo vzdrževan. Sanitarije so slabo vzdrževane, ni wc papirja in mila. Ker je nekaj lokalnih izvirov je morje bolj hladno. Kljub temu, da piše, da je manjši bazen za goste kampa, je samo za uporabnike mobilnih hišic ali proti plačilu. V kampu je manjša trgovina in še ena zelo majhna v bližini. Drugače je kamp miren. Za vse, ki v 21. stoletju potrebujejo brezplačen wifi je ta samo v recepciji, možno je doplačilo za uporabo v kampu. V glavnem je veliko stvari za doplačati. Previsoka cena za ponujeno.​​

Published on day from anonymous

Category

Mobile home

Company

Family with small children

Pregnala nas je močna burja, sicer pa nam je bil kamp všeč in se bomo še vrnili.
Obnoviti je potrebno sanitarije in dodatno razpeljati vodo po kampu.
Potrebno bi bilo dodati in popestriti ponudbo zabavnih in športnih aktivnosti. Sem pripravljen pomagati in sodelovati z mojo ponudbo.
LP, Damjan​​

Published on day from anonymous

Category

Other

Company

Family with small children

Published on day from anonymous

Category

Other

Company

Other

Za leto 2017 so pavšal občutno podražili, kar je veliko preveč kaj ponujajo v kampu​​

Published on day from Cenal

Category

Other

Company

In couple

Glede na slike, sva se s punco odločila, da greva letos v ta kamp. Po ogledu samega kampa sva bila precej razočarana, tako da sva po eni uri ogleda odšla drugam.
Kot prvo sva na recepciji vprašala, če imajo kakšne proste parcele za šotor v senci. Odgovor je bil, da jih je polno. Super navdušena sva šla pogledat te parcele, ki pa jih seveda ni bilo oz. so bile vse zasedene. Dve sta sicer bile prosti, od tega je na eni bila trava visoka okrog metra, druga pa je bila kljub ravnini polna raznega velikega kamenja in skalovja (tako da bi rabil bager za ureditev), obe popolnoma neprimerni za kampiranje. Senco sicer ponujajo samo parcele, ki so v prvih dveh linijah od plaže, kar je razvidno iz slik. Parcele, ki so v terasah so sicer lepe in prostorne, ampak ne nudijo nobene sence. Določene ceste v kampu so precej uničene, asfalt razpokan, v glavnem na bankinah ogromne luknje. Sanitarije so stare, neurejene, določene pipe ne delajo. Pot do sanitarij je neurejena in v temi zna biti precej nevarna. Nasploh je urejenost kampa zelo slaba, dobiš občutek, da se v kamp odkar so ga odprli ni vložilo nič, še travo jim je težko pokosit. Za otroke sem videl, neka razmajana igrala, to pa je tudi vse. Nekih športnih aktivnosti ne pričakovat, na plaži sicer omogočajo najem določenih čolnov.
Plus za kamp so pa res lepe plaže. ​​

Published on day from anonymous

Category

Other

Company

In couple

Published on day from anonymous

Category

Other

Company

With friends

Celková spokojenost, Klid a pohoda až na německé návštěvníky, kteři své psy koupali v moři mezi dětmi i dospělími návtěvníky a vubec jim to nevadilo. Wifi připojení za poplatek má slabé pokrytí po celém kempu.​​