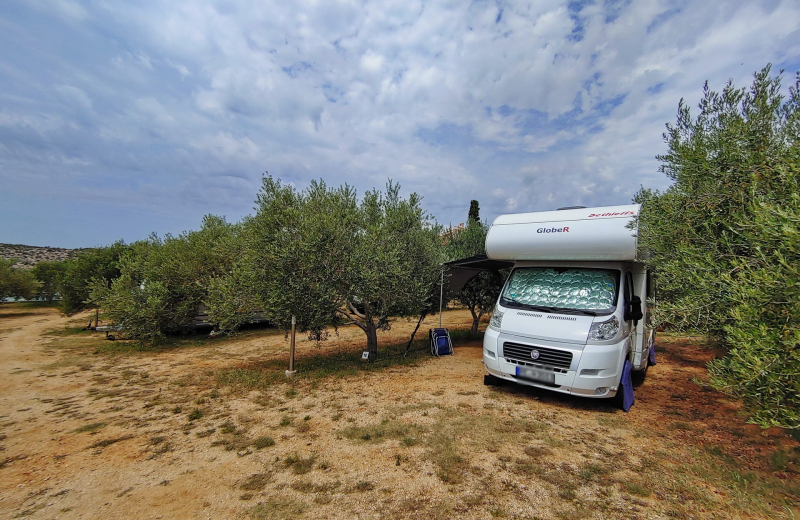 Information
Basic information
Camping Wodenca is a new mini camp on the island of Rab. It is located on the outskirts of the village of Barbat, which is 7 km from the town of Rab.

Wodenca camp has 20 well-equipped plots with electricity and water connection and some tent layout. Pitches are shaded by olive trees.

The campsite has a new sanitary facility, which is well arranged and includes a chemical toilet and a dishwasher. There is also free Wi-Fi and a common room with barbecue, tables and chairs in the camp.

The beaches in this part of Rab are mostly sandy and so suitable for children as well as dogs are allowed. There is a promenade along the sea, and in the place there are several restaurants and cafes.

Information about Ferry Connections and its Prices to the Island Rab

Features and equipment
Type of the campsite
Pitch features
Non-parcelled camping plots

Pitches with electricity and water

Pitches with electricity, water and waste water connections
Location
Equipment
Chemical toilet discharge

Children sanitary facilities

Heated sanitary facilities
Offer
Sport
Swimming pool/wellness
Swimming pool with heated water
Dogs
Rental option
Camping pricelist (in EUR) for year 2023
Price for
1.7. - 31.8.
1.6. - 30.6.
1.9. - 7.9.
11.5. - 31.5.
8.9. - 15.10.
1.5. - 10.5.
Person
​​9,70
​​9,70
​​6,90
​​5,80
​​5,80
Children under 5
​​2,60
​​2,20
​​2,20
​​1,90
​​1,60
Children 5 - 12 yrs.
​​4,70
​​4,70
​​4
​​2,60
​​2,20
Children 12 - 18 yrs.
​​8,60
​​8,60
​​5,80
​​4,70
​​4,70
Pitch
​​39
​​35
​​23
​​28
​​18
Pitch - small
​​24 / 26
​​22 / 24
​​18 / 20
​​18 / 20
​​13 / 15
Addit. car
​​3,40
​​3,40
​​3
​​3
​​2,10
Addit. motorcycle
​​2,80
​​2,80
​​1,80
​​2,10
​​1,50
Boat trailer
​​6,50
​​6,50
​​3,10
​​6,50
​​3,10
Dog
​​6
​​6
​​6
​​6
​​6
Electricity
​​5
​​5
​​5
​​5
​​5
Washing machine
​​5
​​5
​​5
​​5
​​5
PDF - Pricelist for year 2023 (19KB)
Price of the pitch depends on the exact location.

Rating and reviews
Reviews:
Published on day from timcek

Category

Tent

Company

In couple

Res lep kamp, miren, sanitarije in tuši čisti, prijazni lastniki. Idealen za mirne počitnice, je pa samo okoli 20 parcel, tako da predvidevam, da je v sezoni polno zaseden. Sedaj v maju nisva rezervirala, pa je bilo približno 8-10 parcel zasedenih. Parcele so odlične, med oljkami, če greste maja, morate pazit na cvetni prah od oljk, ki prekrije vse. Ampak res lušten kamp! Plaža je pod kampom in tudi proti jugu otoka Rab, kjer so lepe privat peščene plaže. ​​