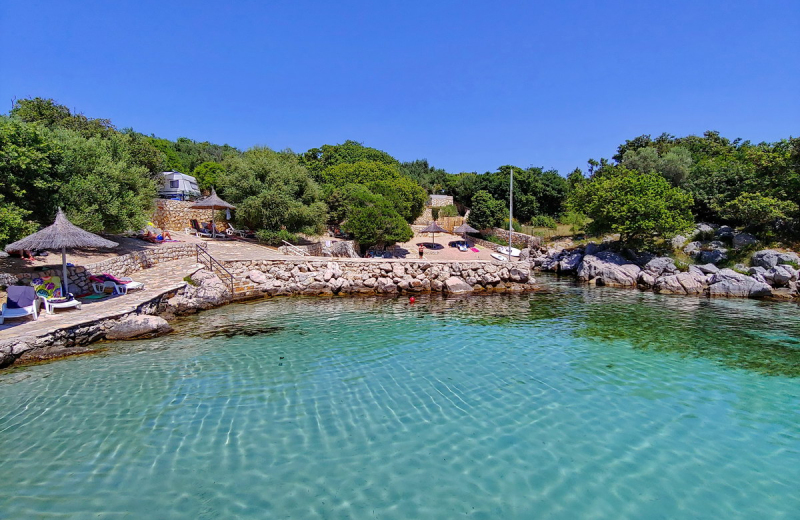 Information
Basic information
Camping Karic is new campsite on island Pag, located along pebbled bay, only 5km north from town Novalja in direction towards town Lun.

Campsite Kanic has 70 well arranged pitches in terraces with electricity and shaded by olive trees. From all the pitches a nice view across the sea and romantic sunsets are ensured.

Camp has modern sanitary facilities and camper supply station. Guests can as well use washing machine and free access to the internet.

Part of the beach and bay are sandy, part of the beach is concrete. Beach further on from the camp beach is mostly stoned. There is pier in the bay, mainly used for sunbathing.

Kanic is perfect choice for all the ones that are looking for peaceful holidays without city noise. It is possible to rent a boat in camp, they offer some mooring places.
In campsite you can taste some local specialties, such as Pag cheese and wine. It is possible to order bread in campsite, few times a week fruit and vegetables are delivered as well.

Information about the Ferry Connections and its Prices to the Island Pag
Features and equipment
Type of the campsite
Pitch features
Non-parcelled camping plots

Pitches with electricity and water

Pitches with electricity, water and waste water connections
Location
Equipment
Chemical toilet discharge

Children sanitary facilities

Heated sanitary facilities
Offer
Sport
Swimming pool/wellness
Swimming pool with heated water
Dogs
Rental option
Camping pricelist (in EUR) for year 2023
Price for
1.7. - 1.9.
4.6. - 1.7.
1.9. - 20.9.
21.5. - 4.6.
28.4. - 21.5.
20.9. - 7.10.
Person
​​10,50
​​8,50
​​6
​​5
Children 4 - 10 yrs.
​​6,50
​​5,50
​​3
​​2,50
Children 10 - 17 yrs.
​​7,50
​​6,50
​​4
​​3,20
Person older than 60
​​10
​​7,70
​​5,30
​​4,30
Pitch
​​29,50
​​25,50
​​20,50
​​16
Tent pitch
​​25
​​21
​​17
​​12,50
Dog
​​5
​​4,50
​​3
​​2,20
Addit. car
​​5,50
​​4
​​3,50
​​3,20
Private bathroom
​​14,50
​​12,50
​​10
​​7,50
Electricity
​​gratis
​​gratis
​​gratis
​​gratis
Tourist tax
​​1,30
​​1,30
​​1,30
​​1,30
Contact
GPS: 44.597349,14.834302
Address: Dabovi stani 48, 53291 Novalja - Pag, Hrvaška
Reception:

+385 98 138 0132
Rating and reviews
Reviews:
Published on day from anonymous

Category

Camper

Company

In couple

V zgornjem delu kampa urejene čisto na novo lepe velike parcele s pogledom na morje, do morja po klančku navzdol ca. 80 m, vendar zaliv zelo majhen in ni dovolj prostora glede na velikost kampa, tudi kapacitete sanitarij premajhne, čeprav vzorno čiste. Očitno je kamp na začetku bil samo spodaj v zalivčku, sedaj pa se širi navzgor v hrib, ostala infrastruktura pa temu sledi. Iz kampa nimaš kam na sprehod, če imaš slučajno psa, pa sploh ne! ​​

Published on day from anonymous

Category

Tent

Company

In couple

Mir, čistoča, prijaznost lastnikov in majhnost so tiste stvari, ki bodo v ta kamp še vabile! ​​

Published on day from anonymous

Category

Tent

Company

Family with teenager

Lep miren kamp lepo urejena plaža samk manjka mala trgovina lahko pa naročiš kruh sadje in zelenjavo pa pripeljejo 3x na teden in sladoled 2x na teden ostalo vse ok​​

Published on day from anonymous

Category

Tent

Company

Family with small children

Zelo lep kamp, praktično vse parcele so s pogledom na morje. Nam je bilo le žal, da ni nobenih sprehajalnih površin, iz kampa nimaš kam, razen z avtom/kolesom/čolnom.​​

Published on day from anonymous

Category

Other

Company

Family with small children

Odličen kamp! Izredno urejeno, čistoča na visokem novoju in zelo prijazno osebje ;)​​

Published on day from anonymous

Category

Other

Company

Family with teenager

Zelo lep in urejen kamp,veliko sence, zelo prijazni lastniki, urejena plaža in čista voda, primerno za otroke, priporočam vsem, ki se zares želijo odpočiti od vsakodnevnega vrveža.​​

Published on day from anonymous

Category

Caravan

Company

Family with small children

tako kot predhoniki z eno besedo ENKRATNO. mirno čisto plaža super , voda nizka z mivko kar je za otroke sploh ok
lasniki super ​​