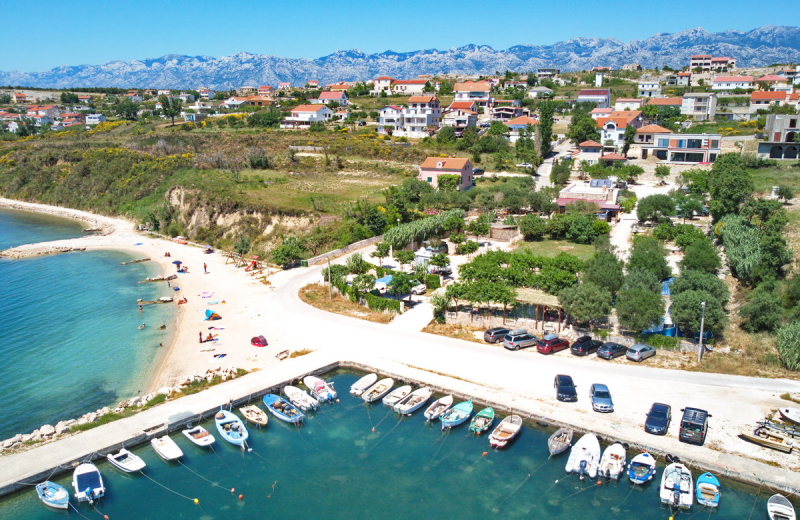 Information
Basic information
Camping Miocicis located in village Rtina metween towns Zadar and island Pag, only 13km away form the highway Zagreb - Split.
NEW - 3-bedroom mobile homes for up to 6 people.
It was opened in season 2013. It is arranged in nice, Mediterranean style, lots of woods and stone were used for its construction.

They have neatly arranged pitches with electricity and water. Pitches are shaded by olive trees. Pitches by the sea are reserved for camper with tents, while upper part is appropriate for campers and trailers.

Camp has modern sanitary facilities with places for washing your clothes, chem wc and waste water discharge system.

For its tidy arrangement, camp has been selected as OK mini Croatian camp.

Beach in camp is sandy and suitable for families with children, even though only short walk away you find many deserted beaches. Close by is also local marine where you can moor your boat.

Camp has traditional dalmatian restaurant, built of stone, including tables in it. They offer traditional specialties, where sea food is main ingredient.

Close by you will find many interesting cities (Zadar, Nin, Pag) as well as national parks Paklenica, Kornati and waterfalls of river Krka.
Features and equipment
Type of the campsite
Pitch features
Pitches with electricity and water

Pitches with electricity, water and waste water connections

Non-parcelled camping plots
Location
Equipment
Chemical toilet discharge

Children sanitary facilities

Heated sanitary facilities
Offer
Sport
Swimming pool/wellness
Swimming pool with heated water
Dogs
Rental option
Camping pricelist (in EUR) for year 2023
Price for
1.7. - 31.8.
1.6. - 30.6.
1.9. - 30.9.
1.5. - 31.5.
1.10. - 31.10.
Person
​​11,50
9
7,50
Children under 5
3
2,50
1,50
Children 5 - 12 yrs.
5,50
4
3
Children 12 - 18 yrs.
11
8
6,50
Pitch (electricity, water, sewer)
​​20
14
12,50
Car + tent
​​14,50
​​10,50
​​8,50
Motorcycle + tent
​​12
9
8
Addit. tent
​​4
​​4
4
Boat trailer
​​4
​​4
4
Dog
​​4
​​4
​​4
Washing machine
7
7
7
Addit. electricity
5
5
5
Internet access - WIFI
​​gratis
​​gratis
​​gratis
Tourist tax
​​1,30
​​1,30
​​1,30
PDF - Pricelist for year 2023 (20KB)
Payment for camping is in cash only!

Mobile Homes
Mobile homes description
Camping Miocic - mobile homes with three bedrooms for rent

In 2023, mobile homes for up to 6 people (34 m2) were built in a camp near the sea, equipped with three bedrooms, a kitchen, a living room with a seating area, two bathrooms with shower and a covered terrace.

The mobile homes are air-conditioned, dogs are not allowed.

Mobile homes information
Number of persons in mobile homes
Mobile homes for 6+ persons

Mobile homes for 2 - 3 persons

Mobile homes for 4 - 6 persons
Mobile homes
Dogs allowed in mobile homes

Mobile homes for handicapped

Mobile homes with 3 bedrooms
Pricelist for mobile homes (in EUR) for year 2023
Price for
1.7. - 31.8.
1.6. - 30.6.
1.9. - 30.9.
1.5. - 30.5.
1.10. - 31.10.
Mobile home for 6 persons
200
110
90
Bed linens
gratis
gratis
gratis
Final cleaning
50
50
50
Tourist tax
1,30
1,30
1,30
Rating and reviews
Reviews:
Published on day from anonymous

Category

Camper

Company

Family with teenager

Škoda, ker je za hrano lestvica samo do 10. Odlično!
Gostitelja prijazna, čistoča sanitarij vse pohvale, parcele imajo vse tudi naravno senco.
Plaža prodnata, v vodi mivka, primerno tudi za majhne otroke.
Med kampom in plažo je sicer lokalna cesta, ampak je res minimalno prometa.​​

Published on day from anonymous

Category

Camper

Company

With friends

Kamp je miren in lep morje čisto .Bili že večkrat​​

Published on day from anonymous

Category

Tent

Company

In couple

V tem kampu se res pocutis kot da bi prisel v svoj dom, lega campa cudovita, veliko sprehajalnih poti, posebnost pa dodata Lastnika campa Nada in Alen, zvecer pa za prste obliznit izpod peje od Alena, hvala super je bilo, se vracamo ob prvi priliki..​​

Published on day from sonb

Category

Tent

Company

In couple

Krasen kamp, krasni ljudje, čisto, urejeno ... Pri Alenu in Nadi sva se počutila kot na počitnicah pri prijateljih. Da ne omenjam Alenovih rib na žaru, hobotnice in vsega drugega izpod peke in večerij z razgledom. Kamp za lenarjenje in uživanje na morju. Edina pripomba: kamp je ob javni plaži, kamor zna ponoči zaiti kakšna glasna mularija, ampak to je pač potrebno vzeti v zakup. V kampu samem pa mir tako podnevi kot ponoči.​​

Published on day from KatjaKŠ

Category

Other

Company

Family with small children

Najlepši mali kamp na Jadranu. Tu smo že drugo leto in še se bomo vračali. Izjemno prijetna lega, plaža s kamenčki primerna za majhne otroke, a hkrati ni potrebno hoditi v vodo 1 km, da zaplavaš. Letos so na novo uredili nove parcele za šotoriste in jih prekrili s trstiko, tako da je pod njimi čudovita senca. Kamp je terasasto urejen a nima občutka utesnjenosti, ki ga ima marsikateri terasast kamp. Sanitarije so super čiste. V kampu je tudi konoba, kjer lahko kaj zelo dobrega pojeste, vsake par dni pa naredijo še specialitete izpod peke in gradelo. Lastnika Alen in Nada sta srčna človeka, ki naredita vse za svoje goste. Mi smo našli svoj košček dopustniške sreče in upam, da ga bo našel tudi kdo izmed vas. Kamp priporočamo družinam, ki želijo mir, dobro hrano in udobje.​​

Published on day from beli01

Category

Other

Company

Family with small children

Kamp Miočič je nekaj kar mora vsak videti in doživeti. Kamp je postavil in opremil lastnik sam in sicer z ročnoklesanim kamenjem in ostalimi naravnimi materiali. Čudovita kamnito tlakovana terasa s pogledom na morje, v senci 200 let starih Oljk je nekaj neponovljivega. V roštilju velikih dimenzij (prev tako vse iz kamenja) ustvarjajo čudovite jedi izpod peke in seveda tudi ostale jedi na gradelah. Kamp leži na sami obali in je oddlajen do morja le nekaj metrov. Plaža je solidno urejena in varna tako za male otroke kot za odrasle. Mala lučica nudi tudi priveze za manjše čolne. V kampu so zaposleni le domači ljudje, zato je okolje prijazno in naturalno. Na področju kampa je nasejenih mnogo starih oljk in ostalih listnanih dreves ki nudijo za enkrat še ne popolno senco, vendar znosno. Tla so peskovita, zato v dežju ni blata. Spodnji terasati del kampa je namenjem manjšim šotorom, zgornji pa avtodomom in campprikolicam. Dostop je enostaven. imajo tudi wi fi. Trgovinica je višje v vasi oddaljena cca 800 m in je dobro založena. ​​