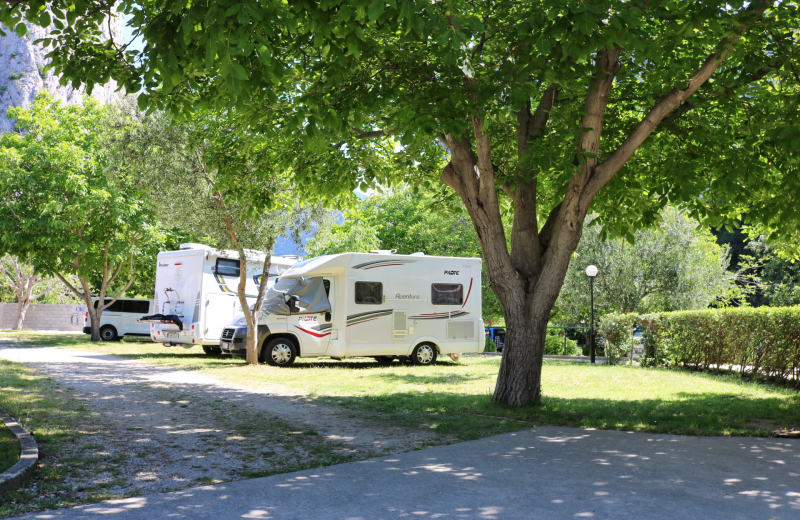 Information
Basic information
Camping Lisicina is located 5 minute walk from city center of Omis, which is about 20km southern from well-known Split. Here river Cetina flows into the sea.

Camp is opened all year around and is positioned only 300m away from the beach. Camp has arranged pitches for tents, caravans as well as campers. Sanitary block is arranged, guests can use also two fully equipped kitchens and grill outside. Shops and restaurants can be found close to the camp.
Guests also have a common place with barbecue, free wifi, laundry with washing machine.
Because of its location, camp Lisicina is good starting point for exploring river Cetina and hiking in the Omis's neighborhood, which will award you with amazing views across whole Dalmatia.
Features and equipment
Type of the campsite
Pitch features
Non-parcelled camping plots

Pitches with electricity and water

Pitches with electricity, water and waste water connections
Location
Equipment
Chemical toilet discharge

Children sanitary facilities

Heated sanitary facilities
Offer
Sport
Swimming pool/wellness
Swimming pool with heated water
Dogs
Rental option
Camping pricelist (in EUR) for year 2022
Price for
10.7. - 31.8.
1.6. - 9.7.
1.9. - 15.10.
25.4. - 31.5.
1.1. - 24.4.
16.10. - 31.12.
Person
​​7,40
6,10
​​4,80
​​4,30
Children 5 - 12 yrs.
​​3,40
2,70
2,20
1,90
Tent - small
5,40
4,70
4,10
2,70
Tent - big
7,40
6
4,70
4,10
Car
​​4,70
4,10
3,40
​​2,20
Motorcycle
4,10
3,40
2,70
2
Caravan
6,80
6,10
5,40
4,10
Camper
8,80
7,40
6,10
​​5,40
Electricity
​​2,70
​​2,70
​​2,70
​​​​2,70
Dog
​​2,70
2
​​1,40
​​​​1,40
Refrigerator
​​gratis
​​gratis
​​gratis
​​​​gratis
Washing machine
4,10
4,10
4,10
​​4,10
Tourist tax
1,10
0,70 - 1,10
1,10
0,70 - 1,10
Contact
GPS: 43.447284,16.690879
Address: Lisičina 2, 21310 Omiš, Hrvaška
Reception:

+385 21 862 536

Reservation:

+385 95 51 23 473
Rating and reviews
Reviews:
Published on day from anonymous

Category

Other

Company

Family with small children

Majhen, družinski kamp, v zavetju pečin, vedno piha rahel vetrič s Cetinje in pod senco dreves omogoča super bivanje v šotoru (pa še komarjev zato ni). Infrastuktura prenovljena (sanitarije, novi dodatni kolektorji za vodo), skupna uporaba kuihninje in jedilnice (hladnilnii, plinska kurišča) varno za majhne otroke, prijazni umirjeni turisti, zelo prijazni lastniki. Že nekaj let kampiramo. Do trgovine 5 minut, center mesta 10 min, vse na dosegu. Zelo ugodno.

Le do plaže je 10-15 min, kar sploh ni težava glede na vse prednosti.​​

Published on day from davorinklara

Category

Tent

Company

In couple

Kamp je na zanimivi lokaciji ampak tisti ki imate radi normalne sanitarije vam obisk odsvetujem.Pa tudi te prijaznosti z strani lastnice nismo občutli kaj preveč.​​

Published on day from janidam

Category

Camper

Company

In couple

Manjši kamp nekoliko oddaljen od morja in zato miren. Lastnik zelo prijazen, v kampu je tudi skupni prostor kjer se lahko kuha in uporablja hladilnike ter seveda druži v primeru slabega vremena. Sanitarije nekoliko slabše - starejše, a vedno čiste. Bližina starega mesta Omiš, Super izlet tudi do Izvira reke Cetina​​

Published on day from anonymous

Category

Camper

Company

Family with small children

Prijeten in miren kamp, ki ga obkrožajo hribi. Lastnika sta zelo prijazna, ustrežljiva,...V kampu imaš tudi hladilnik, kuhinjo, žar v objektu na robu kampa. Mi smo šli tja za 5 dni vendar smo podaljšali še za 4 ker nam je bilo tako všeč. Res da je do plaže 10 min. hoje vendar je samo mesto Omiš tako prijazno in ljubeznivo, da to sploh ne opaziš. Splača se pogledat razne znamenitosti ( Stari grad, izlet po Cetinji, in sam center mesta kjer je res vse kar mora biti v Dalmaciji in še mnogo drugih stvari ). Sigurno se še vrnemo.​​

Published on day from anonymous

Category

Other

Company

In couple

Res luštkan kamp,sanitarije vedno čiste,šef z družino izredno prijazen in vedno na voljo,če karkoli potrebuješ! Mesto s trgovinami in tržnico 5 minut hoda od kampa! izredno lep dopust in veliko izletniških točk v okolici! Staro mesto prav tako zelo lepo! Še pridemo...​​