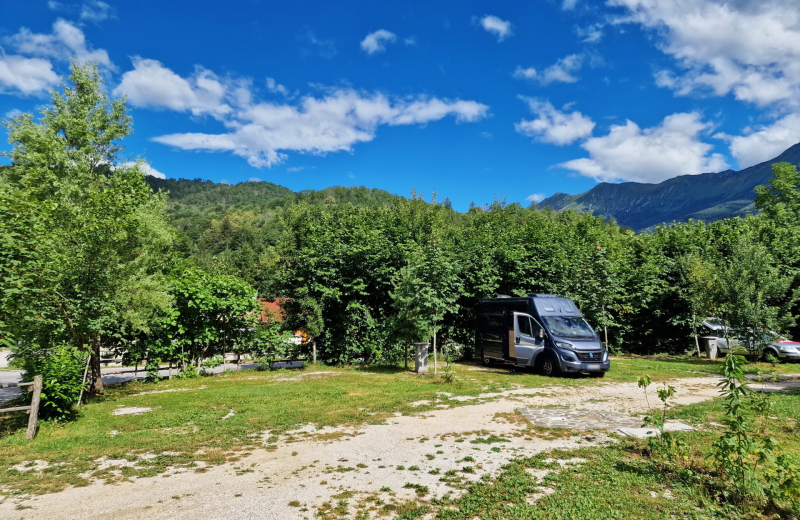 Information
Basic information
Camping Lebanc is located along river Nadiza, at the end of village Podbela, 11 kilometers from town Kobarid. The road passes through the village of Borjana and this part of the road has been renovated and widened, so that it is now easier to access with motorhomes and caravans.

Camping Lebanc has 45 camping pitches, 25 of them have electricity and water connection as well as water drain system. 15 pitches without electricity are arranged for tenters right next to the Nadiža river. In the upper part, there are also some pitches intended for flat-rate owners.
Camping Lebanc also offers to rent a mobile home, which is placed at the edge of the campsite.
They have two sanitary facilities - the main one is at the restaurant, and an additional one was built on the other side of the road, so it will be less crowded and safer, as it will not be necessary to walk across the street to the toilet. There is also a place for washing dishes and a laundry room.

There is a small children playground and some additional games (sandbox, swings, slides, trampoline), but of course the biggest fun is the Nadiza river. A good kilometer further from the camp is the Napoleon bridge, where there is a swimming pool.

Camping Lebanc is excellent starting point for sports fans, as the surrounding area offers numerous opportunities for recreation (cycling, hiking, parachuting, fishing). The climbing area is 5 km from the camp.

There is also a pizzeria within the camp, and guests say that these are the best pizzas around. The shop is in Podbela, about 1 km from the campsite.

Features and equipment
Type of the campsite
Pitch features
Non-parcelled camping plots

Pitches with electricity and water

Pitches with electricity, water and waste water connections
Location
Equipment
Chemical toilet discharge

Children sanitary facilities

Heated sanitary facilities
Offer
Sport
Swimming pool/wellness
Swimming pool with heated water
Dogs
Rental option
Camping pricelist (in EUR) for year 2023
Price for
1.7. - 31.8.
1.4. - 30.6.
1.9. - 15.10.
Person
​​15
​​13
Children under 7
​​gratis
​​gratis
Children 7 - 14 yrs.
​​10
​​9
Dog
​​4
​​4
Electricity
​​5
​​5
Internet access - WIFI
​​gratis
​​gratis
Tourist tax
​​1 - 2
​​1 - 2
PDF - Pricelist for year 2023 (17KB)
For stay longer than 7 nights: 10% discount.

Mobile Homes
Mobile homes description
Camping Lebanc offers rental of wooden mobile homes for 4 + 2 people, which are fully equipped and placed on the left side of the camp. Mobile homes have their own kitchen, bathroom, two bedrooms and an outdoor terrace.
Mobile homes information
Number of persons in mobile homes
Mobile homes for 4 - 6 persons

Mobile homes for 2 - 3 persons

Mobile homes for 6+ persons
Mobile homes
Dogs allowed in mobile homes

Mobile homes for handicapped

Mobile homes with 3 bedrooms
Rating and reviews
Reviews:
Published on day from anonymous

Category

Tent

Company

Family with small children

Šotorili smo na spodnji parceli ,tik ob reki Nadiža. Kamp je majhen in daje intimen občutek. Čeprav smo bili z otroci ni bil nikoli dolg čas. Pizze v pizzeriji zelooo dobre, sanitariji zelo čisti ( v vseh straniščih razkužila).
Če upoštevam še nizke cene kampa se bomo še vrnili ????​​

Published on day from anonymous

Category

Tent

Company

In couple

Zelo prijeten, majhen kamp. Nama mnogo ljubši kot kamp Nadiža,k je poleg,bolj pristen. Lastnik zelo ustrežljiv, za mir ponoči poskrbljeno. Sanitarije čez cesto res niso moteče. V kampu je picerija z zelo dobrimi picami, mladi, zaposleni v piceriji pa res prijazni.Kopanje v Nadiži je možno pod kampom ali le približno 300 metrov pred kampom. V okolici pa mnogo možnosti za razne dejavnosti. Vsekakor priporočam, midva se še vrneva.​​

Published on day from bbblllaaazzz

Category

Tent

Company

In couple

Večino kar so ostali povedali drži...kolo na teh lokacijah je izvrstno prevozno sredstvo ;)​​

Published on day from anonymous

Category

Tent

Company

In couple

Letos sem bila prvič v tem kampu in tudi nasploh sem prvič kampirala. Ne bi si mogla izbrati boljšega kampa, kot je kamp Lebanč. Všeč mi je ker je kamp bolj majhen in ni ''nagužvan''. Zelo lepo je urejeno in tudi same parcele so lepo vidne, kaj je tvoj del in koliko prostora imaš. Super je tudi to, da imaš dovolj prostora na parceli in da lahko tudi parkiraš avto na svojo parcelo. Sanitarije so zelo lepo urejene in čeprav je bil kamp skoraj poln, ni bilo nikoli nobene vrste in čakanja. Tudi lastnik je zelo prijazen in ustrežljiv, same pohvale. V kampu je tudi picerija/restavracija, kjer imajo zelo dobro pico in pa tudi cene so zelo ugodne. Definitivno priporočam!​​

Published on day from anonymous

Category

Tent

Company

Family with small children

Kamp Lebanč je zelo lep majhen kamp ob reki Nadiži. Ravno to, da ni prevelike gneče mu daje vrednost. Sanitarije so zelo lepe in čiste. Kamp je na samem, tukaj je tišina še tišina, zgodaj zjutraj slišiš samo ptičje petje.
Takoj pod kampom so lepa mesta za kopanje, dober kilometer dalje, pa je Napoleonov most in korita reke Nadiže.

Čez cesto kampa je picerija z dobrimi picami, žar in bife. Osebje je zelo prijazno skratka, nam je bilo zelo všeč.​​

Published on day from anonymous

Category

Tent

Company

Family with small children

Super prijazno osebje, super lokacija.
Parcele bi lahko bile večje, škoda, da je med parcelami in toaletami cesta.
Bi pa prosila ostale kampiste, da upoštevajo, da v kampu niso sami. Po 10. uri se večina odpravlja spat in šotori na žalost niso zvočno izolirani. Nevzgojeni, lajajoči psi po mojem tudi niso za v kamp.​​

Published on day from anonymous

Category

Caravan

Company

Family with teenager

Zelo zadovoljni z bivanjem v kampu v letu 2017. Pice odlične, jedi iz žara super, postrežba vredu, lastnik kampa ustrežljiv, sanitarji super urejeni. Se vidimo zopet v letošnjem letu 2018. ​​

Published on day from GeneralRasta

Category

Tent

Company

Family with small children

Odličen kamp, prijazno osebje.​​

Published on day from anonymous

Category

Other

Company

Family with small children

Glede na druge kampe slabša lokacija in urejenost. Na eno pizzo čakali 45 minut, brez opravičila, arogantnost natakarice. Po 45 minutah čakanja na pizzo niti enega vprašanja, če bi še kaj spili, tako da smo bili žejni (še sreča smo imeli s sabo svojo vodo;)). Skratka tudi pizza noben presežek. Veliko razočaranje nad pizzerijo glede na pričakovanja, še posebno nad arogantnost in neprijaznost strežnega osebja.​​