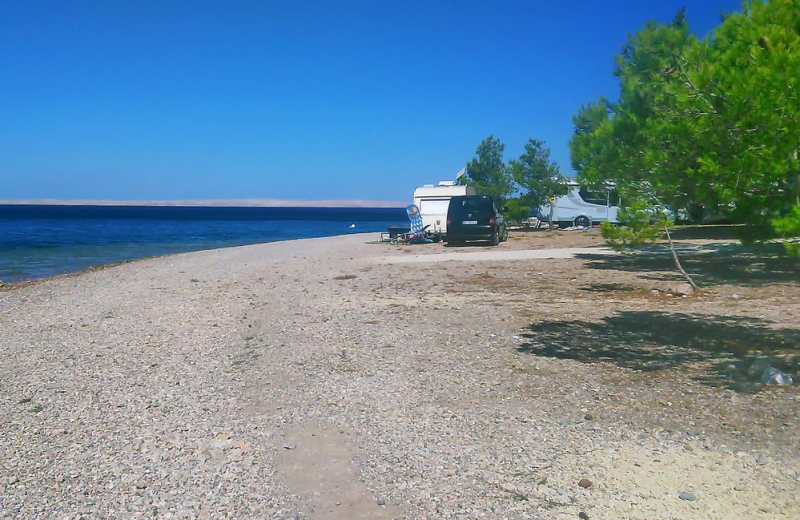 Official category: 4 from 5 stars
Camping Navis
Address: Kozjača, 23244 Starigrad , Hrvaška

Season: -
Compared price: 2 people + pitch with electricity - between 40 - 50 €
Discounts:
By the sea
Well shaded
Free wifi
For hikers
Information
Basic information
Camping Navis is newly opened campsite in Croatia, located halfway between towns Tribanj and Starigrad - Paklenica, which is 8km drive away.
It offers tidy pitches by the sea and modern sanitary facilities adjusted kids and handicapped guests.

Campsite Navis is located along the sea and has nice pebbled beach. Here it is possible to camp as well as to rent a mobile homes. Shade is provided by pine trees.

Children's playground is in the camp, while shop is 2km away. However, bread and bakery products are brought to the camp every morning, few times a week as well fruits and vegetable. Restaurant is next to the camp.

Location of the campsite Navis is great for visiting National Park of Paklenica, exploring Zadar, Nin or river Zrmanja and Krka.
Features and equipment
Type of the campsite
Pitch features
Non-parcelled camping plots

Pitches with electricity and water

Pitches with electricity, water and waste water connections
Location
Equipment
Children sanitary facilities

Chemical toilet discharge

Heated sanitary facilities
Offer
Sport
Swimming pool/wellness
Swimming pool with heated water
Dogs
Rental option
Rating and reviews
Reviews:
Published on day from marko13bizjak671

Category

Tent

Company

Family with small children

Ker je bil kamp šibuljina poln, so nam svetovali Navis, ki je 2km naprej. Kamp je super, urejen, miren, ugoden, morje čisto, sence v izobilju, sanitarije urejene, osebje minimalisticno in zelo prijazno.
Nam je bil kamp super.​​

Published on day from anonymous

Category

Camper

Company

In couple

Urejen, miren kamp. Sanitarije OK. Kaj več ne vem, bila sva samo 1 noč.
Priporočam​​

Published on day from anonymous

Category

Caravan

Company

In couple

Miren kamp. Morje čisto in lepa plaža. Lastnik kampa pretirava s sprejemom gostov. Zapolne vsak prosti kotiček kampa, tako da se hitro zgodi, da gledaš sosedu v zadnjo stran prikole/šotora/avtodoma. Mene osebno moti, da v kampu ni lokala, niti trgovine. Sicer vsak dan pripeljejo zjutraj kruh in na dva dni pripeljejo sadje in zelenjavo, vendar si vezan na uro dostave. ​​

Published on day from anonymous

Category

Camper

Company

Family with teenager

Super, miren kamp, zelo čisto morje. Dostava kruha vsako jutro, občasno sadje. Do trgovine 2km. Se še vrnemo.​​

Published on day from anonymous

Category

Caravan

Company

Family with small children

Odlicno urejen kamp, zelo miren in lep. Voda čista, sanitarije tudi. Če iščeš prostor, da se umakneš od gužve je to sigurno en boljših kampov. Vsak dan pripelje kombi kruh, 3x na teden zelenjavo/sadje in vsake toliko pride naokoli tudi sladoledar:). Mi smo uživali.​​

Published on day from anonymous

Category

Tent

Company

Family with small children

V kampu smo bili leto 3. leto. Kamp je v juniju veliko lepši in manj natrpan.
Plusi: čista voda, lep dostp v vodo, zelo čiste sanitarije, veliko sence.
Minusi: v top sezoni probajo čim več ljudi spravit v kamp, šotorski del bolj v sredini se velikokrat kar zaparkira (ne moreš z avtom ven, ker dajo nekoga s šotorom ali prikolico pred tabo). Bi morali bolje označiti parcele in dodati še kakšno pot v sredini kampa. Po drugi strani če se med prvimi pa lahko zasedeš večji kos parcele. Ni sprehajalne poti, sam kamp pa je majhen.
Priporočamo obisk Saterga grada ali Ražanca (vasica, ki je nasporti zaliva).​​

Published on day from anonymous

Category

Tent

Company

Alone

Dobro:

-veliko borovcev, dovolj sence
-vzorno urejene sanitarije
-prijazno osebje

Slabo:

-večinoma avtodomi in prikolice, mesto za šotor vam dodelijo nekje na robu ob ograji
-avtodomi v prvi vsti parkirajo praktično na plaži
-ostro kamenje na plaži, ježi... se najde tudi kak kos stekla ali žice v vodi
-pogled na puščavo preko kanala ni ravno rajski
-voda je kristalno čista tam nekje do gležnjev​​

Published on day from jabcek

Category

Tent

Company

In couple

Dobre strani:
Bližina morja, senca, čistoča sanitarij, možnost uporabe hladilnika, v kamp vsak dan pripeljejo kruh

Slabe strani:
Nič ni v bližini (trgovin, sprehajalne poti, restavracij), do vsega moraš iti z avtom; plaža in vhod v morje imata ostre kamne, da bos zelo težko hodiš;

Parcele niso točno določene ampak ti receptorka pove kam lahko greš. Ko sva bila tam je bilo v kampu veliko slovenskih družin z malimi otroki. Mogoče za potovanja v paru ni ravno primeren kamp, saj v bližini ni ničesar do kamor bi lahko šel peš.​​

Published on day from anonymous

Category

Tent

Company

Family with small children

Izvrstan, lijepo uređen i čist kamp! Sanitarije uvijek savršeno čiste. U kamp dolazi svako jutro kombi s kruhom i pecivima, nekoliko puta tjedno voće, povrće i riba. Trgovina je udaljena samo par minuta autom. Pored kampa se nalazi fast food sa odličnom hranom. Psi su dobrodošli! Plaža jako prostrana, čista, more kristalno.... Na zahtjev moguće koristiti perilicu. Za kampere postoji ispust otpadne vode. Osoblje jako ljubazno i susretljivo! Sve pohvale​​