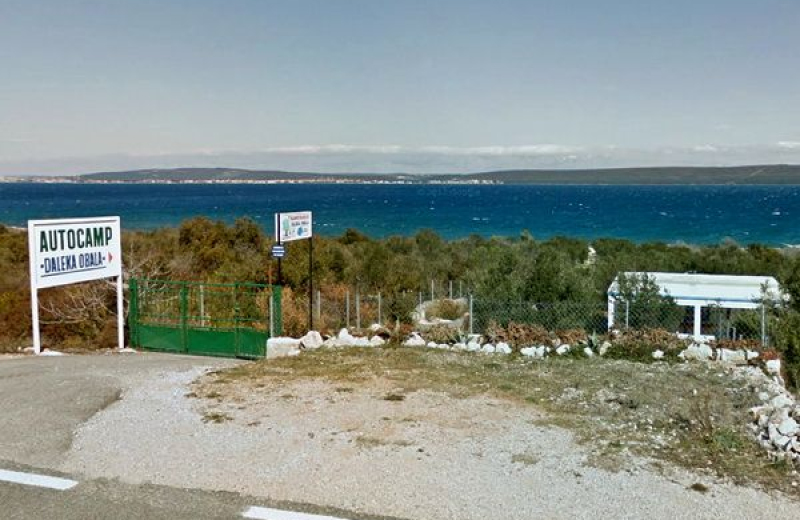 Information
Basic information
Camping Daleka Obala is located on the northern part of island Pasman, between towns Dobropoljana and Banj, around 12km from city Tkon.

It has found its place in the hundred years old olive trees plantation, has its private beach that ensures tranquil holidays. Owners sell their own olive oils, wine and brandy.

Sanitary facilities are new and tidy, connection to water and electricity on the pitches is possible. There is arranged shower for dogs and place for launching boats into the sea.

Shop and restaurant are around 900m away from camp.

Information about the Ferry Connections and its Prices to the Island Pasman

Features and equipment
Type of the campsite
Pitch features
Non-parcelled camping plots

Pitches with electricity and water

Pitches with electricity, water and waste water connections
Location
Equipment
Chemical toilet discharge

Children sanitary facilities

Heated sanitary facilities
Offer
Sport
Swimming pool/wellness
Swimming pool with heated water
Dogs
Rental option
Contact
GPS: 43.995682,15.314046
Address: Banj bb, 23262 Pašman, Hrvaška
Reception:

+385 (0) 98 862 732

Reservation:

+385 (0) 98 969 99 97
Rating and reviews
Reviews:
Published on day from anonymous

Category

Caravan

Company

With friends

drugače ok,sanitarije katastrofa.​​

Published on day from anonymous

Category

Tent

Company

Family with teenager

Najboljši kamp na pašmanu za ceno proti kakovosti kruh zjutraj pripelje drugo si pripeljete iz dobrapoljane lastnik prijazen pravi dalmatinec.Prodaja olje in travarico ki je dobra če ne odlična.Plaža je zadovoljiva plaže na Pašmanu so itak bolj za neplavalce in majhne otroke peščene.Več lahko kupite v Tkonu.Zabava v kukljici oziroma v dobropoljani.Sanitarije top in čisto.Wireles na recepciji.Hlsdilnik.Prevladuje Slovenska klientela.​​

Published on day from anonymous

Category

Other

Company

In couple

Zelo prijazen lastnik in ustrežljiv. Lega kampa je na klanec. Kot vidim, je praksa že več let ista(kruh, santarije,...) sence je bolj malo, vendar dovolj za šotor. Cena je bila zelo ugodna, saj so v letu 2016 namreč cene v ostalih kampih, ki jih imajo v lasti tujci močno poskočile, zaradi razmer v Turčiji, Tuniziji, Egiptu....
Če je v vas vsaj malo avaturista, priporočam, vendar se kraja mladi, hitro naveličajo. max 5-7 dni, potem je potrebno odpotovat naprej, saj v kraju ni ničesar, resnično ničesar.
Ljubitelji jutranjih kavic v lokalih, si boste morali kavo pripravljat sami, ali se odpeljat v drug kraj.
Priporočam parom in starejšim. Vsekakor pa mladim lačnim zabave priporočam, da ne obiskujejo otoka Pašman.
Kamp primeren za ljudi, ki so podvrženi stresni službi, saj tukaj dejansko odmisliš vse skrbi.
Vsekakor se vrnem !​​

Published on day from anonymous

Category

Tent

Company

In couple

Letos smo kampirali že šesto leto. Prva leta z otrokoma in bilo jima je prav tako všeč , kot nama. Kamp je urejen, sanitarije čiste, plaža betonirana s pomolčkoma in tušem, dostop do morja pa kot povsod drugod na otoku.

Gazda Kuzman prijazen, ustrežljiv in odprt za vse želje. Za videz kampa se trudi , saj je vsako leto kaj novega.

Kruh pripeljejo s kombijem vsak dan ob 9.h, sadje in zelenjavo pa vsak 2. dan.

Kamp je umirjen in tih , primeren za pare in družine , ki hočejo kampirati,kot smo kampirali včasih ( brez nošenja brisač na plažo ob zori, brez trgovine in bifejev pred nosom in brez glasnih noči). Če hočeš pa malo zabave se pa odpraviš v sosednje vasi in mesta .

Vem , da se bomo z veseljem še vračali, ker se počutimo dobrodošli.​​

Published on day from jaztt

Category

Other

Company

Family with teenager

Pozdravljeni, v kampu smo bili dvakrat 2014 in 2015 po 10dni. Kamp je mešan, večinoma so čehi, ki pa ima neka Češka agencija prikolice na plaži, drugače pa slovenci in kakšen Nemec se najde. Kamp ni prav velik in je v naklonu, bolj podolgovat. Sence skoraj ni tam kjer pa so visoka drevesa so pa prikolice (pavšalisti)... Plaža katastrofa, zelo majhna, vhod v morje skoraj nemogoč, v morju polno velikih skal da težko zaplavaš. Plaža nima nobene sence, za marelo potrebuješ podstavek, saj je plaža betonska. Malo levo in desno je plaža naravna ampak so zelo ostri kamni. Na plaži ni miru zaradi Čehov, ki očitno mislijo da je to njihovo. Kako stran knjige prebrat na plaži ni mogoče. Wcji so kar urejeni, brez papirja in brez mila. Tuši katastrofa nič kaj čisto.. Lastnik je prijazen večinoma časa pod gasom. Cena je bila prvo leto ugodna, a drugo leto je bila že veliko večja... Kamp je primeren za kake motoriste in žurerje ne pa družine. Prostora je veliko tako da nisi omejen, elektrika je povsod. Zgoraj je na voljo wifi in pralni stroj. Trgovina v sosednji vasi cca 3km stran...​​

Published on day from Gorska

Category

Tent

Company

Family with small children

Glede na videno v ostalih kampih po Pasmanu in Ugljanu, je kamp ok, nujno pa rabis kolo oz veliko kondicije, saj v kampu ni trgovine ne lokala,. Sicer pripeljejo vsako jutro svez kruh, to je pa tudi vse. Igral za otroke ni, plaza je kot vse po otokih, delcek je sicer betoniran, sence ni. Sanitarije ciste, parcele velike in lepe, malo manj je sence, samo kar naravne sence, ki jo dajejo oljke. Lastnik zelooo prijazen, cene ugodne, v glavnem nam je bilo lepo.​​

Published on day from Darmarko

Category

Tent

Company

In couple

Kamp je smješten između sela Dobropoljana i Banj, oko 13 km od trajektnog pristaništa u Tkonu. S lijeve i desne strane kampa su maslinici, pa je mir zagarantiran. Ulaz je direktno s magistrale i u gornjem dijelu kampa se čuje promet, no vozila noću nema puno, pa ne smeta. Gornji dio kampa je širi i tu ne postoje parcele. Hlad prave stabla maslina i smokava. Zbog grmolike kofiguracije stabala (niža, a šira) ovaj dio je primjereniji šatorima nego kampicama i kamperima. Donji dio je uži i parcele su jasno označene, veličine su odokativno 30 m2. Kamp je na padini, ali je "stepeničasto" izravnan, no ipak neki dijelovi imaju blagi nagib. Plaža je betonirana. Zapravo je čine dva mulića, a između je betonirani dio i rampa za spuštanje čamaca. Podloga je kamena i teško je hodati bos, no more je jako čisto i prozirno, prepuno flore i faune, a nažalost i ježinaca. Nema ih samo na dijelu koji je betorniran, no već par metara s lijeve i desne strane ih ima.

Na raspolaganju su dva sanitarna čvora. Gornji, kod ulaza u kamp gdje je i recepcija i donji, 20-ak m od plaže. U gornjem su po 2 M i Ž toaleta sa umivanikom u odjeljku (pa su kao male kupaonice), prostor za pranje posuđa/rublja, perilica rublja, a s druge strane na terasi s klupama, ledenica i mali hladnjak. Donji sanitarni čvor je veći, a tamo su i tuševi (no nema perilice ni hladnjaka), te sanitarni ispust za kemijske WC-e. Tople vode nikad nije nedostajalo. Pored plaže su i 2 vanjska tuša. Od ostalih sadržaja tu su još 2 kamina za roštilj i to je sve. Nema dječjeg igrališta ili nekih drugih zabavnih sadržaja. Ormarića za struju ima dovoljno, svakih cca 30 m, a priključaka na njima i previše (2 šuko i 7 CEE) te po dvije slavine za vodu.

Mi smo se (sa šatorom) smjestili u gornjem dijelu kampa, između dvije masline, smokve i grma ružmarina. Imali smo hlad veći dio dana. Dosta je prostora oko nas bilo bez hlada, te se tamo nitko nije smjestio i tako smo imali mir. Gosti su većinom Česi (i to u 6 stacionarnih kampica na samom kraju kampa uz plažu), Slovenci (nekoliko ih je isto u stacionarnim kampicama), a ostalo ponešto Nijemaca, Austrijanaca, Talijana i ostalih koji nalete (kao recimo Hrvati :) ). Po noći je mir i tišina (većinom su obitelji s djecom, te parovi). Svaki dan u 9 ujutro dolazi pekarski kombi s kruhom. Na izbor je mali i veliki bijeli kruh, kifla, slanac i krafna. Cijene OK, možda mrvicu više, a kruh je često još topao. Najbliže trgovine su u Dobropoljani i Banju, 5 min biciklom. Izbor nije neki pa za veću kupnju preporučam potegnuti na Ugljan u Preko udaljen 15 km, jer ni u Tkonu nije puno veći izbor. U lokalnim trgovinama je najveći problem kupnja mesa i ribe.

Cijena: za nas dvoje, auto, šator, struja 22€ po danu plus boravišna pristojba 1€ osoba/dan (koliko čitam po avtokampi.si svi pišu da je 22€ sa uključenom boravišnom pristojbom... :whistle: )

PLUSEVI:
+ mir i tišina (posebno po noći)
+ mali kamp i prijateljska atmosfera, nema nikavih "posjetitelja" niti se tko dolazi kupati i koristiti infrastrukturu kampa
+ vlasnik je simpatičan, u kontaktu sa svim gostima i ima pozitivan "lako ćemo" stav
+ ledenica (često korisnije od frižidera)

MINUSI:
- nema sapuna, ručnika ni WC papira
- sanitarije bi mogle biti malo čišće​​

Published on day from Lana Mihaela

Category

Other

Company

In couple

Kamp je odlično lociran pa je lako razgledati otoke Pamšan i Ugljan.
Vlasnik je vrlo ljubazan, brine se o svemu, drži kamp i sanitarije urednim i čistim.
U kampu nema nikakvih dodatnih sadržaja, pa odgovara ljudima koji traže isključivo mir i odmor. Oko kampa su polja, do susjetnih mjesta je nekoliko minuta. U obližnjim mjestima su trgovine, a u kampu se svako jutro može kupiti kruh koji dolazi kombijem.

Sjenu rade masline i smokve i nama je s malim šatorom bilo odlično. Oni koji imaju veće šatore dobro je da ponesu neku dodatnu tendu.

Plaža kampa nije uređena i nema sjene, samo je mali komad izbetoniran s malim molom gdje se mogu spustiti i čamci, ali se brzo dolazi do obližnjih plaža, izbor na otocima je velik.

U kampu su dvoje sanitrije, WI-FI je gratis iako ne dopire puno dalje od recepcije, za goste kampa je gratis i korištenje veš mašine, frižidera i škrinje koji stoje na recepciji.

Cijena za dvoje (šator, auto, struja, taksa) je 22 €.

Krasno smo se proveli, to nam je sigurno prvi izbor na Pašmanu.​​

Published on day from anonymous

Category

Tent

Company

With friends

Lastnik g. Kuzman izjemno prijazen in ustrežljiv gospod.<BR><BR>Eden lepše, če ni ravno najlepše urejenih kampov na Pašmanu, če je žal le nekaj mest ob sami obali, ki pa jih zasedajo češki turisti s prikolicami. Ostale parcele so nanizane druga nad drugo. Večje na eni strani, nekaj manjših za mini šotore pa na drugi strani dovozne poti. V gornjem delu so parcele minimalno tri v vrsti. Čisto zgoraj je ne parcelirani del kampa, ki je zelo privlačen, pred vsem zavoljo obilne sence in prečudovitega razgleda od koder vidite Zadar, Sv. Peter, Biograd na moru..... Potrebujeta pa malce daljši kabel, če želite biti maksimalno odmaknjeni od dovozne poti, seveda v kolikor potrebujete električni priključek.<BR> <BR>Sanitarije čiste, moderne, redno čiščene in lepo vzdrževane. <BR><BR>Plaža majhna, vendar odlično dostopna. <BR><BR>Kamp je miren, brez animacij in direndaja. Zelo primerne za vse, ki uživajo v tišini, jutranjem žvrgolenju ptičkov in dnevnem orkestru čričkov. Skratka mir in tišina po 22. uri kamp spi.<BR><BR><BR>Trgovina, mini tržnica, in restavracija ter ostali lokali ca. 10-15 min. hoje ob morju. Ravno primerno za jutranji ali večerni sprehod. Sicer ni noben kraj tako daleč. Saj imate več opcij za večje nakupe tako v Tkonu ali v mestu Preko, kjer sta tudi trajktni luki. Kajti oba otoka skupaj, ki jo povezuje most, imata zgolj ca. 40 km od Tokna do mesta Ugljana, na otoku Ugljan. Meni osebno je bil najlepši kraj Kukljica, kjer je tudi večerna zabava ,z živo glasbo, sicer pa kar solidna tržnica, ribarnica, nekaj solidno založenih trgovin in veliko prijetnih lokalov in slaščičarn, prečudovite peščene plaže, z veliko sence, žal pa ni nobenega kampa. Kraj je izjemno turistično razvito mestece za manjšo marino.... <BR><BR>Sence v gornjem delu kampa kar obilno, med tem ko v spodnjem malce manj, vendar se najde v zavetju oljk in fig.<BR><BR>Cena:<BR>2 osebi, avto, velik šotor, električni priključek 22,- EUR/dan vključno s turistično takso.<BR><BR>Parcele ni možno rezervirati, kajti parcele niso oštevilčene. Gre po sistemu, kdor prej pride, prej melje. Ni pa problem. Lahko se kadar koli želite preselite na drugo parcelo, če vam prva ne bi ustrezala.<BR><BR>V kampu se nahajajo predvsem Slovenci, nekaj Čehov, ki so pod spodnjim sanitarnim blokom ter bolj v manjšini (Nemci, Avstrici, Danci...). Skratka gostje, z redkimi izjemami, na dokaj visoko, kulturnem nivoju, ki spoštujejo med sosedske odnose in se drug drugega ne motijo.<BR><BR>Zelo priporočam, predvsem gostom srednjih let in starejšim!<BR>Za družine z majhnimi otroki je ta kamp manj primeren, saj ni otroškega igrišča niti nobene druge zabave, kjer bi se lahko otroci družili. Tista peščica, ki zaide v ta kamp, kar hitro odpotuje dalje, kjer je bolj živahno.<BR><BR>Preživela v tem kampu 15 prečudovitih dni, se še vrneva.​​