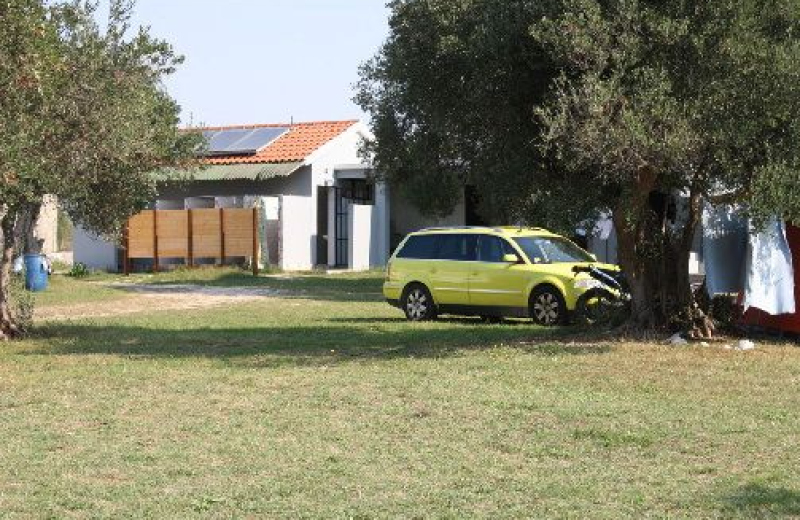 Information
Basic information
Camp Kero is situated in Bibinje, 8 kilometers south of Zadar going to Biograd.

With almost 300 days of sunshine per year, this region is a destination appreciated by campers from all over Europe. A refreshing breeze alleviates the mid summery temperatures and offers perfect conditions for sailing and surfing. Several natural parks, rich in maritime flora and fauna, offer interesting diving sites for lovers of maritime depths. Only a few minutes away there's the Kornati nature park with its numerous islands scattered across the ocean. 50 kilometers to the north-east the natural reserve Paklenica is situated, and 20 kilometers south there is the natural park Krka.

At "Autocamp Kero" you have all the possibilities that make your holidays unforgettable, including swimming, hiking, climbing, diving, going out on the boat and many more.

Camp Kero is equipped with sanitary facilities (warm and cold shower, toilet) and a kitchen with dishwashing and laundry possibility. All sites are equipped with an electrical connection (220 volts).
Features and equipment
Type of the campsite
Pitch features
Non-parcelled camping plots

Pitches with electricity and water

Pitches with electricity, water and waste water connections
Location
Equipment
Chemical toilet discharge

Children sanitary facilities

Heated sanitary facilities
Offer
Sport
Swimming pool/wellness
Swimming pool with heated water
Dogs
Rental option
Contact
GPS: 44.057435,15.289223
Address: Punta Bibinje, 23205 Bibinje, Hrvaška
Reception:

+385 91 342 17 07

Reservation:

+385 23 263 212
Rating and reviews
Reviews:
Published on day from anonymous

Category

Caravan with yearly rental

Company

In couple

V lanskem letz urejene nove sanitarije prenivljena restavracuja oz lokal ob plaži mir v kampu ker lastnik ne želi da se dela galama tako da je res prijetno dopustovati in si napolnit baterije že kar nekaj let smo gosti tega kampa. resda nekaterim lastnik ni po volji to pa samo zato ker želi red in mir vv kampu da se gostje dobro počutimo. se vidimo tudi letos. špela tilen​​

Published on day from anonymous

Category

Other

Company

In couple

V kampu sva bila s šotorom, kljub visoki sezoni sva brez težav dobila prostor pod oljkami v kotu kampa, kamor nama je lastnik izjemoma dovolil spraviti tudi osebni avto. Avtomobili so načeloma parkirani ob kampu, kar pa je največ 10m od šotorov.
Sanitarije so starejše, tuši so zunaj, kljub temu pa je bil wc vedno čist. Tople vode pogosto zmanjka, wc pa ni opremljen z milom in papirjem, kar pa nama ni predstavljalo večjega problema.
Kamp ima tudi lokalček, ki se poleg lege ob plaži ponaša s smešno nizkimi cenami.
V kamp sva prišla z namenom ostati eno noč, ki pa se je prelevila v 9 nočitev ker je kamp precej simpatičen.
Kamp bi bil pred leti čisto povprečen, v luči vse višjih pričakovanj dopustnikov pa je danes odličen kamp za goste "stare šole", ki nimajo previsokih pričakovanj.
Tudi lastnik bi lahko po mnenju nekaterih spadal v to kategorijo. Do naju je bil zelo prijazen in ustrežljiv in naju je po zaključenem dopustovanju povabil celo na pijačo.
​​

Published on day from anonymous

Category

Caravan

Company

Family with small children

Bivali smo 14 dni in moram reči da smo postavili nov Ginesov rekord v pobijanju komarjev. V najeti prikolici jih je bilo vsak dan sigurno 500, pa smo zapirali vrata, okna, itd. Ko smo kupili komarnike je bilo malo bolje. Samo 30 na noč. Tako, da sabo obvezno vzemite vso možno opremo proti komarjem. Kar se tiče lastnika pa: Na začetku je prijazen, dokler ne plačate, potem pa se začne. Od nas je hotel takso kar dvakrat, ko sem ga poslal v pm je utihnil in odnehal. Zvečer po 10 uri niti slučajno ne računajte, da se boste sproščeno pogovarjali pred prikolico. Smeh in kartanje nista dovoljena, saj vam pride takoj težit. Ante je čisti snob in in stiskač. Še zaposleni od njega komaj dobijo tisti euro, čeprav pravi da je milijonar iz Avstralije in da ima neke firme v Reki. Čudno se mi zdi, da potem cele dneve sedi v lokalu, gleda kaj kdo dela in teži, če se kdo predolgo tušira. Lega kampa je dobra, plaže v bistvu ni, oziroma je to dvometerski pas s špičastimi skalami. Edino kar je dobro, je lokal na plaži in starejša prijazna kelnarica z Maribora. Drugače pa bolje da greste na Šobec kot pa v ta kamp.​​

Published on day from anonymous

Category

Other

Company

Family with small children

Sem pavšalist 2016/17,pred postavitvijo vse super fajn cena sprejemljiva čez sezono pa iz dneva v dan katastrofa voda je topla 2 ure dnevno odgovor od kerota pa če ti kaj nepaše pa idi.pavšal plačali takoj.takega brezobraznega človeka v turizmu še nisem videl cele dneve pijan pa samo para.sve kod njega može ali češ platit.dobili nismo enga računa ne in tudi drugi gostje ne.ta kamp je treba zapret
Kero pa naj kr v avstralijo gre tako kot je spizdu ko je bil star 17let.v avstraliji je pa med 100 najbogatejših.sramota da taka golazen sploh dobi licenco za turizem..​​

Published on day from anonymous

Category

Other

Company

Family with small children

Plus: lega (blizu Zadra) in možnost spusta čolna (čeprav izjemno strmna klancina).
Minus:
- premalo sanitarij, zanemarjene (čiščenje na 3 dni, če je sreča)
- smrad po smeteh (samo ena kanta za cel kamp zaradi česar okoli nje leži za celo smetišče smeti)
- brez tople vode (za cel kamp je 400l tople vode, parcel je cca 40-50, računajte sami koliko deci na osebo je to)
- premalo tušev (samo en notranji in dva zunanja, bolj primerna za na plažo)
- lastnik (stari bebec, ki vam bo zaračunal se kubike porabljenega kisika, seveda vse brez racuna, vas vmes žalil, saj takoj ko prejme plačilo parcele zanj predstavljate izgubo)

Nasvet: niste tako bogati, da bi bivali v tako cenenem kampu. Težko prisluzeni dopust ne pomeni samo finančni strošek. Pokvarjen dopust se časovno ne da več povrniti, živi pa se samo enkrat. ​​

Published on day from klemen1960

Category

Caravan

Company

In couple

Povsod tudi v najprestižnejših kampih ki so normalno tudi cenovno bistveno dražji lahko človek najde napravilnosti. Mnenja gostov so subjektivna in ne moremo jih generalizirat ter posploševat. Samo to kar se sanitarij tiče. Nihče nikjer in nikoli ne stoji pred sanitarijami in nas čaka da bo zanami počistil naš nered. Saj tudi doma nimamo zaposlenih služkinj katere bi čistile za nami. Ja sami smo tisti ki moramo prvenstveno poskrbet in se odgovorno obnašat do sebe kot do sogostov. Dir. Ante Kero pa dela z srcem v kampu 16 ur dnevno. Nismo pa vsi vsem všeč. Če želite miren dopust in veste kaj je kampiranje vam ga toplo priporočam.
Lep pozdrav zadovoljnim in malomanj zadovoljnim gostom.
Simon in Roti
​​

Published on day from anonymous

Category

Other

Company

In couple

higiena tega kampa je na nuli ,lastnik obravnava goste kot zelo nekoroktno je osoren ,pozabljiv in vsaki dan vinjen in ta oseba ni sposobna več vodit takšnega kapma ,zaračuna mastno ,pravega računa pa sploh ne izda tako da prekriva davek ,..
ZELO ZELO NEPRIJAZEN G, ANTE LASTNIK KAMPA SRAM GA JE LAHKO DA SE TAKO OBNAŠA DO HGOSTOV KOT DA SMO GNOJI . NIKOLI VEČ V TA KAMP .POSLAT BI MU MORALI VEČ INŠPEKCIJI ,SANITARNO ,DAVČNO IN ŠE KAKŠNO LP​​

Published on day from anonymous

Category

Camper

Company

Family with small children

Plaža ni niti najmanj primerna za otroke. Bivali smo v prikolici lastnika kampa, katera ni bila niti odprta od prejšnje sezone. Pajčevina, prah, mravlje.... polne omare krame. Lastnik kampa zelo osoren. Ne priporočam najema prikolice od lastnika. Sanitarije in prostor za pomivanje posode so ogabni. "Čistijo" jih njegovi gostje iz češke, ko imajo 5 min časa na dva do tri dni. Kar je lastnik rešil je to, da je dal v vsak wc in umivalnico list papirja kjer piše:"počisti za seboj". Elektrika je švoh, ko je več kot polovica kampa zapolnjenega že izklaplja elektriko zaradi preobremenjenosti. Topla voda je samo okrog popoldneva. V wc-jih je ena majhna policka za eno toaleto torbico za 3 lijake. Za brisačo ni kljukice, da bi kam obesil. Tus kabine se zapirajo z umazanimi pvc zacesicami, katera se ti prilepi po telesu ob majhni sapici vetra. Tusi so zunaj pod strehico. Avtomobil ne sme bit v kampu. Je par parkirnih mest pred kampom, kjer je vedno natlačeno z avtomobili. V glavnem smo bili nezadovoljni. ​​

Published on day from anonymous

Category

Other

Company

In couple