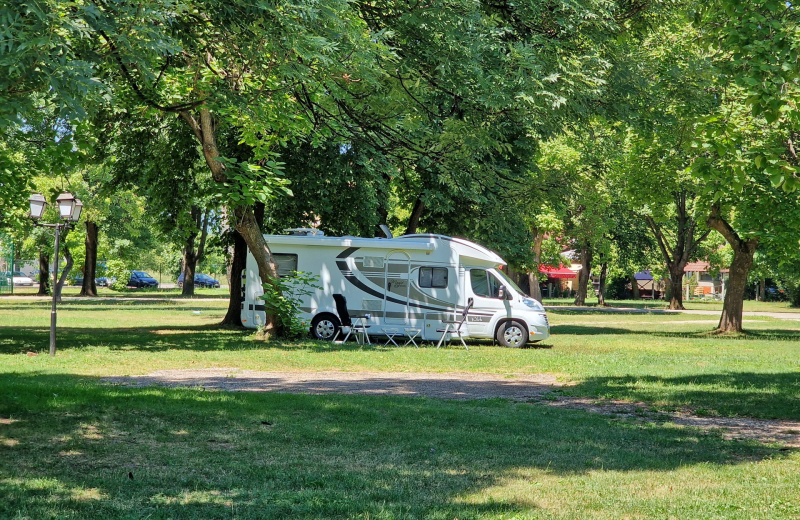 Information
Basic information
Camping Oaza Resort Sarajevo is located on Ilidza, on the foothills of Igman. This is about 8 km western of city centre of Sarajevo and only 4km from Sarajevo airport.
Campsite in Oaza Resort was completely renovated in last years and offer 300 arranged camping pitches and 60 luxury apartments and rooms. New are as well reception and restaurant in camp.
Campsite has around 300 tidy pitches with electricity connection. Sanitary facilities have been modernized and renovated.
Modern rooms and apartments are available in one of the 12 buildings close by.
Campsite has arranged tennis courts, mini football court and children's playground. Free wireless internet is accessible across the camp. Camping guests can relax and enjoy in wellness center that is 700m away and organized as part of Spa.
For its location, campsite Oaza Resort is great starting point for visiting Sarajevo, which is 8km away, and its surroundings, for example Bjelasnica, Jahorina, spring of river Bosna...
Features and equipment
Type of the campsite
Pitch features
Non-parcelled camping plots

Pitches with electricity and water

Pitches with electricity, water and waste water connections
Location
Equipment
Chemical toilet discharge

Children sanitary facilities

Heated sanitary facilities
Offer
Sport
Swimming pool/wellness
Swimming pool with heated water
Dogs
Rental option
Camping pricelist (in EUR) for year 2023
| Price for | 1.1. - 31.12. |
| --- | --- |
| Person | 7,15 |
| Children under 11 | ​​gratis |
| Tent - small | 5,10 |
| Tent - big | 7,15 / 9,70* |
| Car | 7,15 |
| Motorcycle | ​​5,10 |
| Van | 9,20 |
| Caravan | 7,15 |
| Camper | 10,20 |
| Electricity | 3 |
| Internet access - WIFI | ​​gratis |
| Tourist tax | ​​1,10 |
PDF - Pricelist for year 2023 (17KB)
*price depends on the size of the tent

Contact
GPS: 43.828307,18.296782
Address: IV viteške brigade 4, 71210 Sarajevo - Ilidža, BiH
Reception:

+387 33 726 000
Rating and reviews
Reviews:
Published on day from anonymous

Category

Caravan

Company

In couple

When we checked in we were assured directly that the place was safe, had cctv everywhere, and private security, and NEVER had any problems. That night, we left the caravan for an hour to have drinks in the resort restaurant a mere 100 meters away, and we returned to find the caravan broken into and over €5000 damage and theft.

The security then told us that there was NO cctv at all in the camping area, and they had "1 or 2" incidents every year. The police were called and investigated, and the following day, when asked, the police inspector told us that this happens there more times than he can count!

AVOID THIS PLACE.​​

Published on day from anonymous

Category

Tent

Company

In couple

Kamp ima solidno lego in tudi prostor za kampiranje je lep (zelenica in drevesa). Toda kopalnica in wc sta zelo slaba: vecinoma umazana, zaudarjajoca, na wc-jih ni tekocega mila, marsikatera vrata se ne dajo zakleniti, v kopalnicah ni obesalnikov, polic.... Za zelo malo denarja bi lahko bile sanitarije dosti bolj prijazne. Njihova podoba se nikakor ne sklada s sosednjimi novimi apartmaji, ki so videti krasni. Skoda.​​

Published on day from anonymous

Category

Other

Company

In couple

V Sarajevo sva prispela zvečer in z lahkoto našla kamp, ki je na dobri lokaciji za izhodišče tako proti Hercegovini kot tudi v neposredni bližini avtobusne in tramvajske psotaje na Ilidži. Vidi se, da se v kamp vlaga veliko denarja, a trenutno je prenova precej neracionalna. Restavracija je nova in ogromna, a če ti v njej postrežejo čevape na krožniku in zraven košče kruha iz navadne bele štruce, potem to ni to.;) Sanitarije so sicer čiste, a zelo nepraktične. V eni stavbi so WCji ( velikokrat brez wc papirja) in umivalniki, v drugi stavbi, ki je kar nekaj metrov oddaljena pa tuši ( in samo en umivalnik). V tuših je tekla le mrzla voda, kljukice za obešanje brisač so le zunaj tuš kabine in v tuš kabini ni niti ene odlagalne površine. Nič strašnega sicer, a če res vlagajo toliko denarja v obnovo, bi ga lahko porabili precej racionalno. Mogoče bi bilo že dovolj, če bi za mnenje povprašali goste?.;)..Edina slaba izkušnja ( in to v celotno BiH) je bilo le obnašanje recepcionerja. Ker sva zjutraj želela obiskati tudi baščaršijo in sva predvidevala, da se bova težko vrnila do 12ih, ko je potrebno zapustiti kamp, sva že ob prihodu vprašala, kako naj to rešimo. Večerni repcepcionist je predlagal, da naj se odjaviva in avto pustiva na parkirišču pred kampom. To sva tudi naredila, a v trenutku, ko sva parkirala, je kot huda ura pritekel dopodanski recepcionist in se začel zadirati nad nama. OK, verjetno bi res morala še enkrat vprašati, ker čin je le čin, a glede na to, da sva bila že vse dogovorjena, nama to ni prišlo na misel. Gledala sva ga dobesedno kot tele v nova vrata in ko je v svojem dretju malo predahnil, sva rekla, da sva že vprašala prejšnji večer. Potem je sicer malo odnehal, a še vedno zahteval da se vrneva najkasneje do 13.00 ure, drugače nama bo zaračunal še en dan. Naj omenim, da je bilo ob najinem parkiranju parkirišče čisto prazno ( prostora je za cca 40 avtomobilov) in enako je bilo tudi ob najinem odhodu. ​​

Published on day from anonymous

Category

Other

Company

In couple

V Sarajevo sva prispela zvečer in z lahkoto našla kamp, ki je na dobri lokaciji za izhodišče tako proti Hercegovini kot tudi v neposredni bližini avtobusne in tramvajske psotaje na Ilidži. Vidi se, da se v kamp vlaga veliko denarja, a trenutno je prenova precej neracionalna. Restavracija je nova in ogromna, a če ti v njej postrežejo čevape na krožniku in zraven košče kruha iz navadne bele štruce, potem to ni to.;) Sanitarije so sicer čiste, a zelo nepraktične. V eni stavbi so WCji ( velikokrat brez wc papirja) in umivalniki, v drugi stavbi, ki je kar nekaj metrov oddaljena pa tuši ( in samo en umivalnik). V tuših je tekla le mrzla voda, kljukice za obešanje brisač so le zunaj tuš kabine in v tuš kabini ni niti ene odlagalne površine. Nič strašnega sicer, a če res vlagajo toliko denarja v obnovo, bi ga lahko porabili precej racionalno. Mogoče bi bilo že dovolj, če bi za mnenje povprašali goste?.;)..Edina slaba izkušnja ( in to v celotno BiH) je bilo le obnašanje recepcionerja. Ker sva zjutraj želela obiskati tudi baščaršijo in sva predvidevala, da se bova težko vrnila do 12ih, ko je potrebno zapustiti kamp, sva že ob prihodu vprašala, kako naj to rešimo. Večerni repcepcionist je predlagal, da naj se odjaviva in avto pustiva na parkirišču pred kampom. To sva tudi naredila, a v trenutku, ko sva parkirala, je kot huda ura pritekel dopodanski recepcionist in se začel zadirati nad nama. OK, verjetno bi res morala še enkrat vprašati, ker čin je le čin, a glede na to, da sva bila že vse dogovorjena, nama to ni prišlo na misel. Gledala sva ga dobesedno kot tele v nova vrata in ko je v svojem dretju malo predahnil, sva rekla, da sva že vprašala prejšnji večer. Potem je sicer malo odnehal, a še vedno zahteval da se vrneva najkasneje do 13.00 ure, drugače nama bo zaračunal še en dan. Naj omenim, da je bilo ob najinem parkiranju parkirišče čisto prazno ( prostora je za cca 40 avtomobilov) in enako je bilo tudi ob najinem odhodu. ​​

Published on day from anonymous

Category

Other

Company

Family with teenager

Bili smo prijetno presenečeni nad urejenostjo kampa glede na vse kritike, ki smo jih pred prihodom prebrali. Trava pokošena, nove sanitarije in tuši. Imajo popolnoma novo restavracijo, ki so jo ravnokar odpirali. Novi sta tudi igrišči za odbojko in tenis. Osebje na recepciji je zelo prijazno in polno napotkov. Pograjati pa moram sistem v sanitarijah. Voda v tuš kabinah je prehladna in se je ne da regulirati. Na umivalnikih je samo mrzla voda, toaletnega papirja v WC-jih ni, ker ga gostje pograbijo takoj, ko čistilke dajo rolico v prva dva WC-ja od dvajsetih (skladišče je bilo polno toaletnega papirja), tako da smo jih prosili za "privat" rolico in jo dobili. Nismo si prišli na jasno ali imajo tako naročeno ali se jim enostavno ne da. Razen tega pa kamp toplo priporočam. Ima odlično izhodišče za ogled Sarajeva (tramvaj oddaljen 10-15 min hoda od kampa), izvir Bosne je čisto blizu (priporočam vožnjo s fijakerji) in tunel spasa ravno tako. Za kampom stoji džamija, tako da lahko izkusite še pravo muslimansko vzdušje, ko z minareta kličejo vernike k molitvi ;-) .​​

Published on day from veseliveselko

Category

Other

Company

In couple

Opozoril bi samo to, da ta naslov ni pravilen, kot ga podajate na tej strani. Mene je garmin obračal in obračal...sredi centra. Ni bilo luštno. Ulival je dež, bila je pozna ura, mrzlo, s partnerko pa nujno potrebovala počitek in prenočišče. Drugič ne podajajte napačnega naslova prosim. Še sreča, da je narod tako prijazen tam in pripravljen pomagat z napotki. Res pohvale prijaznosti vsem v Sarajevo. Zagotovo so me kupili ravno s tem. Pravi naslov od tega kampa je sledeč: Hrasnička cesta broj 14
71000 Sarajevo​​