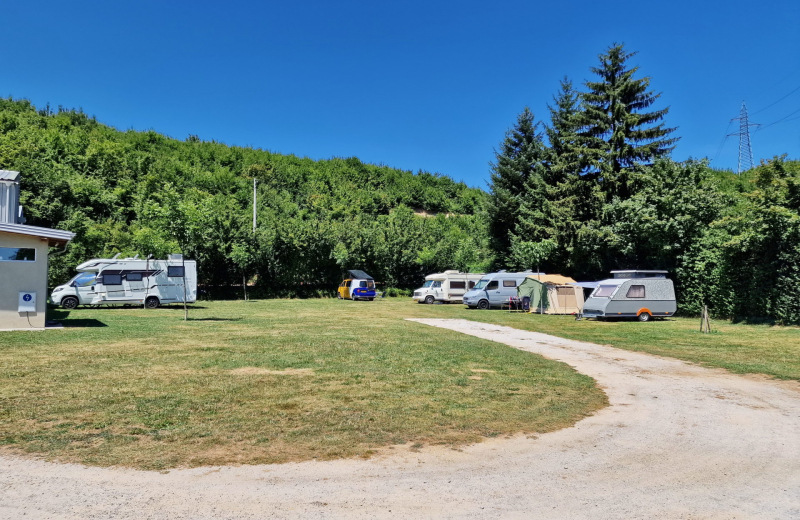 Information
Basic information
Camping Sarajevo is a newer, smaller camp located 15 km from the center of Sarajevo. The camp is located in a part of the town of Ilidza, under the mountain Igman and along the banks of the river Zujevina. The owner of the camp, Senad, makes sure that the guests have a good time, and above all, that safety, transport to the city and cleanliness of the camp are taken care of.
Most of the pitches are arranged on a grass surface, but some are also sandy - there are around 40 plots in total. It is possible to connect to electricity, and the camp also has a space for supplying motorhomes. There is one sanitary facility and it is very nicely arranged, there is also a place for washing dishes and a washing machine.
They have a small playground for children, but there is also a terrace with tables and a larger indoor space that can be used in case of bad weather.
Camping Sarajevo is an excellent starting point for sightseeing - access by taxi or train from the nearby train station.
Sarajevo offers many attractions - take a walk along the main pedestrian street Ferhadija to Bascarsija, which is the old part of the city along the Mljacka River with shops and restaurants offering traditional Bosnian food. Gazi Husrev-bey's mosque, Bezistan as a traditional market, Sebilj's fountain, Sahat Kula's clock tower and the renovated council house, which was once a national-university library, but were burned down during the war, are on display.
Vrelo Bosne - the source of the river Bosna under Igman, which is 12 km from the city center (Ilidža settlement), which is arranged as a park with paths and a restaurant. The Avaz tower, which at 175 meters (measured with an antenna) is the tallest building in BiH and where there is a café on top, offering a beautiful view of the entire city.
Olympic centers Trebevic with a bobsleigh track, which you can reach with the new funicular from the city center or by car on the road, ski resorts Jahorina and Bjelašnica, ski jumps on Igman and Kosevo
stadium
or now it is called Asim Ferhatovic Hase Olympic Stadium with the Zetra Hall.
The Sarajevo tunnel, which during the war connected the besieged city and enabled the delivery of food and the passage of people. It took half a year to build, and the 720-meter tunnel runs under the airport runway. Now the tunnel is arranged as a museum, there are still 20 m of the original tunnel on display and many displays of life in Sarajevo during the war.
Features and equipment
Type of the campsite
Pitch features
Non-parcelled camping plots

Pitches with electricity and water

Pitches with electricity, water and waste water connections
Location
Equipment
Chemical toilet discharge

Children sanitary facilities

Heated sanitary facilities
Offer
Sport
Swimming pool/wellness
Swimming pool with heated water
Dogs
Rental option
Camping pricelist (in EUR) for year 2023
| Price for | 1.4. - 2.11. |
| --- | --- |
| Person | 7 |
| Children 3 - 7 yrs. | ​​3 |
| Children 7 - 12 yrs. | 5 |
| Tent - small | ​​2 |
| Tent - big | ​​3 - 4 |
| Car | 3 |
| Motorcycle | ​​2 |
| Caravan | ​​5 |
| Camper | ​​6 |
| Electricity | ​​3 |
| Air conditioner | ​​2 |
| Dog | 2 |
| Tourist tax | ​​1 |
Contact
GPS: 43.838762,18.263749
Address: Mratnjevače 57, 71210 Ilidža - Sarajevo, BiH
Reception:

+387 61 190 927
Rating and reviews
Reviews:
Published on day from sonja.hvala777

Category

Tent

Company

Family with small children

Kamp je miren, majhen. Lastniki prijazni, sanitarije čiste. Zraven je potok, zato je tudi več vlage, predvsem ponoči. Od samega mesta Sarajevo (Baščaršija) je oddaljen skoraj 20km. Taxi pride okrog 15e v eno smer. ​​

Published on day from dunja.kovac14493

Category

Camper

Company

In couple

Zaustavila sva se na poti po BIH, prenočila 2x, parcele super-ravne, sanitarije čiste. Lastnika zelo prijazna, gostoljubna, fleksibilna in ustrežljiva. Lastnik nas je z avtom peljal v Sarajevo in ob dogovorjeni uri tudi prišel iskati. Kamp je tik ob reki, informacija za "ljubitelje"komarjev - jih ni bilo ???? Priporočam !​​

Published on day from anonymous

Category

Tent

Company

With friends

2 para smo tukaj preživeli čudovite 3 dni. Lastnik izredno prijazen in ustrežljiv. Presenetil nas je tudi z domačo dobrodošlico. Poizkusiti je potrebno njihov domač sok, ki je izrednega okusa.

Prednosti kampa:
- Nove in zelo čiste sanitarije
- Zelo prijazen in ustrežljiv lastnik, ki odlično skrbi za kamp
- Kljub temu, da kamp ni razparceliran je prostora in priključkov za elektriko več kot dovolj
- Dobrodošlica s strani lastnikov
- Raven teren z nekaj sence
- Vedno topla voda
- Cca. 45 min hoje oddaljen od izvira reke Bosne
- Odlično označen dostop
- ...
Slabosti kampa:
- Kamp je lociran v zelo revni soteski, kar je lahko mogoče nekomu malce neprijetno. Nas ni motilo. Do mesta smo dostopali z javnim prevozom (strošek cca. 3e na osebo povratna karta = bus + tramvaj). Dostopnost v mesto z javnim prometom je na cca. 10 do 15 minut.
- Cena za kamp v Sarajevu ni najnižja, ampak se glede na vse zagotovo izplača plačati malenkost več.
​​

Published on day from anonymous

Category

Other

Company

Family with teenager

Zelo urejen kamp, odlične sanitarije, popolnoma raven kamp prostor, prijazen lastnik.
Malo manj urejen dostop do kampa, za pomivanje posode je samo mrzla voda.
Bi priporočil.​​

Published on day from anonymous

Category

Other

Company

Family with teenager

Kamp leži ob robu Sarajeva, do njega pa vodijo table z označbami. Nudi miren in urejen prostor za počitek po ogledu znamenitosti mesta in okolice. Prijaznost lastnika ga še posebno odlikuje. Zelo priporočamo. ​​

Published on day from anonymous

Category

Other

Company

Family with teenager

Lastnik je zelo skrben, kamp lepo urejen. Samo dostop je nekoliko neroden.​​

Published on day from anonymous

Category

Camper

Company

With friends

Zelo čist in urejen kamp. Lastnik zelo prijazen in usrežljiv. Dostop zelo dobro označen. Se še vrnemo. Priporočam.
​​