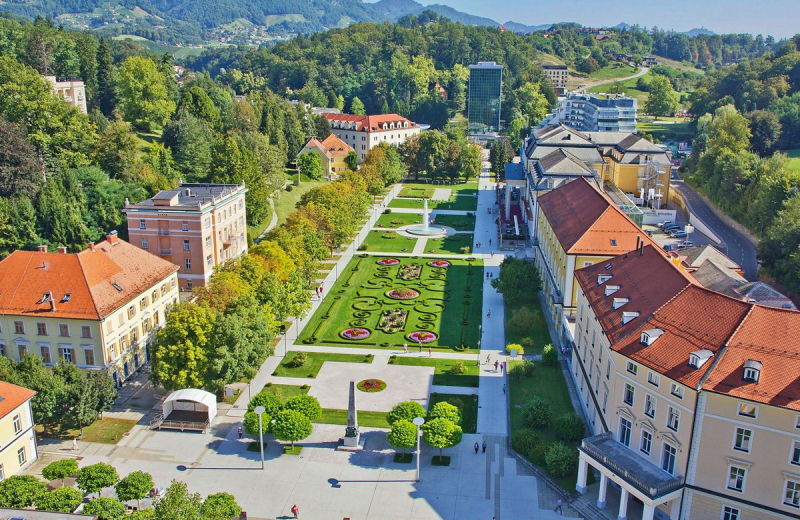 Information
Camper stop description
The Rogaska Slatina camper stop is arranged next to a sports park next to Balincek Hall on Sotelska Road. The location of the camper stop is connected to Rogaska Slatina and Podcetrtek by bike path.

The camper stop has 6 parking spaces equipped with electricity and a supply island with a pillar for fresh water supply. A column for emptying and flushing the toilet cassette was added, as well as a tidy space for draining waste water from camper.

This camper stop also has a lounge area, equipped with a table, benches and horticultural arrangements. An electric vehicle charging station is also available.

There is a shopping centre not far from the stop and a short walk to the centre of the town.

Rogaska Slatina is known for its spa and healing water, crystal production, rich culinary offer with excellent wines, and numerous natural and cultural sights.

In the future, the location will be even more interesting, as the investment near Lake Vonar is about to start, which will become an interesting tourist point of this region.

Information about camper stop
Camper stop type
Camper stop with supply station
Features of the camper stop
Discharge of faeces / chemical wc

Camper stop with sanitary facilities
Features and equipment on location
Location
Equipment
Chemical toilet discharge

Children sanitary facilities

Heated sanitary facilities
Offer
Sport
Swimming pool/wellness
Swimming pool with heated water
Dogs
Rental option
Contact
GPS: 46.220754,15.640123
Address: Sotelska cesta 53, 3250 Rogaška Slatina, Slovenija
Reception: