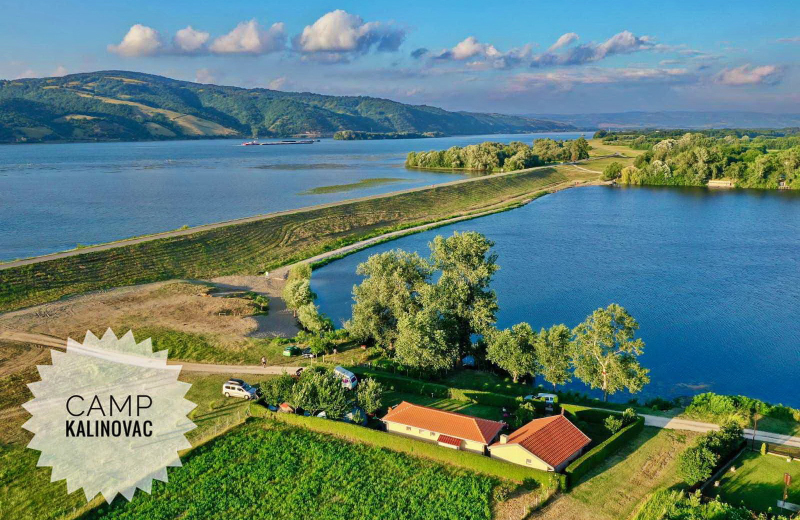 Information
Basic information
Camping Kalinovac is located by Silver Lake in eastern Serbia. It is 110 km from Belgrade, and the town of Zatonje is nearby.
It is a newer campsite with an arranged camping area. In total, there is room for approx. 20 tents and 5 motorhomes or caravans. They also allow renting a room for 4 people. A small sanitary facility with showers and toilets, a shared kitchen, barbecue, Wi-Fi is available to guests.
There is a well-kept beach near the camp, and the well-known tourist complex Silver Lake is also well-kept 6 km from the camp. The location is also popular for surfing and fishing.
Two European cycling routes, EuroVelo 6 and Eurovelo 13, pass by the Kalinovac camp.
For guests, they organize trips along the Danube, visiting and tasting local delicacies at tourist farms, and children are happy with local animals (chickens, pigs, horses, sheep). Dogs are also welcome in the camp. Srebrno jezero – a 14 km long lake that was created by damming the Danube river. Great location for cycling, there are also a few restaurants by the lake offering local food and fresh fish.
We also recommend to visit:

Ram Fortress - just 7 km from the camp, on a rocky cliff right next to the Danube, you can see the Ram Fortress, which was built by the Turks. The fortress has been completely renovated in recent years. The Roman archaeological site of Lederat is also nearby.
Dascara - west of the village of Biskuplje (4 km from the camp) is the healing spring of Daščara water.
Nimnik Monastery - 15 km from the camp, this monastery (church, chapel and restaurant) is located near Kočije. Here was one of the first schools in the area, and legend has it that it was named after a girl who refused to tell Turkish soldiers the location of the monastery. There is also a spring of healing water nearby.
Viminacij - archaeological site near Stari Kostolac, 12 km from Požarevac
Golubac Fortress from the 14th century in the Đerdap National Park, which had an important defensive task
Đerdap National Park – a gorge on the border between Serbia and Romania, which runs from Golubac to Davidovac (100 km). It is a large park along the Danube river, which is 2 to 8 km wide in this part, and the canyon is as high as 800 meters in some parts.

Features and equipment
Type of the campsite
Pitch features
Non-parcelled camping plots

Pitches with electricity and water

Pitches with electricity, water and waste water connections
Location
Equipment
Chemical toilet discharge

Children sanitary facilities

Heated sanitary facilities
Offer
Sport
Swimming pool/wellness
Swimming pool with heated water
Dogs
Rental option
Contact
GPS: 44.766221,21.395469
Address: Zatonjska bb, Srebrno jezero, 12220 Kalinovac, Srbija
Reception:

+381 63 866 75 25
Rating and reviews
Reviews:
Published on day from Anja.Golec525

Category

Tent

Company

Family with teenager

Super mali družinski kamp ob Srebrnem jezeru. Prostora za nekaj šotorov in kakšen avtodom. Je ob kolesarski poti in se ustavi veliko kolesarjev. Lepi kraji in prijazni lastniki. Priporočamo.​​