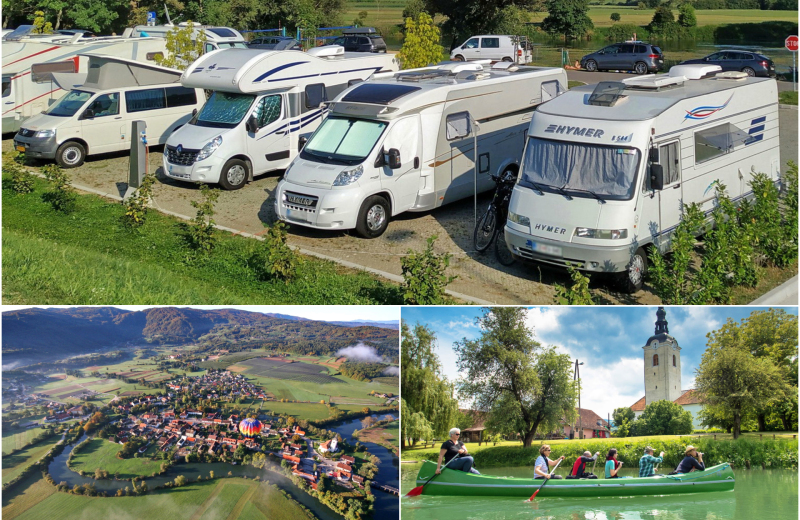 Best camp Adria 2021

1. place
Information
Camper stop description
Kostanjevica na Krka has new well-maintained camper stop. The camper stop is located at the northern entrance to Kostanjevica na Krki.
There are 12 parking places for motorhomes with electricity and water connections, as well as a grate for the discharge of waste water and faeces. Some tables and benches are also added at the parking.

Kostanjevica na Krki is one of the oldest towns in Slovenia. The old part of the town is located on an island 500 meters long and 200 meters wide surrounded by the river Krka. On both sides, access by vehicles is arranged along a wooden bridge, while the pedestrian area is also intended for the Tercialnski Bridge.

Kostanjevica on the Krka River was first mentioned in 1220, and the town was granted town rights in 1252. Today, the place is declared as s cultural monument and is fully protected. The church of Sv. Jacob built in XIII. It was once part of the fortification system along the North Bridge. The church of Sv. Miklavz, and a gallery of painter Bozidar Jakac, located in the building of a former Cistercian monastery. We also recommend visiting the Kostanjevica Cave.
NEW - A new 19 km cycling route from Kostanjevica na Krki to Krško.

Information about camper stop
Camper stop type
Camper stop with supply station
Features of the camper stop
Discharge of faeces / chemical wc

Camper stop with sanitary facilities
Features and equipment on location
Location
Equipment
Chemical toilet discharge

Children sanitary facilities

Heated sanitary facilities
Offer
Sport
Swimming pool/wellness
Swimming pool with heated water
Dogs
Rental option
Pricelist for camper stop (in EUR) for year 2023
Contact
GPS: 45.849410,15.418658
Address: Krška cesta, 8311Kostanjevica na Krki, Slovenija
Reception:

+386 7 498 81 52
Rating and reviews
Best camp Adria
2021: 1. place in category Slovenia - Camper stops
Reviews:
Published on day from anonymous

Category

Camper

Company

In couple

No pri opisu res piše malce preveč. Tušev ni in tudi mizic nisem našel. A klopce pa so in lepa narava ter nasploh lepo urejen PZA. Ko bo zraslo še drevje bo pa vrhunsko. Nasplošno je PZA urejen zelooo na komot. Prostora naj bi bilo za 12 avtodomov pa nas je bilo gor preko 20 brez kake občutne gužve. Tako da z korona varnostno razdaljo ni bilo nikakršnih težav. Lahko samo toplo priporočam.​​