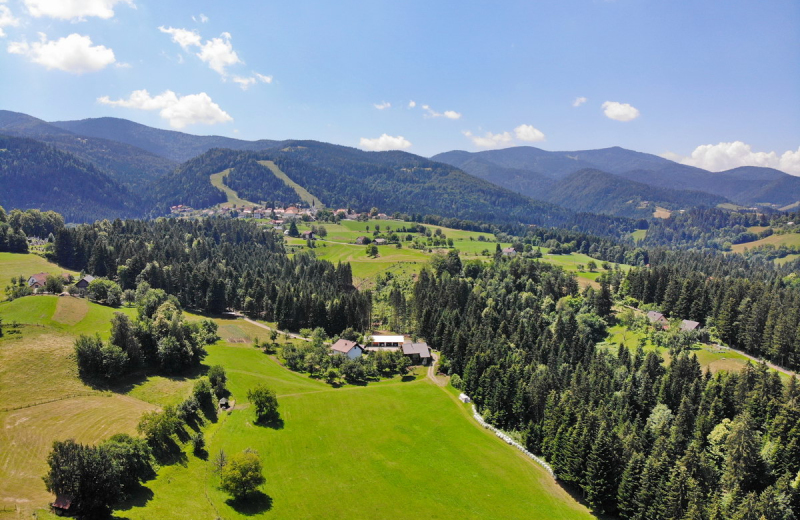 Information
Camper stop description
In town Ribnica na Pohorju you will find tourist farm named 'Kmetija tete Lene' (Farm of aunt Lena in translation) which offers camper stop station.
There are two parking places for campers with electricity connection and fresh water. There are as well toilette and shower.
You should announce your arrival before coming via email of telephone.
Tourist farm offers one apartment on renovated hayrack.
Several workshops can be organized, connected to traditional life on a farm - backing bread, cooking jams, picking up the herbs, making the soaps.
Ribnica na Pohorju is smaller village for great relaxation in the arms of thick woods of Pohorje, full of fresh air and various recreational opportunities, such as cycling, hiking and skiing in winter.
Skiing resort Ribnisko Pohorje is few minutes drive from the village. It offers 2 kilometers of skiing slopes between 715 and 921 meters above the sea leavel on natural and artificial snow.
Just next to the campsite is larger collection of old tools that were used by farmers - you can visit museums of stone masonry, glassware and forestry in Josipdol.

Information about camper stop
Camper stop type
Camper stop with supply station
Features of the camper stop
Camper stop with sanitary facilities

Discharge of faeces / chemical wc
Features and equipment on location
Location
Equipment
Chemical toilet discharge

Children sanitary facilities

Heated sanitary facilities
Offer
Sport
Swimming pool/wellness
Swimming pool with heated water
Dogs
Rental option
Pricelist for camper stop (in EUR) for year 2022
Contact
GPS: 46.541760,15.274047
Address: Ribnica na Pohorju 79, 2364 Ribnica na Pohorju, Slovenija
Reception:

+386 31 224 655
Rating and reviews
Reviews:
Published on day from grizzli

Category

Camper

Company

In couple

Odličen Pza, bolj natančno je pravi mali kamp. Čiste in okusno opremljene sanitarije, idiličen ambient. Na razpolago je jakuzi na prostem, kurišče, žar in manjši ribnik. Prijetna mala trgovinica z domačimi marmeladami, tinkturami, mili in žganjicami. Izredno prijazni gostitelji. Na razpolago je priklop na elektriko in voda. Izposojajo električna gorska kolesa in električni avtomobil. V vasi je trgovina in gostinska ponudba. Izjemno izhodišče za pohodništvo in kolesarjenje.
Vsekakor se še vrneva. ​​

Published on day from Romana73

Category

Camper

Company

Family with small children

Zeleno, mirno okolje, ki ga lastnika Urška in Marko naredita nepozabnega. Pričakala sta nas s pijačo dobrodošlice, prijazno razkazala okolico in otroka vzela na ogled kmetije. Po našem celodnevnem pohajkovanju po Pohorju je bilo pika na i namakanje v sodu vode pod smrekami, ki ga je pripravil Marko. Toalete in tuši so novi, vse funkcionira, čisto, skockano, fantastično. Zvečer nam je Marko pripravil kurišče, da sta otroka lahko zakurila in pekli smo na ognju dolgo v noč. Parkirišče je dovolj veliko in ravno za AD-je in primerno za postavitev šotorov. Še se vrnemo! ​​